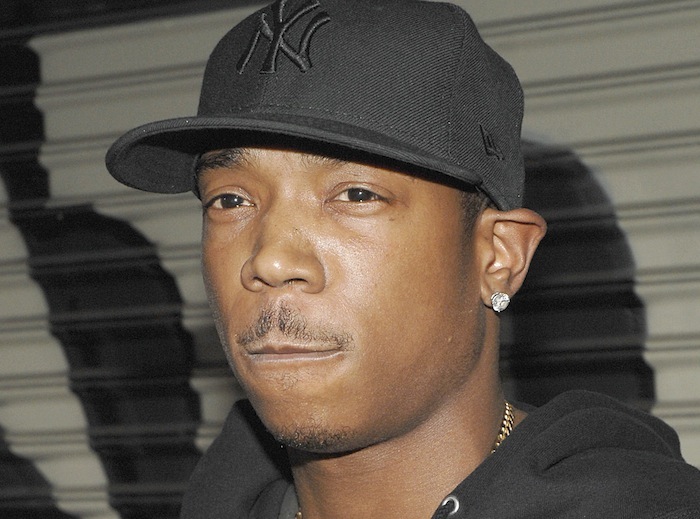 (Photo by Andreas Branch/PatrickMcMullan.com)
For one night in May, it was 2004 all over again.
Several weeks ago, I watched Ja Rule hit the comeback trail at the House of Blues in Boston. Pulling from his best material, he performed all the hits -- everything from his Ashanti period ("Always on Time," "Mesmerize") to his J. Lo period ("I'm Real," "Ain't It Funny"). He even sang a few bars from "Rainy Dayz."
For those in the audience looking to recapture the glory days of their high school dances, the former Murder Inc. star did not disappoint. Though the rapper certainly knew his millennial audience and packed his set with throwback hits, the experience left little doubt in my mind: Ja Rule, a once-admired figure in the hip-hop world whose name would become a punchline in the mid-to-late aughts, is one of music's unsung pioneers, a multi-talented artist whose distinct brand of mass appeal set the mold for many of today's rappers and pop stars alike.
It's been a long decade for Mr. Rule, whose new memoir,
Unruly
, came out last week. But on that night, it was like no time had elapsed. When Ja was at the forefront of the pop-rap universe, he was a bona fide hit maker -- from 1998-2004, he was featured on the
Billboard Hot 100 nineteen times
. It seemed mainstream music would forever feature a gravelly voiced rapper half singing rhymes about love and street coda, with the occasional guttural "
It's Murdahhh
."
Then, just like that, it stopped. Feuds with then-immensely popular
50 Cent and Shady Records
initially shot Ja across his bow, severing his street credentials and undercutting his popular appeal.
Next, Murder Inc.
nearly disbanded
under federal investigation for
racketeering charges
. Ja himself would eventually
spend several years in prison
for attempted illegal gun possession and tax evasion.
It's been a decade since he released an album that topped the charts. His most recent effort, 2012's
Pain Is Love 2
,
peaked on the U.S. Billboard 200 chart at #197
, a full 190 spots worse than 2004's
R.U.L.E.
, which peaked at #7, and a big contrast to its prequel,
Pain Is Love
, which
peaked at #1
when it came out in 2001. In those ten years, the cultural gods have not been kind to Ja. As Eminem spat
in his vicious 2003 diss track "
Bump Heads
," there are many in the hip-hop game who see the rapper as an
ecstasy-addicted
poseur, a poor man's 2pac. His once ubiquitous popularity is something many look back on with a mixture of fondness and slight embarrassment (kind of how some remember, say, their love of
Full House
). As critic Nathan Rabin
put it
in a review for A.V. Club, at his best Ja was always nothing but an irresistible pop star "whose ideal medium is the three-minute single, the guilty pleasure that sounds terrific in clubs or booming out of passing cars, but doesn't inspire much contemplation." 
But Ja Rule's legacy is underrated.
Take the context of his rise. Though Ja Rule didn't release his first solo LP until 1999 (
Venni Vetti Vecci
), he signed with Def Jam in 1998 and started composing hits for other rappers like Jay Z's
"Can I Get A..."
He was coming up at a time when rap was at a crossroads following the untimely deaths of Pac and Biggie. The genre was facing a choice: would it continue trying to cross over to a mainstream audience or return to the underground? And if it followed the former path, would hip-hop find itself neutered by an embrace of Puffy and Bad Boy Records' glossy output? Hip-hop needed to straddle these two paths, to grow its audience without alienating its hardcore fan base. It needed ambassadors who could simultaneously convey the legitimacy of artists like 2pac and Biggie while scoring chart hits during a bubblegum era dominated by boy bands and pop princesses. 
And contrary to his reputation as a 2Pac clone, Ja didn't so much bite him as pick up his baton and apply his sensitive thug schtick to a new, hip-hop/pop hybrid sound. 2Pac was many things -- not least of which a rap icon -- but he never really broached working with a member of the pop music establishment. He was Thug Life. By contrast, Ja fully embraced a pop role and shrewdly seized on opportunities to work with a wide array of singers -- and even sing himself. Capitalizing on the historic success of songs like 1994's "
All I Need
" by Method Man and Mary J. Blige, he upped the ante and added an infectious, Top 40 radio-friendly sound to hits like
"I'm Real (Murder Inc. remix)"
with Jennifer Lopez or Mary J Blige's "Rainy Dayz." 
Ja's ability to apply his former gangsta rap persona to a diverse array of radio-friendly singles paved the way for competitors like
Eminem
and
Nelly
to eventually carry a tune and helped cement his status as something greater than, say, a MC Hammer-esque one-hit wonder. And, yes, timing was a part of his success -- but rap has always been trend-driven and Ja has been unfairly overlooked within the larger scope of rap's success story.
Ja was at the forefront of this style just as the Grammys introduced the award for
Best Rap/Sung Collaboration
in 2002; he received nominations in '02 and '03 for "Livin' It Up" and "Always On Time," respectively (he didn't win).
And today, the formula still works: Justin Timberlake, Bruno Mars, Beyoncé, and even
BadGalRiRi
constantly release singles specifically designed to reach multiple niches.
But it was this lucrative new sound that was also his undoing. As
Rolling Stone
stated
in a review of his ill-fated 2012 follow-up to
Pain is Love
:
Ja reigned supreme in the late 1990s/early 2000s with a myriad of hits that straddled that all-important line, appeasing women without leaving male fans feeling emasculated. His spot was usurped by newcomer and fellow Queens rapper 50 Cent when 50 threw a string of jabs and marked Ja the pariah du jour. In hip-hop, you were either a 50 Cent fan or a Ja Rule fan and there was no in between. Once Ja was completely marginalized, 50 dealt the real coup de grâce, co-opting an identical musical style and garnering tremendous success.

50 Cent's feud, alongside the
frequent comparisons to 2pac and DMX
, might make Ja's influence on commercial rap seem minimal, but his brand has been mimicked in all corners of hip-hop. Think of Wayne's radio hit, "Lollipop," as a natural structural cousin to Ja's own "Livin' It Up." Catchy, upbeat production, appealing yet suggestive lyrics. Substitute hook provider Static Major for Case and the two basic songs closely resemble one another. As it stands, Ja's recording hiatus and incarceration came at precisely the moment when Lil Wayne broke through into the mainstream, gobbling up much of the fan base once addicted to Rule and his (somewhat) melodious duets with pop R&B singers.
As Wayne himself rapped on Ja's Rule's 2007 track, "Uh Ohh": "Young Money just crept in like uh-ohhh!"
***

Today, Ja the performer is a human time capsule. He delivers exactly the kind of show you'd expect from a prominent rapper from the early-mid 2000s, even pausing to pay tribute to Aaliyah and Left Eye Lopez. But it's exactly this throwback schtick that might bring him back to the spotlight. Juicy anecdotes from his memoir about mid-00s rap feuds or '90s-era drug dealing have already been covered in publications as varied as
VIBE
and
NPR
. A few days ago he announced that
he's got a new album in the works
,
Genius Loves Company
, that'll come out next year. But, above all, it's pop culture's '90s nostalgia -- that's quickly shading into
an obsession with the early '00s
-- that makes it conceivable that Ja will get another chance at "Livin' It Up."