Lupita Nyong'o in Rodarte at the New Orleans Film Festival screening of
12 Years a Slave
.
Actress Lupita Nyong'o has everyone talking, and we mean
everyone
. From
Oprah
to
the New York Times
, and as the
predictions
go, the Academy. While her breakout performance as Patsey, the brutalized slave and lover of owner Edwin Epps (Michael Fassbender) in Steven McQueen's film
12 Years a Slave
earned her industry accolades, it's her taste for style that has the fashion world a buzz. Nyong'o's press tour looks -- a calculated mix of respected heavy-hitters like Prada and Chanel with insidery-cool brands like Rodarte and Christopher Kane -- got the Internet in
a
tizzy
.
The fashion world loves to sink its teeth into a starlet as she emerges from industry obscurity and into mainstream stardom. It's all in the economics. Oh the money she can make! First come the impeccably-styled appearances then the magazine profiles followed by beauty and/or luxury fashion endorsements. These associations only increase fame and box office profitability, which in turn, sells more fashion. Devilish deals.    
Mexico-born, Kenyan-raised Nyong'o, like all ingenue's before her -- recent success stories include Jessica Chastain (VOGUE's December cover girl and the face of Yves Saint Laurent's Manifesto fragrance), Jennifer Lawrence (VOGUE's September cover girl and Dior's dame of the moment) and Rooney Mara (VOGUE's February cover girl and a muse for Givenchy's Riccardo Tisci) -- ticks every box.
Talent: check
Before landing a critically-acclaimed roll in an industry-respected film, Nyong'o produced, directed and wrote a documentary about albinism called
In My Genes
and graduated from the Yale School of Drama. Girl's got cred.
Natural but distinct beauty: check
Hello? Have you seen her luminous skin, cropped haircut and megawatt smile?
Charming-as-hell personality: check
Well, we haven't
met
her, but she seems humbled and sweet in
interviews
. Plus, her voice. OMG, her voice. She has a velvety purr of an English accent that we're pretty sure could convince us of anything.   
With awards season on the horizon, no doubt designers are already waging war to dress her.Until then, check out our favorite Lupita looks -- so far -- below.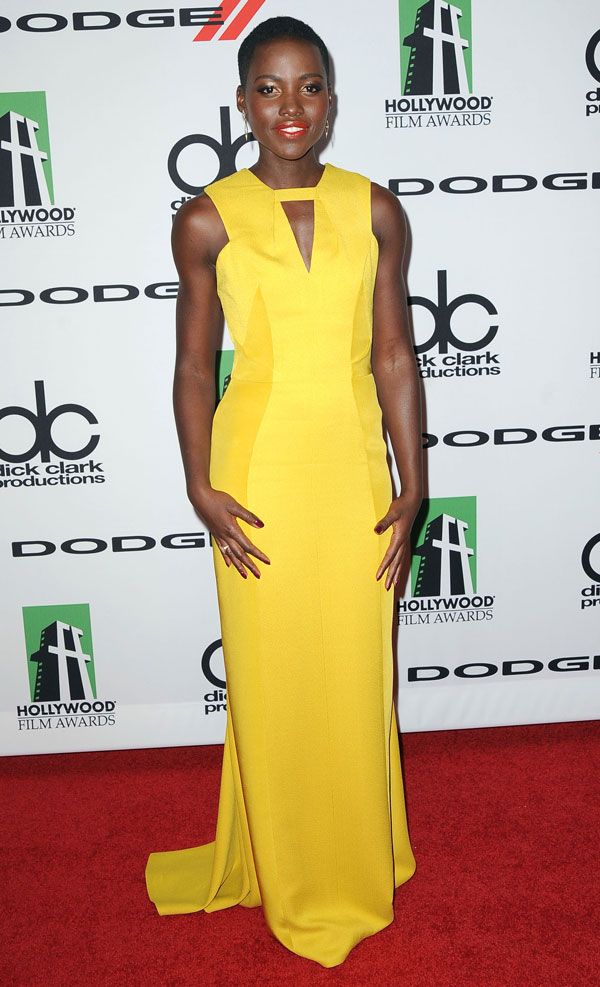 Lupita in J. Mendel at the 17th Annual Hollywood Film Awards Gala.
Look how she glows!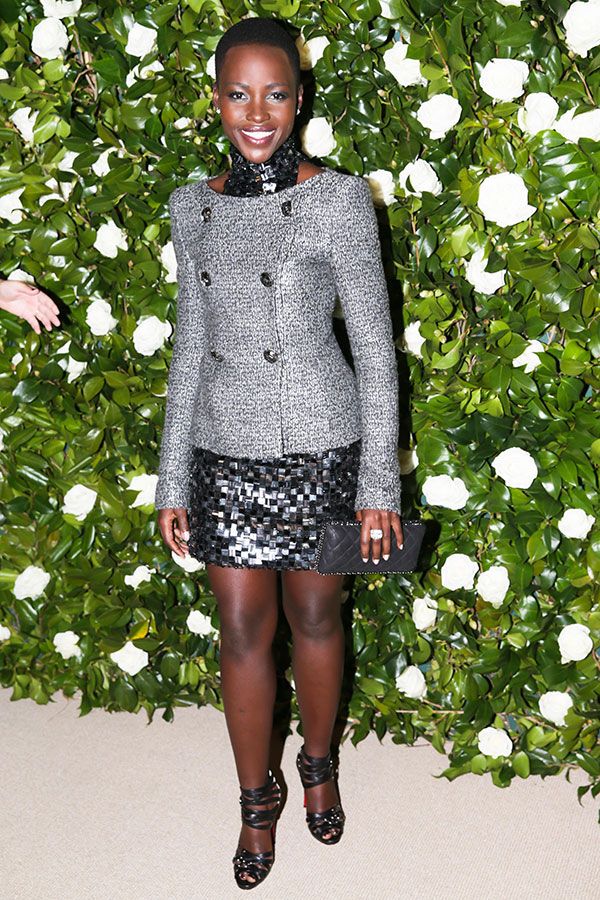 Lupita in Chanel Couture at the MoMA Benefit: A Tribute to Tilda Swinton.
This night was obviously Lupita's official introduction to fashion society. Attending a New York art benefit honoring a high-fashion priestess, Tilda Swinton, and
mingling with Anna Wintour
is VOGUE cover grooming at its best. Not to mention, being snapped in Chanel Couture equals approval from Karl Lagerfeld, which is like getting confirmed by the Pope.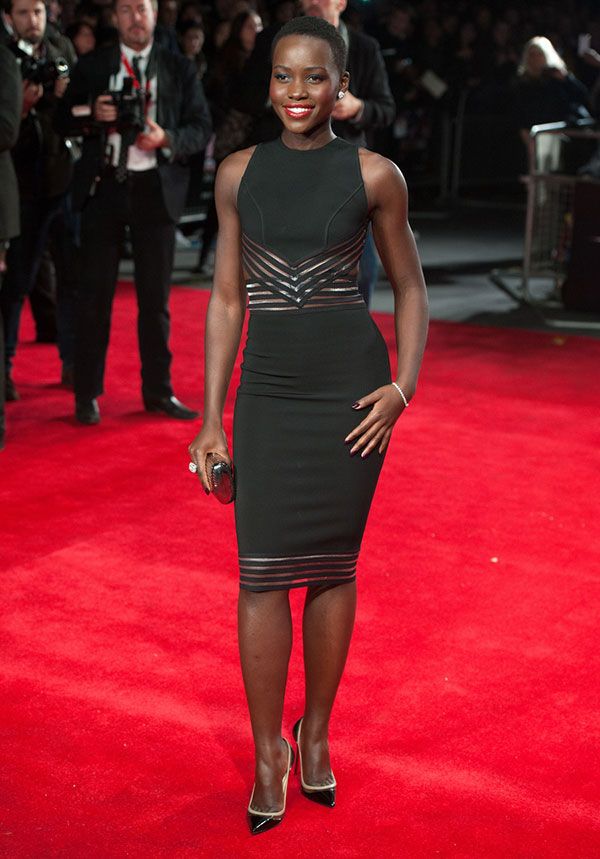 Lupita in Christopher Kane at the
12 Years a Slave
London Film Festival Premiere.
In this look Lupita gains major fashion street cred. London-based Christopher Kane is the buzziest designer around. Recently acquired by
a mega fashion-backer
, the small label is poised to launch into a full blown lifestyle brand. Do we smell spokesmodel?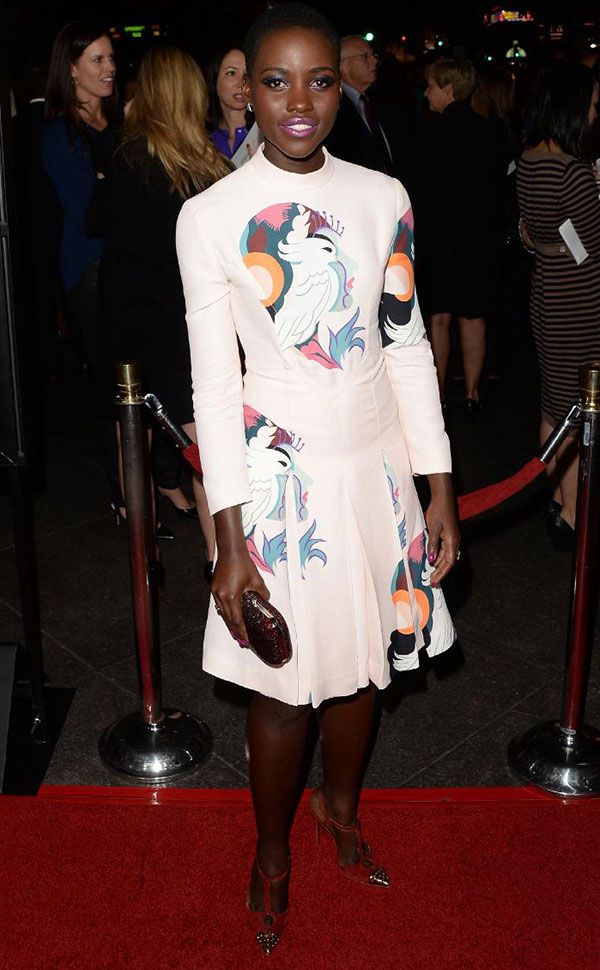 Lupita in Miu Miu at the
12 Years a Slave
Los Angeles premiere.
Miu Miu is Prada's little sister brand, and in fashion, Prada is everything. We even heard from the Miu Miu PR girls that Lupita was the first person to wear the spring 2014 collection. Major fashion snaps. The dress is cute and whimsy with its '60s psychedelic vibe, and we love how she dressed her face to mimic the pattern's purple hues.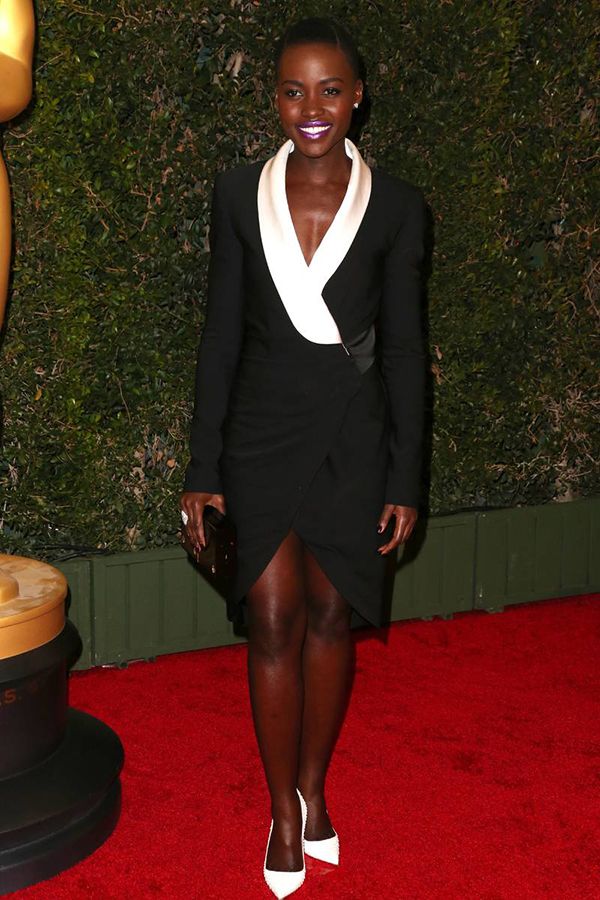 Lupita in Prabal Gurung at the
Academy of Motion Picture Arts and Sciences' Governors Awards
.
This not-so-basic black tuxedo dress is classic, chic, beautiful, all those words. But the best part? Her punch of purple lipstick and bright white heels. Daring makeup looks and cool shoe choices seem to be her thing, and we dig it.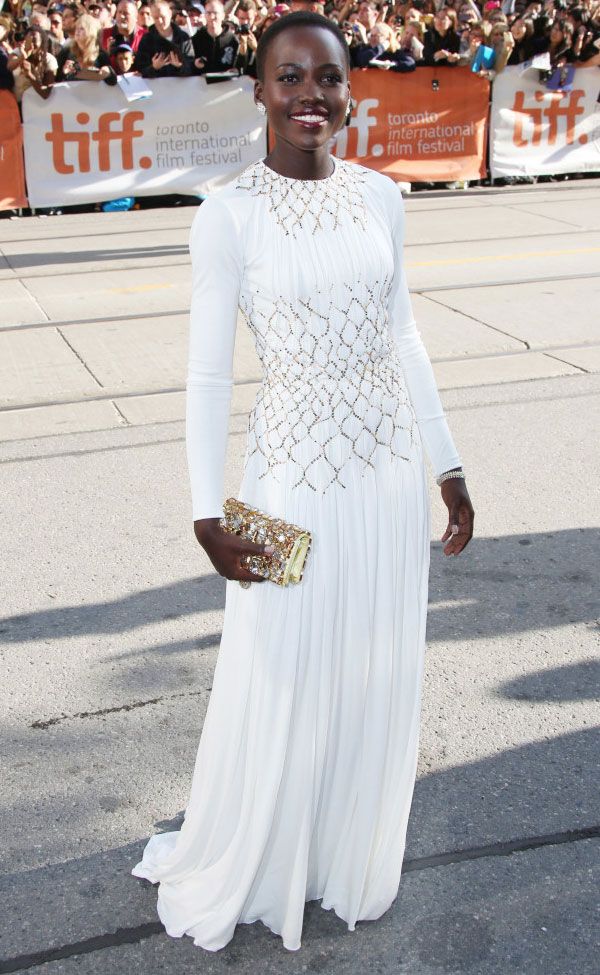 Lupita in Prada at the
12 Years a Slave
Toronto Film Festival screening.

The Prada. While white gowns can look virgin-bride real quick, this dress, with its embroidered golden web around the torso and neckline, makes her look like virgin red carpet royalty. A virgin on the verge, fitting.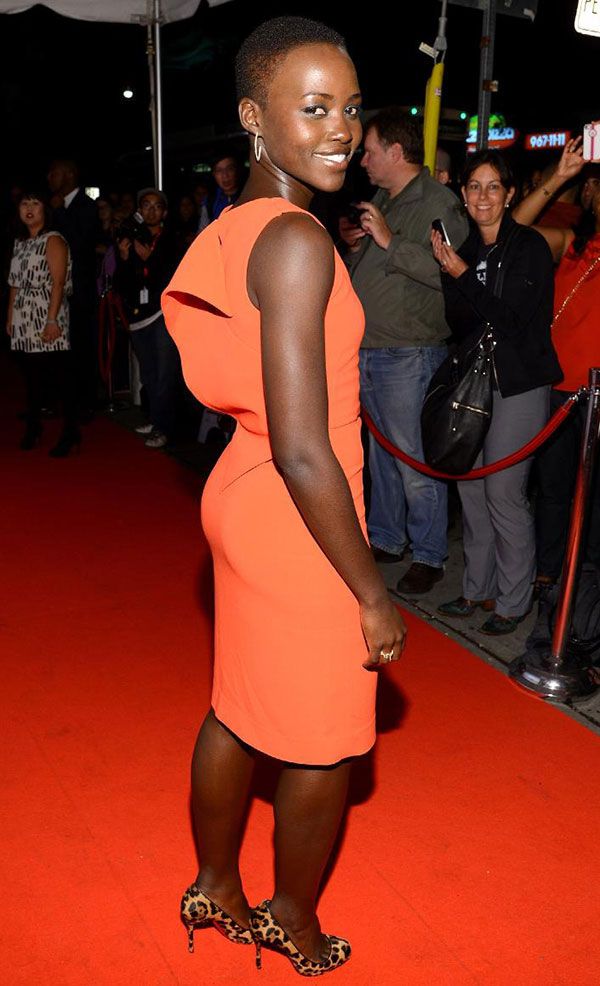 Lupita in Antonio Berardi at the
FOX Searchlight 2013 Toronto International Film Festival Party.


This citrus cocktail number is killer on her. Demure in coverage, but snug around her curves with a back cut-out that adds movement and volume to catch the eye...until it spots the unexpected leopard pump.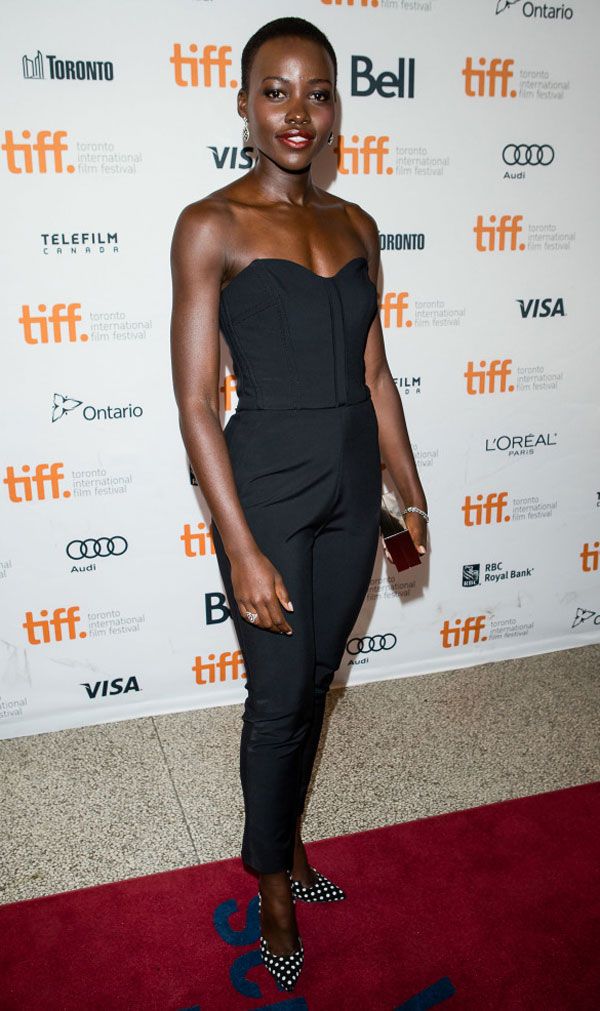 Lupita in Veronica Beard at the Toronto Film Festival
HFPA/InStyle Party.
Here she goes again with the not-so-basic basic + cool shoe combo. It's her thing, she does it well. And although strapless black jumpsuit is never an easy look to pull off, she does effortlessly. She wears the clothes, they don't wear her. An essential red carpet star attribute.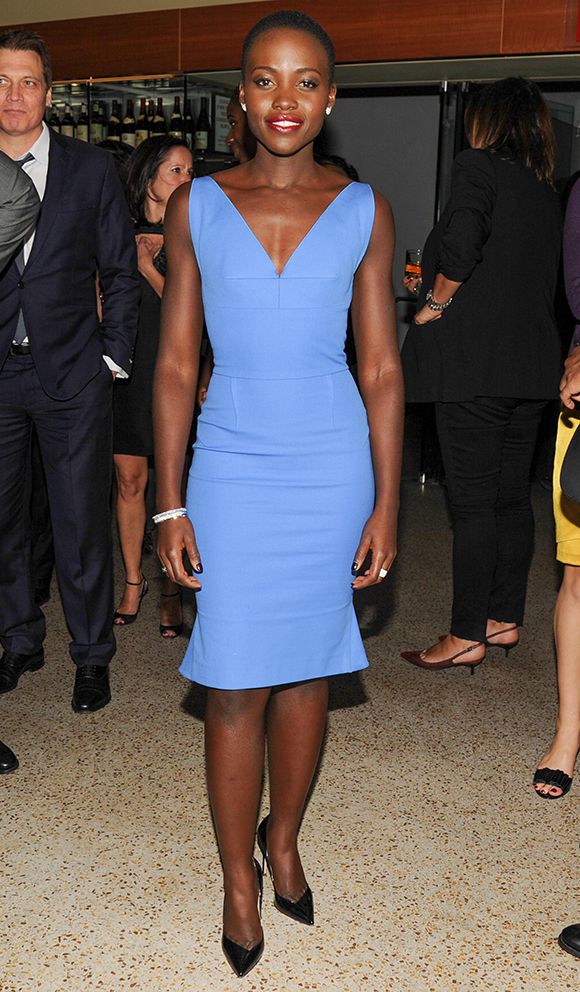 Lupita in Roland Mouret at the 12 Years a Slave New York Film Festival screening.

Her fashion fetish for brightly colored cocktail dresses will do her well. How can you not notice the woman in bright cerulean mingling through a sea of predictable black?