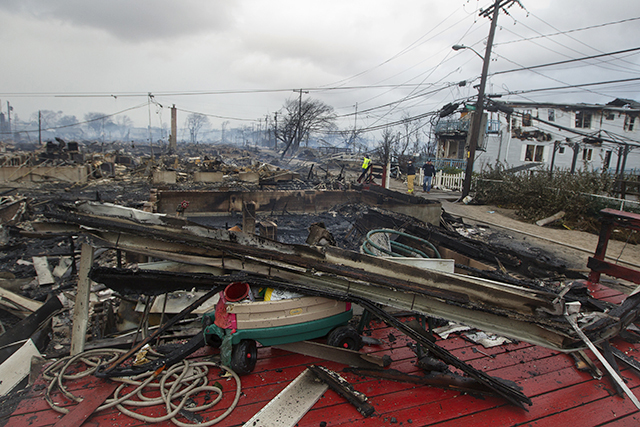 If you're among the lucky who weren't affected by Hurricane Sandy, it's likely that you have friends, loved ones, co-workers or stood in a long line for a bus this morning with people who are dealing with the damage left behind. Below, a list of ways to help. We've also included a few organizations accepting relief support donations as well as ways to help the Humane Society, the ASPCA and Adopt NY rescue and care for stranded pets. (See our list of Sandy benefits and fundraisers
here
.)
--
Get in touch with the shelters and evacuation centers in your area. Here's a map.
These centers may need different things -- extra hands, clothing donations, etc. -- so call ahead to see what they need. 
--
The Brooklyn Recovery Fund
, dedicated to helping areas of the borough hit by Sandy, including Red Hook and the Coney Island area among others, is
seeking donations
. You can also text 'Brooklyn' to 25383.
--
Occupy Sandy
has emerged as a key player in Sandy relief efforts, spreading the word about donation and volunteer opportunities via Twiter and their website. They're accepting donations as well. 
--
Brooklyn Based
points us to volunteer opportunities at
The Red Cross,
who need volunteers over 16 and who can lift up to 50 pounds. They must also be 'comfortable working in stressful situations.' If you can help, email staffing@nyredcross.org.

--
The Red Cross
is in need of
blood donations
due to cancelled blood drives.
--
The New York City Public Advocate's Office
is also in need of volunteers --  fill out
this form
which includes times you're available and neighborhoods you can travel to.
--
The Atlantic
has a thorough roundup of ways to help, including making food donations or volunteering your time at
The Food Bank for New York
and the
Food Bank of Monmouth and Ocean Counties.
--Gothamist also has an
extensive
list of volunteer opportunities and ways to help.
NY Cares
is
accepting applications
for volunteers (it's even better if you've gone to a NY Cares orientation meeting in the past year) and both
The Humane Society of the United States
and the
American Humane Society
are in need of donations to help rescue stranded pets.
--
The ASPCA
is
accepting donations
to help with rescue missions for pets that were stranded or injured during Sandy.
--
Adopt NY
needs donations to help get rescue groups caring for Sandy-displaced dogs the resources they need, including dog food, kitty litter and litter boxes, leashes, harnesses, crates, etc. See a full list of needed supplies and how you can help
here
.
--You can also find out about various volunteer opportunities via
NYC Service
over the next week. Email nycservice@cityhall.nyc.gov with your name, email address and borough.
--
The Salvation Army
is
taking donations
for Sandy relief efforts.
--
United Way
is taking donation
s for recovery efforts in Connecticut, Delaware, Maryland, Massachusetts, New Hampshire, New Jersey, New York, Pennsylvania, Rhode Island, Virginia, Washington, DC and West Virginia.
--
Unicef is accepting donations for aid in Haiti
, which has serious
flooding
from heavy rains brought by Sandy, displaced residents and destroyed crops.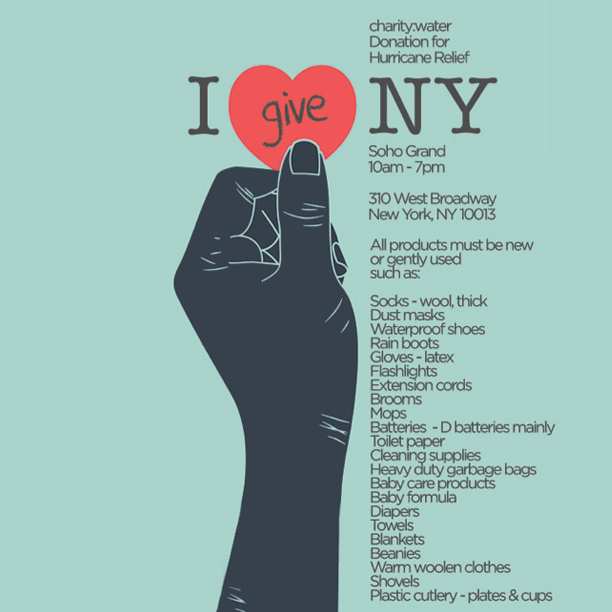 charity:water
has a donation drop off point for hurricane relief at
the Soho Grand Hotel
.
Bring new or gently used products to 310 West Broadway between 10 a.m. to 7 p.m.  Needed items:
Socks - wool, thick
Dust masks
Waterproof shoes
Rain boots
Gloves - latex
Flashlights
Extension cords
Brooms
Mops
Batteries  - D batteries mainly
Toilet paper
Cleaning supplies
Heavy duty garbage bags
Baby care products
Baby formula
Diapers
Towels
Blankets
Beanies
Warm woolen clothes
Shovels
Plastic cutlery - plates & cups

Above: Hurricane Sandy destruction in Breezy Point, Queens. Credit: REUTERS/Shannon Stapleton