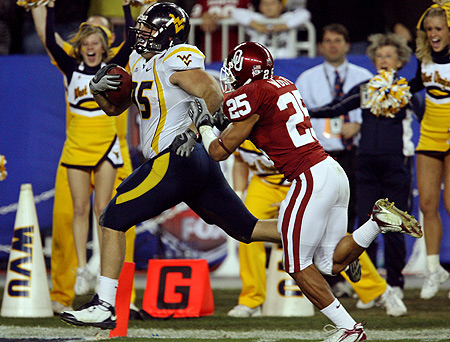 I'd venture a guess that not many PAPER blog readers are football fans but I have to gush about my homestate winning the Fiesta Bowl last night! West Virginia University's Moutaineers beat what many consider to be the best team in the country, the Oklahoma University Sooners! The final score was 48-28 in one of the most exciting games I've ever seen them play! We West Virginians usually find ourselves in the role of the underdog and this game was no exception. But WVU pulled off "perhaps the most stirring victory in Mountaineer history." Watch fullback Owen Schmitt's emotional post-victory interview here on Fox Sports Video (click on "Mountaineer Party").
This blonde bruiser with the rad Mohawk fights back tears as he talks about overcoming adversity for the love of our very special state! Schmitt mentions a poll taken before the game where every state in this country was betting on Oklahoma save one -- "the greatest state in the nation" -- who was pulling for the Old Gold and Blue! Well, Schmitt and Noel Devine, Pat White, Tito Gonzales and many other Mountaineers (especially our interim-now-head coach Bill Stewart) proved everyone wrong and put West Virginia on top! Great job guys! They must be going INSANE in Morgantown! (There sure was a lot of whoopin' and hollerin' here in Silver Lake!)
Video highlights from the game can be found here!