It's October, boys and ghouls! The season of wigs, candy, CVS black lipstick, the pumpkin dance, and all of the other cheap thrills that make life worth living. HALLOWEEN IS APPROACHING. Some of us have been hunched on the floor glueing rhinestones to a leotard for the past three weeks, some of us plan to wing it in a panicked dash around St. Marks on October 30th, and some of us just put in no effort whatsoever to the dismay and disappointment of all ("I'm going as myself" - don't be that guy). No matter where you fall within this spooky spectrum, you owe it to yourself to let Filipino horror drag superstar Ryan Robles make the case for PUTTING IN THE EFFORT on the Best Holiday We Have.

Grainy footage of his Exorcist-themed drag performance of Whitney Houston's "I Will Always Love You" made the internet rounds all the way back in 2010, but since then, some kind soul uploaded a higher quality video so we can witness all of the contours of this masterpiece as satan intended. I wouldn't dream of giving away any of the stunts and surprises, but let's just say...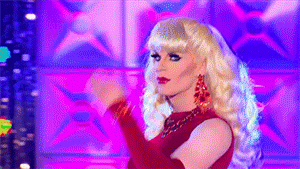 Watch the video below...