Warner Brothers' Exclusive With Best Buy Sucks!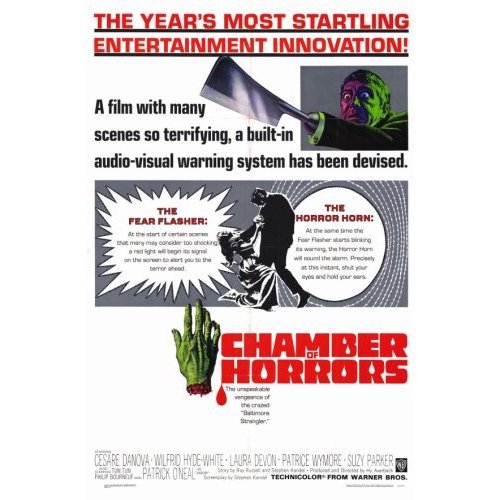 I spent days hunting all over Manhattan and Queens for this "exclusive" that Best Buy has with Warner Brothers for two DVD Horror double features, Chamber Of Horrors and The Brides of Fu Manchu. Chamber of Horrors is the movie with the Horror Horn and the Fear Flasher to warn you of fright scenes and stars Patrick O'Neal who uses the stump for his missing hand to outfit all sorts of weapons to kill his victims. And The Brides of Fu Manchu stars Christopher Lee as the famed Sax Rohmer villain. Then there's the It/The Shuttered Room double feature. It stars Roddy McDowall who lives with his mom's corpse (Ã  la Norman Bates) and uses a Golem-like statue to dispatch his enemies. The Shuttered Room is a nifty chiller starring Gig Young, Carol Lynley and Oliver Reed and based on an H. P. Lovecraft story about a creepy town and a haunted mill house.
But why do they advertise this deal and then don't stock the store with the DVDs?! It's such a drag. I eventually found both double bill discs and they look sensational, but it still pisses me off.