Our annual April
Beautiful People Issue
, celebrating a cavalcade of cuties to watch in different disciplines, has been such a sensation we've decided to showcase noteworthy movers and shakers all-year round on Papermag.com. We kicked things off in the city of Angels, and will be
posting an L.A.-based Beautiful Person a-day
for the next few weeks.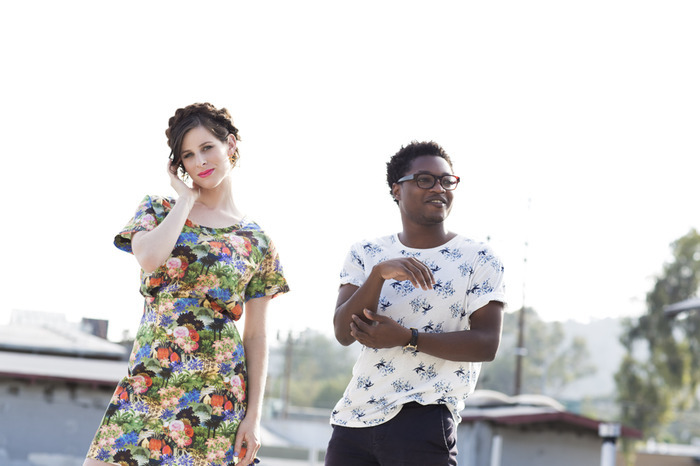 While Theo and Sasha Spielberg might come from film royalty -- the brother and sister are the progeny of Steven Spielberg and Kate Capshaw -- it's the music world that they're carving a niche for themselves in with their indie-pop band, Wardell. Theo and Sasha's first EP, aptly named
Brother/Sister
, came out this summer and the duo are
now being managed by Jay-Z's label
, Roc Nation. Wardell has already performed at
Diane Von Furstenberg's fashion week after party
, opened for Santigold, and generated a considerable amount of buzz at SXSW. With musical accolades like that, they just might make "Spielberg" synonymous with indie jams.
Describe what you do in 3 words.Theo
: Answer hard questions.
What are you working on now?Sasha
: We are working on more songs, testing different fields, pushing our boundaries.  
Describe living in L.A. in 3 words.
Theo
: Warm Bath Life.
When you were little, what did you want to be when you grew up?
Theo
: I wanted to be a soccer player. I sort of still do.
Sasha
: I wanted to be an actress, I was obsessed with being in the spotlight. I also wanted to be a mermaid, bigtime.
If you got to take over MOCA, what would your first exhibition be?
Theo
: I would probably put up an exhibit of sculptures made entirely out of Mocha Frappucinos. Mocha at MOCA!
What's the biggest misconception about L.A.?
Theo
: Honestly Los Angeles isn't really a city, in the traditional sense. It's so big and sprawling that it functions more like a network of interconnected neighboring towns. Also, the traffic is really not that bad. And it's truly beautiful here, it's not just a desert. 
Where's your favorite place to eat in L.A.?
Sasha
: We love Mexican food. And we love the sandwiches from Bay Cities. I love Sushi Kimagure in Pasadena. Also Chinese food in San Gabriel Valley is perfect. 
Theo
: Escuela Taqueria, mi amor.
Who's the most beautiful person you can think of and why?
Theo
: Catherine Zeta Jones. I think we all owe it to ourselves to re-watch
Entrapment
. 
What's the most touristy L.A. thing you've ever done? (Or, what's the one touristy L.A. thing that's actually worth checking out?)


Sasha
: Most touristy L.A. thing we've ever done was being blocked by a Star Tours bus trying to get into our house, so we heard their whole introduction.  
What's your best celebrity run-in story?
Theo
: There was a month where I kept running into Jason Segel, almost every day. At one point we were both in our cars, trying to squeeze past each other on a narrow street, making awkward eye contact. It was like the twilight zone and he probably thought I was following him. The whole thing culminated outside of the Chateau Marmont when he ran into me and some friends smoking on a side street. He joined for a while and then invited us to karaoke. So obviously we went.
If you could be any star from Old Hollywood, who would you be and why?
Theo
: This is somewhat constrictive because there weren't too many black movie stars in Old Hollywood. One day my answer will be Morgan Freeman, but for now it'll be James Dean or Alec Guinness. Or Brando.
Sasha
: I just love Natalie Wood. Everything about her. And Vivien Leigh.
What's your favorite street intersection in L.A.?
Theo
: I just realized the venue The Wiltern was named after its intersection, Wilshire and Western. I felt like a real detective after that one! But probably my favorite intersection is 26th and San Vincente, only because of Reddi Chick. There's so much extra junk there nowadays. It peaked in '99, which, coincidentally, is when
Entrapment
came out. 
How do we get from Chateau Marmont to Venice Beach? Give us driving directions.
Sasha
: Chateau to Venice beach -- first of all, you assess your life. What time are we talking? If it's rush hour, stay at the Chateau and go back to step one. If it's at a reasonable hour, you take Sunset Boulevard straight down to Allenford, then make a left on Allenford which turns into 26th. Make a right on San Vicente, take that baby all the way down to Ocean Ave, where you will make a left, and then notice that you're going way above the speed limit. You slow down, continue forward. Then you'll find it.
Sasha wears a shirt and skirt by Paul and Joe, earrings by Lara and a ring courtesy of Gray Gallery.

Theo wears a t-shirt by Gant, a vintage watch courtesy of Gray Gallery and his own pants.

Stylist: Natasha Newman-Thomas
Hair:Sylvia Wheeler
Makeup:Ren Bray