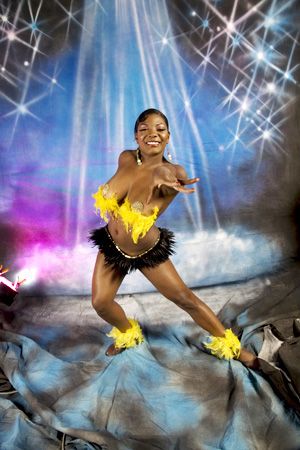 Despite a raid by the Las Vegas Nipple Police (aka The Nevada Gaming Commission), gale-force desert winds and not-so-friendly hosting by the Maloofs' Palms Resort and Casino's buff-and-burly management bullies, the 2008 Miss Exotic World Pageant of Burlesque, which took place at the Palms' multi-acre pool complex on Jun. 7, came off with all the pasty-pretty pizzazz, deeply-lipsticked pouts, rhinestone-bedecked glamour, dainty tilted hats, outrageous platform shoes, sprawling tattoos and bawdy humor one might expect from the world's #1 classic striptease contest.
Having flocked like birds in their feather boas to The Strip from across the globe to celebrate burlesque's re-blossoming and to luxuriate in likeminded company, Exotic World-ians were naturally stunned and bummed when the Gaming Commission showed up early on in the four-day-long burlesque convention -- which included a Dr. Sketchy's Anti-Art Class (a live-model sketching session with burlesque dancers as muses and models), a burlesque poker tournament, a costume and book-signing bazaar, poolside circus, and "Legends Panel" presided over by such stars of the pre-television and pre-Playboy Golden Era of Burlesque as Dixie Evans, Ellion Ness The Untouchable, Tempest Storm, Lodi the Bodi, Dusty O'Hara, Shelli Rae, Tura Santana, Satanz Angel and Baby Candy Caramelo -- to slap a nudity-ban on the lower region of the breast (requiring performers to cover the portion of skin below the nipple with jerry-rigged fishnet covers). Breast-blocking aside, the overall reveling mood remained polite, cheery and lighthearted (a trademark tone of all female-run industries?), though good-naturedly incensed.
Downtown NYC Burlesque beauty, World Famous BOB, befrocked in a cherry-red champagne flute dress she'd had tailored so as "not to be able to sit down," charmingly crowed about the hypocrisy of such a slap as she emceed the weekend's kick-off performance, a sentiment that was later echoed at the pageant by its delightfully ribald co-hosts, rockabilly crooner El Vez, "The Mexican Elvis," and mock-Weimar-ian hostess Miss Astrid, who cut an authoritative figure in a severe black bob, black eye patch and faux-ermine cape and boomed over the mic in husky German-esque-accent deadpan that the lower part of the breast is "so inflammatory that when met with gambling is like putting a flame to a powder keg."
The audience of thousands who'd poured into the poolside arena for the event, lounging in prime-view cabanas and on poofy poolside basket-chaises and standing in high-heeled hordes on the Jacuzzi plateaus under an open-air ceiling of dark sky and glittering stars in hair-whipping winds, booed heartily in reply to Astrid's quip, and roared with equal abandon in glee when the title of Miss Exotic World was passed from its 2008 holder, curvy Brit Immodesty Blaize, to NYC's own Angie Pontani for her Golddigger routine. However, it was The Black Perle, a 19-year old from New Orleans who stole the show with her Danse Banane tribute to Josephine Baker, a performance for which she came away with the title for Best Debut.
The following morning, The Black Perle was celebrating her moment of glory poolside in a shimmering golden shorts-suit and giant sunglasses, basking in the Vegas sun, the glow of her stardom, and the "surreal feeling of finally being where you belong." When asked about her post-pageant goals, The Perle smartly beamed, "to break boundaries," adding, "I can only hope and pray that Josephine's proud." One imagines Ms. Baker, way up in some Exotic Heaven, was smiling down on her earthly fan, and, with far less pride, on the age-old antics of The Man.
Photo by Bob Debris