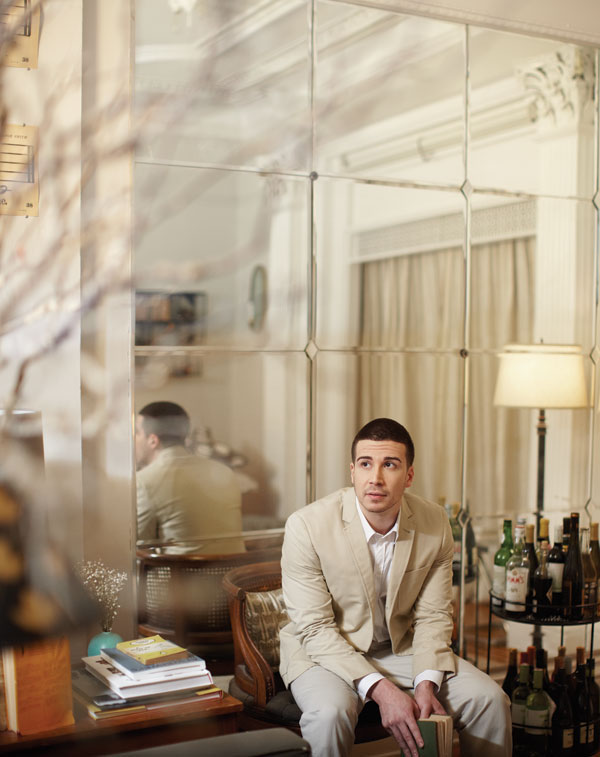 In a recent episode of
Jersey Shore
, as Vinny Guadagnino walks down the boardwalk with housemate and erstwhile hookup buddy Snooki, policemen barricade the crowd mobbing the couple. There's a meta quality of the show within the show, now in its fifth season, that would give anyone a complex who's just trying to be a normal kid living in a beach house and carousing every night with six of his closest buddies while MTV films. This season, Guadagnino struggled with anxiety, even leaving the show for a bit to go home.
The result is a book,
Control the Crazy,
out this month, that imparts some of the life lessons Guadagnino's learned. "I went through some stuff in my life, and I've learned how to deal with it through more self-help spiritual approaches," he says, adding, "it's not a book about the
Jersey Shore
, but about life in general."
Since the season wrapped, Guadagnino (who's known as the sweet, smart one on Jersey Shore) has been taking improv classes at the Upright Citizens Brigade Theatre, with the hopes of parlaying his reality show fame into an acting career. "That's my main passion right now," he says. "All I want is to just get on a show, to transition into something steady and showcase that I'm more than a reality star. To be like Kid Cudi on
How to Make It in America
. Or like Adam Sandler, who started on MTV, then did improv and then
SNL
."
If the whole acting thing doesn't work out, there's always his politics background to fall back on--though the poli-sci major and former political aide has no plans to run for office anytime soon, not even in his beloved hometown of Staten Island. "I would have a lot of campaigning to do," he laughs.
Perhaps being a part of one of the greatest sociological experiments of our time is a qualification. Guadagnino says, "We're taught everywhere. There are study groups about us at Harvard and Yale. My teachers have called me and said 'Hey Vinny, I'm teaching you right now.'" And Guadagnino quips: "You can teach us in sex-ed too."
Vinny
wears a jacket and pants by
Billy Reid
and shirt by
Dolce & Gabbana
.
MEET THE REST OF OUR 2012 BEAUTIFUL PEOPLE