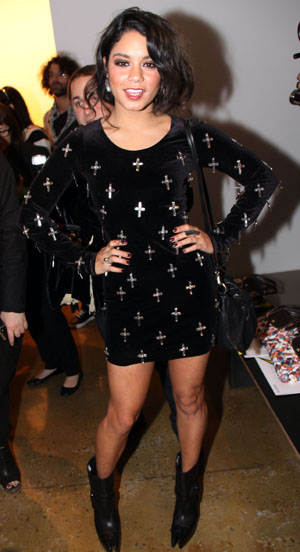 If NYFW photographs are to be believed,
Vanessa Hudgens
is having zero problem-o finding celebrity dates to fashion show in life post-Efron. Yesterday, we chatted with the
High School Musical
cutie while she sat front-row aside the
Gossip Girl
's mouthwatering
Chase Crawford
at Diesel. And Hudgens was again front row this afternoon at
Jeremy Scott
, this time smiling ear-to-ear with another ubiquitous Fashion Week face,
Mr. Kanye West
. PAPERMAG caught up with Hudgens about the media mess that's shadowed her all week, a return to her musical roots, and why could care less about celebrity gossip blogs.
Fashion Week is always over the top. Do you ever get used to this insanity?
Well, this is like my first Fashion Week ever. So this is all very, very new to me so I'm sucking it in. I don't know -- I think it keeps things entertaining.
How would you describe your personal style?
I would say bohemian. It kind of ranges from one spectrum to the other, but it's generally bohemian.
Speaking of bohemian, you recently played Mimi in the Neil Patrick Harris-directed rock musical Rent!
It was so much fun. Literally, after our last show I was screaming, "Let's go on tour!" Because I had the most amazing time. I love being on stage and its been so long since I did it. I grew up doing it. So, I felt like I was right at home up there.
Can we expect an album or a Broadway show anytime in the near future?
I think definitely at some point. Not right now. But who knows what the future's gonna hold? I'm such a musical person. I sing the moment I wake up to the moment I go to bed. So it's definitely going to happen. I'm just figuring out when.
We've gotta ask... How was working with Mary-Kate Olsen in your forthcoming flick, Beastly?
Amazing. She's just such a cool chick. She's got such amazing style and I've been a fan of hers for so long. So, I was super-stoked to just be able to hang out with her and see her eye to eye -- literally! (laughs) We just had a great time. .
How do you handle all of the Perez posts and negative tabloid chatter?
I just try to avoid it, honestly. And when I do catch a glimpse of it, I know what's true and I have to live my life for myself because that's all that I have. I can't live it for anybody else. So I think just as long as I do that and try to not let other people's opinion push me into certain things then I'm good.
Photo by Caroline Torem Craig