Vanessa Carlton
, she of "A Thousand Miles" acclaim, is back. Her fourth studio album, the pared-down, downright lovely
Rabbits on the Run
is out today and on the occasion of her first tour in four years, we asked the singer-songwriter to document life on the road. (She'll also be on
The Tonight Show With Jay Leno
tomorrow night.) Here's her second report, featuring hair tips from
Stevie Nicks
and fun facts about Pocket Rockets.
July 4th: Home in New York City
I had a stellar Blue Ribbon Sushi dinner with my high school friend Jules.  The city was sleepy. Post dins we got a glimpse of the spider-y fireworks booming over the Hudson while we walked down 7th Avenue, sticky from the heat, looking for that speakeasy we dig.  Alas, speakeasy was closssssszzzed.  I leave for west coast portion of tour tomorrow so it's probably best I zzzzzzzz.
July 5th: Travel day to West Coast
I slept maybe three hours last night.
My brain was buzzing. This is the first time I'm carrying the songs out West and this record is unlike anything I've done before.  An analogy that hit me while jogging is this:
Rabbits
is ALL muppet... not even an ounce of CGI.  ALL. MUPPET.  Fresh and scary.  I've been working towards this for a long time I think.  Anyway, last night I may have mostly been wondering if the Californians will dig this music.  They are a collective muse for me.  I must not fail them.
Car coming in 40 minutes and it is then that I start packing. Pack for a week of shows and press in 20 minutes: Victor's (my man in a  dog suit) accoutrements, my ginormous net bag filled with herbs, and paper lunch bags filled with shrubs from my chinese witchdoctor (he's a little man that  never ages, bright skin, all-knowing smile and looks like an oracle) are the main staples of my touring kit. I scored some beautiful
Electric Feathers
pieces to wear for the shows. LOVE.  Roll em up and stick em in my tattered Tumi.  I'm lucky.
July 6th: Krush Triple A radio gig, Santa Rosa, CA
Start this California run with a wine country radio gig with Krush. It was a rad little Triple A shindig. Ari and I played into the bright sun on a rolling hill (a knoll if you will) of grass filled with people, mostly hippies young and old.  The women dancing are very beautiful.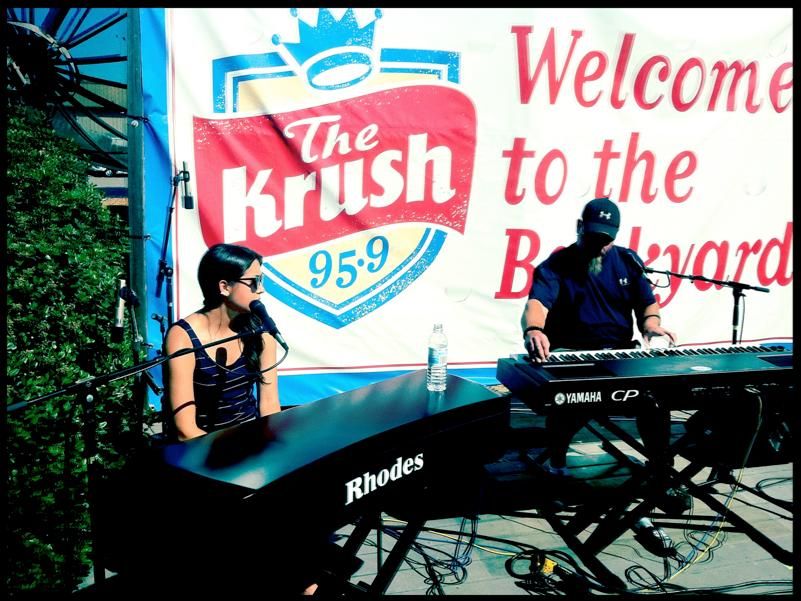 Above: Pre-show soundcheck with my steadfast friend and sound wizard Mark Chase. 
Couldn't get my fav '73 Rhodes keyboard out west so I had to use this peanut-brittle-sounding one from the '80s. My favorite Rhodes sounds like more of a marshmallow.
Right after I step out onto the stage someone from the station taps me on my shoulder and says, "Your dog is on the table eating catering." So, I wave hello and then turn my back on a cheering crowd to run back through the door into which I came. I get back to my dressing room and catch Victor nose deep in a container of red pepper hummus.  Really? He guiltily looks up at me, hummus smeared all over his face. A woman backstage helps me cover everything. I put Vic in his "hut" and I run back out to the people. They remained cheering the whole time for some reason. Goes pretty well and we pack up car post-show and Mark drives us to San Francisco.
I lived in San Francisco on and off for a couple years. My love for the city remains in full bloom. I have a few heard-core friends here and I miss the grey sea and skies.  Solnit draws lovely lines to SF in her book
A Field Guide to Getting Lost
. It's as indeed as dynamic and enigmatic as Hitchcock's
Vertigo
would have you believe.  LSD-soaked roots too, which I DIG. Arrive to Laurel Inn at 11 p.m. Two sips of a martini and I head to bed.
July 7th: Swedish American Hall, San Francisco, CA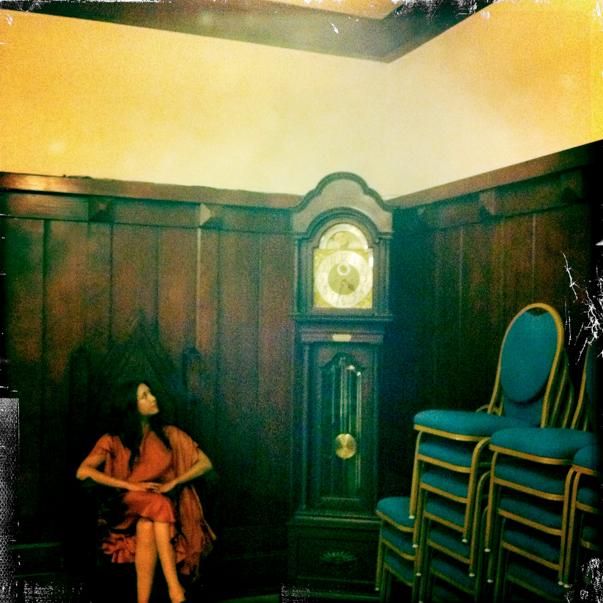 Victor and I take a long walk before soundcheck on a mission to find NARS red square lip pencil. Deed done. Playing one of my favorite venues tonight, the Swedish Music Hall. The great San Francisco fire burned it down but they rebuilt it in 1917.  Only in San Fran could one find a grandfather clock in one's dressing room. Grandfather clocks equal vortexes into secret chambers -- a la
The Last Unicorn
. This clock has no drunken skeleton sittin on its ledge tho (unfortunately). I put on my new Electric Feathers rouge silk and I feel ready.
This gig felt like being home. Signed some posters and CDs post-show and gave a hug or two.
Then it's back to the Laurel Inn... hotel bar... can't even finish my champagne... crash....
July 8th:  Largo, Los Angeles, CA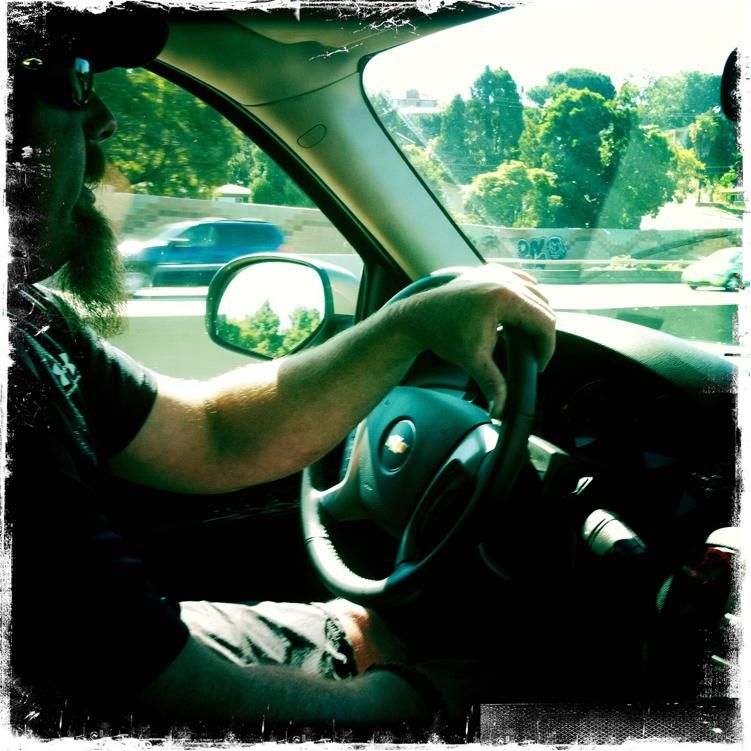 Wake... coffee... car...
Driving from San Francisco to Los Angeles to play the Largo at the Coronet Theatre. I feel Mark fading in the front seat but he doesn't say anything. I, however, feel like I'm livin' the dream sittin' in the back seat eating a yogurt parfait (with maca powder and evening primrose oil!). It's all in the little things. A fire on the side of Highway 5 perks up the guys and Ari takes an epic picture.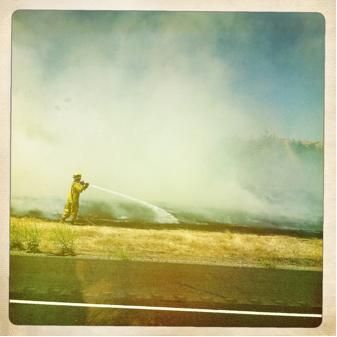 Above: Tell me....what is hotter than a man that fights fire? I mean....TELL. ME.
Just found out Madame
Stevie Nicks
might be coming to the show tonight. She has been a steadfast friend and totem for me over the years. She seems to really love this record. I hope she feels part ownership cause she sequenced the songs for me and it had a huge impact on the flow of the songs. She's a KILLER sequencer.
Stevie's favorite song off of
Rabbits
is "Hear the Bells" but I haven't played it live yet. She'll wanna hear it tonight but I'm STILL not square on how to make it haunting in a live setting.  Fuck. Honestly, "Bells" is my favorite song as well. I was so sick for so long (I have yet to really talk about what happened to me with the press. Someday) and this song is a musical map to a remedy. Why have I not played it live yet? Have I been saving it for something?
By the end of the drive, we find out that Mizz Nicks is indeed coming to the show. .I start to feel more at ease. Cut to me going on in 10 minutes and Stevie pops into my dressing room. The first things she asks is, "Are you doing Bells?" Doh.
I ask her if she feels like singing "Carousel," with me instead. She seems to be in the mood and looks stunning. She ends up singing her magical harmonies on "Carousel" and closing the show.
A quick glass of wine backstage post-show and I promise Stevie I'll have "Bells" ready for the Bardot show for KCRW's "It's A School Night."  Rad station. It's an excellent event and must do Monsieur Chris D proud. I'm quite sure Stevie has never played a spot as small as Bardot and she's that much cooler that she'd be down to do it.  At the end of the day what means the most to Stevie is VIBE.
July 9:  Temecula, CA - Pechanga Resort & Casino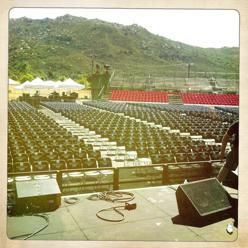 Above: Pechanga Stage during soundcheck
But first, I gotta play two gigs. We get back in car with a new member in the tribe, my friend and stylist
Tracey Moulton
. She couldn't resist my pitch of, "This weekend will be fun AND weird" and so we all drive to some strange vortex two hours out of Los Angeles called Pechanga. It's a casino? The Native Americans spirituality tied into casinos is so odd.  Talk about juxtaposition. They sell dream catchers at the gift shop and I buy one for five bucks.
SHOW: A stunning view from the stage. Mountains are transporting when you stare at them long enough. By the time we play, the moon has risen and the setting feels mystical.

July 10th - Another show- KPRI San Diego Radio show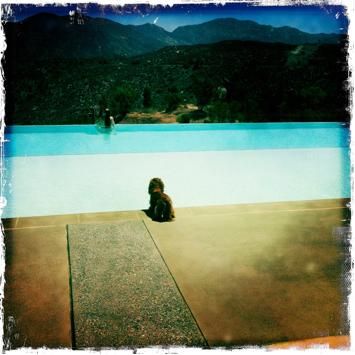 Leave early next morning for another casino, deeper into the mountains. Who knew there were so many secret casinos two hours outside of Los Angeles....in the sweltering hills no less? Wha?

The hotel in this one is actually kind of pimpy. I NEVER lay in the sun but I'm now making an exception. I've got two hours before this lil radio gig so we hang here.

Show is in the afternoon and it goes pretty well, plus I mustered the courage to play, "Hear the Bells" with Ari.  We'll be ready for Stevie and Bardot I think. I THINK.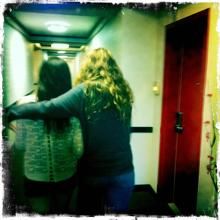 Above: Ari snaps this of Tracey and I walking back to my room post show. VERY Sophia and Blanche.

That night I crash early in a plush suite and decide to watch Justin Bieber Never Say Never.  Kid is cute, but it was traumatizing to watch for some reason. While I was watching the movie, Trace was downstairs playing craps with the guys and ended up winning $800 bucks.   Apparently I made the wrong call.

July 11th - Wake and we drive back to LA.....KCRW Show at Bardot

Stevie meets us at Bardot for soundcheck and rehearsal. We run "Bells." Feels really vibey.  Stevie and I head back to the Sunset Marquis to get ready. I slip on a black Electric Feathers dress and Stevie shows me her immaculately tailored black jacket...very Gaultier, but not.  It's custom-made. Ms. Nicks has had her own dressmaker (Margi Kent) since the '70s and tells me that Margi glues a jewel under the arch of each of her eyebrows every. single. day. of her life. AMAZING.

We head back to Bardot and this happened....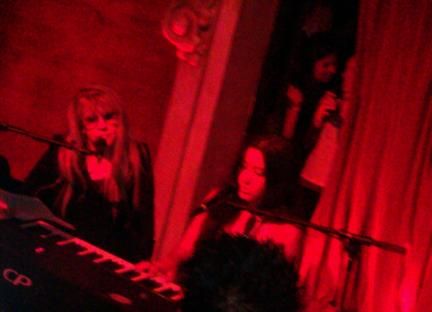 Watch "Hear The Bells" here.
 
July 12th Post-show...into my next-day return home to NYC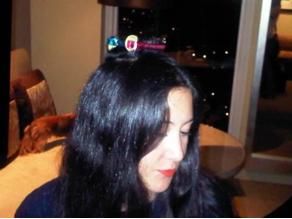 2:30 a.m....Post-show Stevie gives me very specific instruction on how to get back-of-head-hair-volume.  She sticks these two curlers in my hair with special clips (pictured above) that feel like nothing. I will probably walk through airport security tomorrow with them still in tact cause I seriously can't feel them.Whatever I've had worse things happen. Curlers in your hair are way better than a TSA dude discovering your pocket rocket. Yep. Happened.

5:00 a.m. lobby call. I didn't sleep at all (instead watched an infomercial for an hour) and drag my feet and bags to meet Mark out front (sans curlers). We pour ourselves some serious coffee and head to LAX.  The no zzzzzz's hits me like bricks on the flight back home to NYC and I sleep the whole way -- gotta be fresh for my Rolling Stone live session AND I have lunch with my mom.  Never cancel lunch with mom, Emily Post would NOT approve.

To.Be.Continued......

Vanessa Carlton Tour Diary, Part 1

Styling by: Tracey Moulton
Clothing by: Electric Feathers
Photo Credits: Ari Ingber
Stevie Nicks/Vanessa Carlton Photo by: Karen Johnston