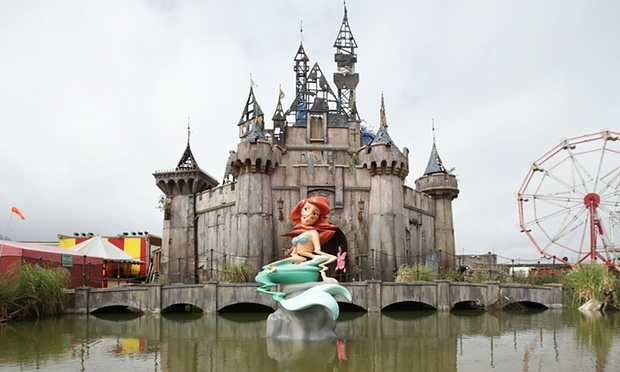 [UPDATE: 08/21/15:
Apparently the was also extra room in this year's Dismaland budget to put on a
whole host of big name musical acts
-- namely Savages, Massive Attack, Pussy Riot and Run the Jewels. Damn.]
Banksy
's latest art project was unveiled earlier this week in the English seaside town of Weston-super-Mare at Tropicana, a "derelict" seaside pool complex he's turned into his own five-week "bemusement park," meant to serve as a commentary on the corruption of central powers and capitalism.
His biggest exhibition to date, 
Dismaland 
is, appropriately, a dystopian take on the "evil" institution that is Disneyland. According to the artist, it's meant to be "
a family theme park unsuitable for children
" that Banksy is branding as "a festival of art, amusements and entry-level anarchism" and "an escape from mindless escapism."
Banksy, who still fancies himself a "subversive," "anti-capitalist" art force despite
his works now being mass-produced
and commanding
upwards of $1 million
, has decided to take on  the Disney Corporation with a hefty dose of sarcasm and sneer. After all, irony is his specialty, seeing as how he's made
millions off of an art form that started with the Bronx's poorest communities of color.
Or, you know, seeing as how he's commonly cited as the high-brow art world's failed attempt to embrace a
token sense of diversity.
Taking over the depressing seafront park, which is "popular with low income holiday makers," the attraction/exhibit will apparently feature 10 new works by Banksy, plus pieces from similar white cube heavy-hitters à la Damien Hirst and Jenny Holzer. Interspersed between other exhibit "pieces" like the "pocket money loan" shops (kids can get money at a 5000% interest rate) and paparazzi-flooded Cinderella pumpkin crash scenes, it's bound to be an interesting exploration in the furthering of his ironic rhetoric. A day in capitalism-conscious dystopia can be all yours for £3 -- or at least until the show closes on September 27th.
Oops, here's the pic I meant to include on that last Tweet. #Rain #Dismaland pic.twitter.com/URFYFbw9mo

-- Francis Clarke (@francisclarke) August 5, 2013