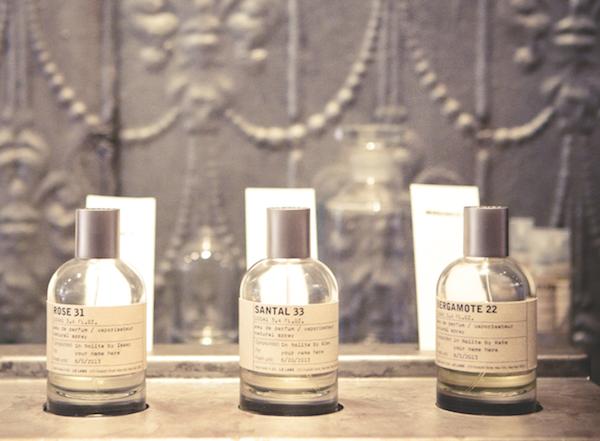 Lately, wherever discerning, creative types flock -- be it an art show, a concert or a boutique opening -- a certain, musky, smoky scent follows. No, the fragrance is not some imagined
eau de la vie boheme
but something more tangible: Santal 33 by Le Labo. The scent, a mix of sandalwood (
santal
in French), papyrus, cedarwood, cardamom, iris, violet and 27 other ingredients, has become a favorite among those unafraid to wear Comme des Garçons drop-crotch pants or who own the entire Criterion Collection Fassbinder catalogue.
Le Labo was founded in 2006 by Frenchman Fabrice Penot and the Swiss-Lebanese Edouard Roschi, who met working together in Giorgio Armani's fragrance division. The brand has thrived on a simple business model: "To make the life of people more beautiful," Penot says. To that end, the company eschews traditional advertising, branding and PR in favor of creating unique and intimate experiences. Of these, perhaps the most notable happens once a client selects a scent: employees in lab aprons hand mix the ingredients, stirring and titrating the made-to-order blend. "I love the whole concept of encountering the original ingredients," Barneys New York creative ambassador at large Simon Doonan says. "I love to go into our Le Labo boutique at Barneys and caress a vetiver root."
"When I wear Le Labo, everyone from my mom to people I'm interviewing always ask me,
What is that?
"
-- Marcus Holmlund, Freelance Writer and Stylist
In only six years, Le Labo has opened seven stores worldwide and sees its perfume concocted in the world's most coveted retailers from Barneys New York to Harrods of London to Colette in Paris. The brand has crafted a number of scents exclusive to a particular city (Tokyo's Gaiac 10, Paris' Vanille 44 and Chicago's Baie Rose 26, for example) and, when they're offered for a limited time in each of their boutiques once every two years, hordes of people queue up before the stores open to get their hands on a precious bottle (or three).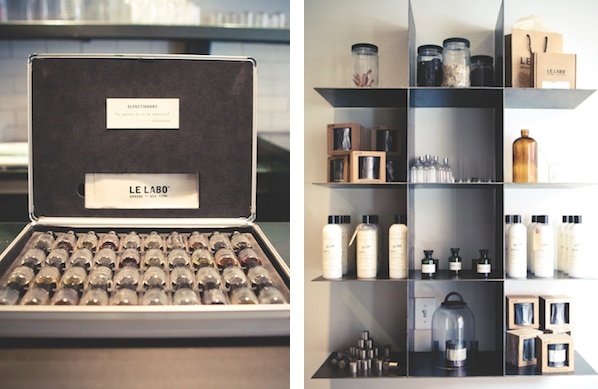 Penot attributes the perfumery's success to the fact that their scents make the wearers feel special, much in the same way a pair of red-soled shoes or a bespoke suit jacket can. And, for many of these wearers, an encounter with another smelling of Le Labo is accompanied by a little nod and a silent (or not so silent) recognition of membership in a special circle. "I've bonded with people over Le Labo and I've had strangers come up to me at parties and say 'Oh my God, my ex-boyfriend wore that scent,'" SoHo-based video producer Juliun Williams says of Santal 33.
Ultimately, Penot believes much of this connection stems from embracing what others might consider flaws, whether that be an imbalanced top note or a discordant combination. At first, the perfumes "take you off guard," he says, "then after [each ingredient] takes its path and after 20 minutes on your skin, it's magical." The perfume maker adds, "This is where the magic happens -- in the beauty of imperfection."