Our annual April
Beautiful People Issue
, celebrating a cavalcade of cuties to watch in different disciplines, has been such a sensation we've decided to showcase noteworthy movers and shakers all-year round on Papermag.com. We kicked things off in the city of Angels, and will be
posting an L.A.-based Beautiful Person a-day
for the next few weeks.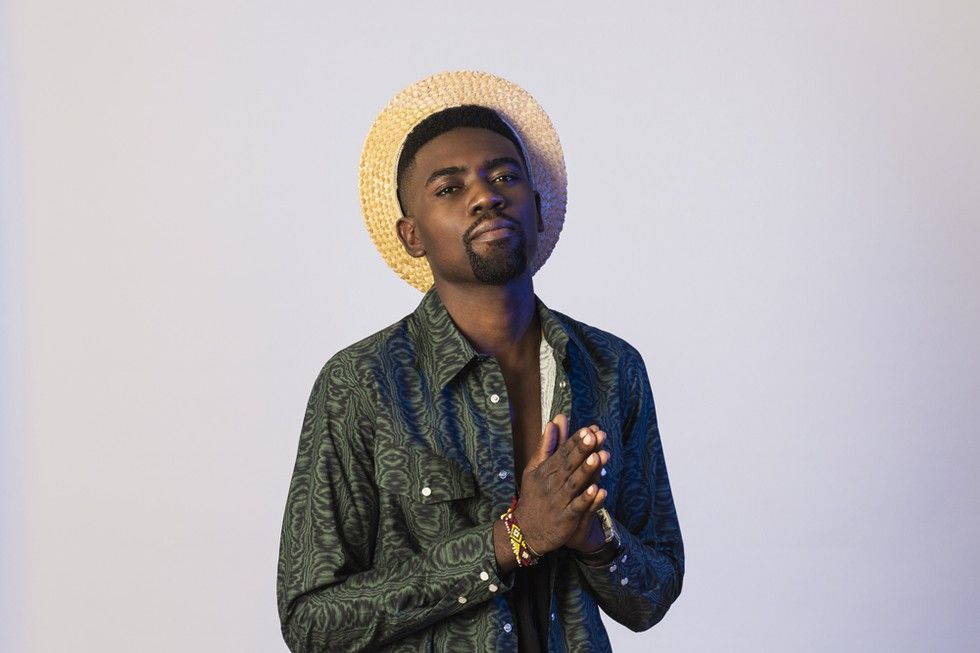 Chances are you've seen many of
Ugo Mozie
's looks on pop stars flouncing down the red carpet and in the pages of fashion glossies. The Nigerian-born stylist and designer was discovered by Jay-Z in 2005, and now divides his time between dressing celebrities and producing a line of super cool jerseys that have been worn by stars like Justin Bieber and Rita Ora. Mozie is also looking to start a youth organization and release a full clothing line in the near future. We'd say that that's a lot to take on, but with a roster of pop's biggest acts rooting for him, we're sure he'll do just fine.  


Describe what you do in 3 words.
Create, innovate, and inspire
What are you working on now?
Outside of styling and directing, I'm currently working on a jersey line I created with designer, Charlie Giannetti. I'm also working on launching my youth empowerment foundation and my Official Ugo Mozie line.

Describe living in L.A. in 3 words.
Peaceful, inspiring, poppin'.

When you were little, what did you want to be when you grew up?
I always wanted to be an entertainer, renowned fashion designer, and business tycoon. I never had one set goal or dream. I just knew I wanted to do impossible things and make the world a better place.
Are you from L.A. originally? If not, do you remember what your first day living in L.A. was like?
I'm originally from Nigeria but I grew up in Houston Texas.  My first day in L.A. was pretty perfect. I spent the day with my old friends out here. After a day of relaxing and catching up, we had a bonfire night at a mansion in Malibu. From that day on, I knew I was home.

What's the biggest misconception about L.A.?
The people here are fake. I'm a strong believer that the kind of energy you put out is what you get back from people. I find L.A. to have some of the most genuine, caring people I have ever met.
Where's your favorite place to eat in L.A.?
I love Pinches Tacos (Fish Burrito), Tender Greens (Tuna Salad), Fig & Olive (Paella), and Soho House (everything).
Who's the most beautiful person you can think of and why?
The most beautiful person I can think of is my mother. She's beautiful inside and out. There's not a day that goes by that I don't commend her for being so triumphant and pure. Her image, heart, and energy, make her the undefeated beautiful champ in my book.
What's the most touristy L.A. thing you've ever done?
Take a photo under the Beverly Hills Sign on Rodeo Dr. It was a little annoying and awkward having to wait in line to take the photo but it was 100% worth it. The pic is a classic.
What's your best celebrity run-in story?
I ran into a beautiful woman by the name of Shawn King while shopping for the Grammys last year. I gave her some tips on what shoes to get. One thing led to another, she asked me if I could get her wardrobe for the Clive Davis Grammy party she and her husband were attending the following night. The next day I went to her house with all the pieces for the fitting. She sent me a text saying her husband would let me in. Soon enough I walked to the door, and her husband Larry King was standing there. The rest is history.
If you could be any star from Old Hollywood, who would you be and why?
Sidney Poitier. Sidney is legendary. He's opened so many doors for generations to come. His poise, demeanor, and style is definitely one for the inspiration mood boards.
SEE MORE FROM OUR BEAUTIFUL PEOPLE LOS ANGELES SERIES
Ugo wears a shirt by Vivienne Westwood.
Stylist: Natasha Newman-ThomasGrooming: Sylvia Wheeler