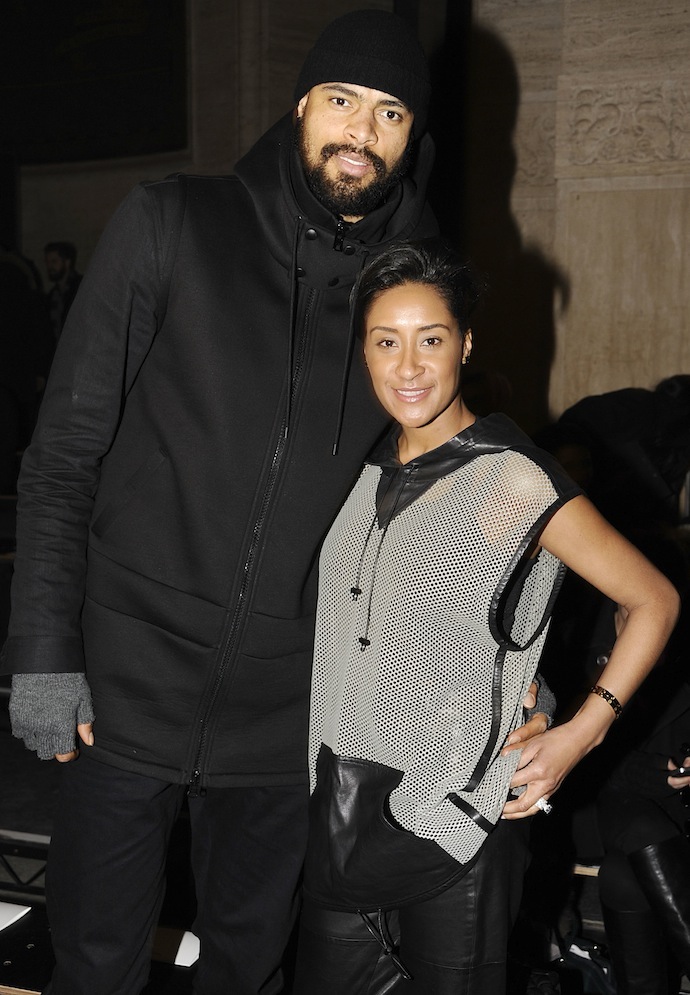 Photo by Clint Spaulding /PatrickMcMullan.com
It's a colossal understatement to say that at 7'1" Tyson Chandler stands out. And it's another understatement -- if not quite as grand -- to say that the New York Knicks player stands out for his style, even among the hordes of street style blogger bait at New York Fashion Week. When we bumped into him and his equally fashion-forward wife, Kimberly, at Alexander Wang's Fall/Winter 2013 show this weekend, aside from deeply regretting not having thought to include him in our list of "
12 Basketball Players Jeremy Lin Should Take Some Style Advice From
," we were curious whether the player and his spouse influence one another, fashion-wise. "I think [we're] just competitive," Chandler told us. His wife clarified, "We're competitive in terms of if I find a piece and I'm super excited, he'll be like, 'That's so dope,' but in terms of getting dressed together, it's more fun than competitive."
And considering the fact that from
Russell Westbrook's shirts
to
Baron Davis' glasses
, it's clear basketball players have stepped up their games since the days of
Michael Jordan's silver pinstriped suits
(though, those were pretty fly, we must admit), we asked Chandler if he noticed competition among his fellow athletes for sartorial attention off the court? "Absolutely [we're competitive]," he told us. "I think what makes us great athletes is our competitive nature -- that's the reason we made it to where we are -- and if you're competitive, you're going to be competitive in anything you do and it definitely transfers [to fashion]." But, in case you were wondering, Chandler doesn't let that competition worry him. When we asked which player he thinks has the best style off the court, he didn't hesitate: "Me, me, me." That's the winning spirit.
Check out additional photos from Alexander Wang's runway show below: