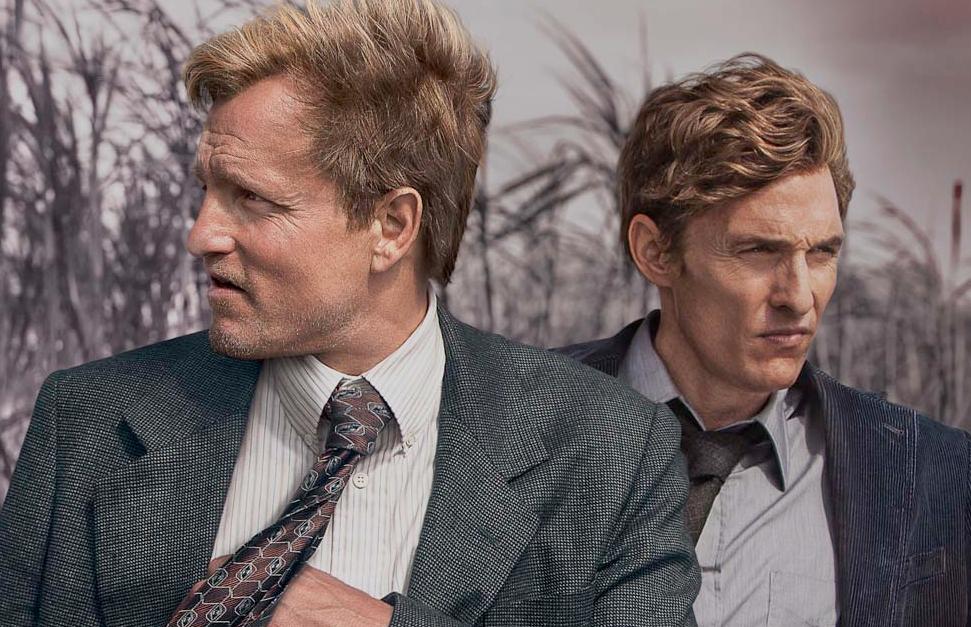 Raise your hand if you're excited for the next season of
True Detective
! While we'll sincerely miss Matthew "Alright, alright, alright" McConaughey and his crackpot philosophy ("time is a flat circle" et al.) and Woody Harrelson's mouth full of marbles (
or loose change or a wad of fruit by the foot
), we're psyched to see what season two will bring. After
news came out
over the weekend that the next season will feature three leads (presumed to be
two males and one female
) and will be set in California (but not in
LA, probably Northern California
), we couldn't help but start dreaming up our fantasy trios and the cockamamie NorCal crimes they'll have to solve. Check out our five fan fiction scenarios and share any thoughts, feelings, or emotions about the show or otherwise in the comment section, below.
1.
Stars:
James Franco, Bobby Cannavale and Zoe Saldana
Set in:
Palo Alto
Plot synopsis:
With a winking nod to Franco's roots -- and the
Gia Coppola-directed film
-- the actor plays the junior partner to Bobby Cannavale's more senior officer in a season that sees the two attempting to solve the mysterious death of a local 16-year-old high school student/rising software coding star. During their investigation, the two discover an illegal interstate Adderall ring that's led by the privileged 18-year-old son of a prominent Silicon Valley venture capitalist. Upon discovery of the drug ring, the Feds step in and an up-and-coming FBI agent (Saldana) vies for control of the case. Ultimately the three must work together to bust the group of, uh,
hella
crafty drug-dealing teens but not before their wealthy tech oligarch parents attempt to buy the cops off...
2.
Stars:
Charlize Theron, Oscar Isaac, Bruce Willis
Set in:
San Jose
Plot synopsis:
Bruce Willis plays a Major in the force who assigns Isaac and Theron to infiltrate and bust a massive San Jose meth lab that's been cutting their drugs with rat poison, leading to a series of deaths. The one catch? Willis' wife's family owns the company manufacturing the rat poison and he's been secretly supplying the drug ring with the stuff in exchange for a cut of their seven-figure profits.
Dun dun dun
.
3.
Stars:
Mark Walhberg, Mr.T, Jessica Chastain
Set in:
Oakland
Plot synopsis:
Mark Walhberg plays a hard-boiled South Boston cop who relocates to join the force in Oakland under unknown circumstances (more on that later). There he joins up with Jessica Chastain and Mr. T, two detectives who are working to solve a series of arsons that have led to the deaths of five prominent Bay Area tech entrepreneurs. Their search ultimately leads them to a squat in an Oakland warehouse that's currently home to a group of anarchists/domestic terrorists who are hell bent on destroying the tech industry. After first using tactics like
vomiting on Google and Yahoo shuttles
, the group has now turned to starting fires in tech offices and fancy private homes in Pacific Heights and Mountain View. During the season's climax, the three detectives exchange fire with the punk gang inside the dingy squat and it's there that a major plotline gets revealed: the group's head honcho used to be an acolyte of Wahlberg's, back when he went undercover posing as the leader of one of Boston's
"anti-racist hardcore gangs."
Boom.
4.
Stars:
Sean Penn, Lupita Nyong'o, Danny Trejo
Set in:
Berkeley
Plot synopsis:
At the start of the season, viewers see Penn and Nyong'o offering to give convicted felon/former biker gang leader Trejo parole if he agrees to work for them and go undercover. Accepting the deal, Trejo gets assigned to pose as an old Berkeley hippie working at a head shop on Telegraph Ave as a way to ingratiate himself with a middle-aged couple who regularly shop for vaporizers and other paraphernalia there. What he later learns -- after months of supplying intel to Penn and Nyong'o (who, meanwhile, have been carrying on a torrid affair) -- is that the stoner couple are actually the biggest domestic cyber terrorists around and have been plotting to plant a devastating virus inside the state of California's government database. The three are ultimately able to ensnare the couple in a sting operation: they invite the two to attend a private tour of a fancy marijuana hydroponics lab and take them down amidst the earthy stench of cannabis.
5.
Stars:
Eva Longoria, Joaquin Phoenix, Chiwetel Ejiofor
Set in:
Monterrey
Plot synopsis:
When a series of male prostitutes go missing -- and presumed dead -- two detectives (Phoenix and Ejiofor) get assigned to crack the case. The trail of clues leads them to a wealthy Monterrey housewife (Longoria) who, it turns out, is secretly a madam running a male escort service catering to other wealthy women along the Pacific Coast (including, it's rumored, a very powerful female media mogul). After a series of mishaps -- and a few bungled attempts by Phoenix and Ejiofor to pose as gigolos -- the two are led to the home of the media tycoon where they discover a bunch of dead bodies buried in her backyard. Case closed.