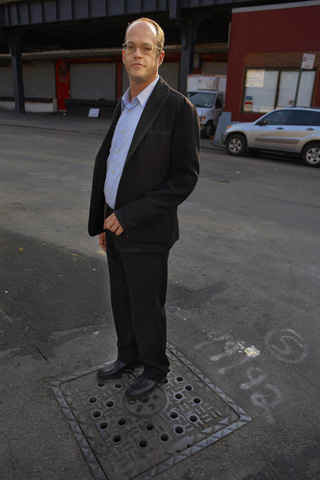 This week we're presenting through exclusive interviews and portraits, a small window into the world of a handful of the celebrated directors with films at the Tribeca Film Festival. We start with Tom Kalin, director of Savage Grace (starring Julianne Moore, Eddie Redmayne and Stephen Dillane). Later in the week, Nathan Rissman, Madonna's former gardener who picked up a camera for the first time to shoot her self-produced documentary, I Am Because We Are.
Savage Grace, based on the same-titled book by Natalie Robins and Steven Aaronson, is the cinematic dramatization of the tumultuous unraveling of the Baekeland family, comprised of Barbara and Brooks Baekeland, and their son Tony. Brooks is heir to the Bakelite plastics fortune, which he both resents and manipulates in his favor. His wife Barbara is a stunning spitfire, whose unsuccessful go as a Hollywood diva transfers nicely to high society socialite. Son Tony is sweet, cunning, coddled and laconic. The family travels all over the world and have famous friends. Brooks leaves Barbara after years of putting up with her brazen, sexually explicit behavior and maddening lust for everything an anything -- more and more is never enough. Tony becomes the center of Barbara's world. And from there, things get pretty rough.
Director Tom Kalin is known for his critically acclaimed feature film debut, Swoon. He is currently an Associate Professor at Columbia University School of the Arts, Film Division.
Rebecca Carroll: Jesus Tom, what a fucking movie, wow.
Tom Kalin: Just a nice little light-hearted romantic comedy! [laughs]
RC: How did you know about the story -- had you read the book, or heard about the case?
TK: For years, Christine Vachon [of Killer Films, which produced Kalin's first film Swoon] and I have had a sort of unhealthy fascination with true crime non-fiction books -- awful paperback books with pictures in the middle. We would always try to shock each other -- like, 'Oh you're not going to believe this one!' and then she gave me one that was different from the others because it was beautifully written. The book Savage Grace is this amazing series of first-person interviews.
RC: I have it.
TK: Christine and I tried insanely to make the movie with Andrew Lloyd Weber's company, The Really Useful Group, in the early '90s. Not as a musical. [laughs] And it didn't work. I developed and produced [other projects], and Savage Grace was still fascinating to me. So I came back to it.
RC: It's really tough to think of any actress other than Julianne Moore pulling off the role of Barbara Baekland.
TK: The lucky thing is that she was my first and only choice, and the other lucky thing is that she read the script and a week later was meeting [about it], and she just believed in the story. Julie's how the movie got made.
RC: I didn't know anything about the case before I saw the film. I knew that there was going to be some sort of incestuous relationship, because I had read a blurb about it somewhere, so I was looking for clues in the beginning. But by the time that scene on the couch in London came around, I had kind of forgotten that the film was about, in large part, an incestuous relationship. How did you work around that scene?
TK: It was a difficult journey. I didn't think of the characters as anti-heroes, and I didn't want to romanticize them or treat them as counter-cultural characters to identify with. It's not like certain movies where you are making the movie and you are imagining you are the character. And Julianne has been funny as hell about [playing Barbara]: 'Do you think I identify with this woman, what are you nuts?'
RC: What are Barbara's redeeming qualities?
TK: I think Barbara was a beautiful mother -- she was incredibly tender. She just didn't know the boundaries of love. One of the things that the film benefited from is that I insisted the London scene [in which Barbara and Tony have sex after which, Tony kills Barbara] be shot at the end of the film, and I also insisted beyond that, that London actually be shot in sequence. What you see on screen is shot in the order that it appears on screen. I don't think that Eddie and Julie would have gotten to the same place had we scheduled that in week one or week two.

RC: How on earth do you direct that?
TK: I didn't wake up in the mornings and think, 'Oooh, I'm directing a sex scene' -- all the scenes in the movie that involve sex are about behavior. If the audience becomes titillated or turned on or disturbed or turned off, those are all valid important feelings to have, but from the perspective of working with actors it's about distancing the behavior without psychologizing it. That scene on the sofa kind of breaks it down for you. That it happens in broad daylight and is so normal between them is what is so shattering.
RC: Well, I was bowled over.
TK: It's hard for people to come fresh to a movie and know nothing, because the media culture we live in talks about everything in advance. So if you know this a "movie about incest" it may change the way you see it. I adore that you knew that, and that along the way you got lost inside the story and caught up in the relationships, because I think the power of the story is that it does creep up on you.
RC: It really did, and I am the mother of a young son -- so, I was ready to pay very close, careful attention. Talk to me about Eddie Redmayne.
TK: I work with a great casting director, Laura Rosenthal, and she is excellent about finding actors. Eddie did The Goat in London and won a prize for it. We met, he read, he had amazing instincts, he went away for nine months, he shot The Good Shepard in the meantime, came back, read again and this time he had grown and there was a lot more depth, and he was by far the most amazing actor who read. He was shooting The Golden Age then and had these adorable little extensions in, and was like, 'Oh, extensions look weird,' I was like, 'Eddie, you're adorable, don't worry about it.' And there's also the added and very important benefit that you believe that Eddie is Julie's son. For Barbara and Tony to work on camera, you must believe that one actor is the parent of the other actor, and if you don't, if you just think it's make believe, that it's Julianne Moore and Eddie Redmayne, it falls apart. But people believe it.
RC: What kind of reactions to the film have you seen?
TK: I definitely have had people who feel an intense hostility, people saying, 'I'm really angry and I'm deeply offended. Why does the masturbation scene have to be on camera?' And I say, because it's actually about behavior and that behavior isn't gratuitous, but it specifically launches the snap inside Tony. It's a monstrous expression that Barbara thought of [jerking her son off] as taking care of her child, as mothering. I don't mean that I see Barbara as monstrous. And clearly in the scene, I hope you see, she isn't scheming -- 'Oh I'm going to destroy this kid.' For her, it's about tenderness and about love.
RC: Any regrets?
TK: Would've loved to have a little bit more time, like every filmmaker wants. But getting to travel a lot with the movie has been so interesting. I just came back from Japan, where the reaction was sort of amazing.
RC: Do tell.
TK: They really embraced the film -- they saw both the beauty and the extremity of it. I did all this nutty press about the growing phenomenon in Japan of children who kill their parents, which is something that's happened in the past 50 years. They really saw the film as an expression of something historic, as a cautionary tale. And I met Rinko Kikuchi, who was nominated for an Oscar for Babel. She brought me flowers and said, 'I'm dying to work with you,' and so who could fucking complain? I adore actors so to have actors embrace what I do and say that they want to work with me, makes me walk a foot off the ground, it makes me excited about what's next. I might work with Rinko!
Photo by Aubrey Mayer