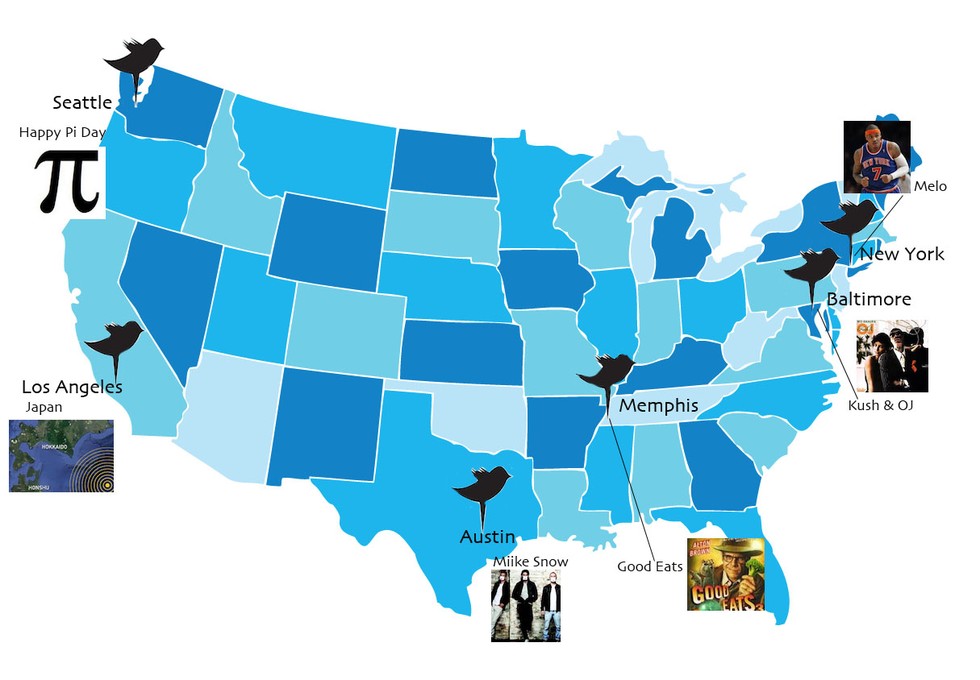 Click to enlarge image
For so many of us nowadays, news comes courtesy of
Twitter
and that's why we're bringing you a new feature looking at what's trending across the country and around the world. Each day we'll highlight a new batch of cities and a new batch of odds and ends having their (sometimes brief) moment on the news feed.
Seattle: Happy Pi Day

It's 3.14, get it?

Los Angeles: Japan

Three days after the one-year anniversary of Japan's devastating earthquake and tsunami, the country gets hit with a 6.8 magnitude earthquake. 
No immediate reports of damage.


Austin: Miike Snow

Swedish indie band is sitting pretty today with sets at SXSW and the premiere of a new video, "The Wave."


Memphis: Good Eats

Food Network star
Alton Brown
tweets about his off-the-air show,
foodies
suburban moms plead for him to bring it back.
 

Baltimore: Kush & OJ

Rapper Wiz Khalifa comes out with new mixtape, "Taylor Allderdice" but fans prefer to tweet-reminisce (tweeminisce?) about "Kush & OJ" instead.


New York: Melo
The sports world is buzzing with rumors that Knicks player Carmelo Anthony has asked to be traded due to
clashes with the team's coach and GM
.  For our money, we wouldn't be surprised if he's just jealous of all the Linsanity.