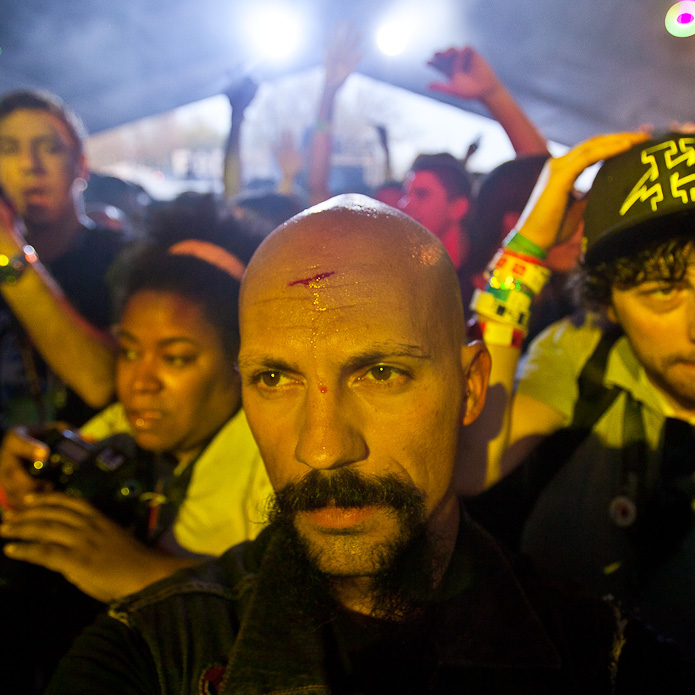 2011 just might be remembered as the year SXSW transformed from a peaceful gathering
of bespectacled Pitchfork readers into a booze-soaked hipster deathtrap baited with free
sunglasses,"special appearances," and Lone Star beer. From the riot outside Beauty Bar when Death From Above 1979 performed to the Screeching Weasles'  Ben Weasel and his already-infamous lashings out, it felt like indie rock was veering away from the warm and fuzzy to something wilder and darker, even as corporate sponsors loom larger than ever. Sorry Decemberists fans, but your time has come and gone. The inherent masochism of attending a huge music festival has finally been made literal! And on that note, I give you the Top Ten Hottest Buzz Injuries of SXSW 2011.

1 ) When the "unauthorized" camera boom at Stubb' s BBQ fell on the crowd, leaving four people with non-serious injuries during an OMD show (Orchestral Manoeuvres in the Dark). Although we're sorry people were hurt, why did this have to happen during a band's set that spells its name in a weird, Frenchy way? A cooler name would have left audience members with better bragging rights. Which leads us to number two on our list.

2 ) When Trash Talk played the Fader Fort and were almost ejected because their antics (and presumably, their fans) were too crazy. Don' t invite hardcore dudes to your venue if you don' t want them to start breaking things.

3 ) When Death From Above 1979 played a surprise reunion show in Beauty Bar's backyard, and the people who got turned away rioted so hard they needed fucking horse cops to get them in line. Eyewitness reports include use of mace, tasers, and  "a blonde female police officer hand beating a particularly aggressive rioter." As much as I feel for any bros who got tased, wasn't it kind of worth it to hear a straitlaced Austin news guy say the name "Death From Above 1979?"

4 ) The Strokes at the Lakeshore Auditorium. Strokes fans hate Drew Barrymore, sobriety and fences!

5 ) When Ben Weasel punched a girl in the face for the heinous offense of throwing
ice cubes at him. Very well-documented; very not OK.

6 ) My friend Jodie.
She went to every hardcore/metal/metalcore show she could, and has the bruises to prove it. I should also mention that she' s five foot nothing and weighs about a hundred pounds soaking wet. She is my hero.

7 ) Photographer Tod Seelie's head.
I saw Tod looking a bit beaten up at Skull By Skull Now on Sunday and asked him what had happened. He told me buzzy, shock hip-hop group Odd Future made the prominent gash in his bald pate when a member dove into the crowd. He elaborated via email:

" When the group came out, within the first song they were yelling "Fuck these bitches with their cameras!" to the crowd.  I don't think the dive was aimed specifically at me, it was aimed at the photographers in the photo pit, and I caught the brunt of it. I had my head down checking images on my camera when the guy landed on top of me. I didn't get a chance
to get an arm up at all. He cut my head in a couple spots, and my lens got smashed on the barricade when I went down with him on top of me. I'll be sending XL Recordings the repair bill, and hoping the cuts don't scar."

8 ) Perez Hilton' s ego.
JK, you wish. But the blog world was far from impressed with his offerings this year. I guess Little Jenny Humphrey shouldn' t quit her day job.

9 ) The idea of indie rock and hip-hop fans as meek, docile creatures.

10 ) A good night's sleep.

Honorable mention: meals containing vegetables; showers.

Photo of Tod Seelie's head courtesy of Tod Seelie.