Welcome to Guys, Guys, Guys month on Papermag.com -- an online companion to our Girls, Girls, Girls issue on stands now. Join us in the coming days as we reflect on the many facets of modern masculinity, queer culture, the subversion of traditional male norms and what it truly means to be a dude in 2016.

In the blistering salty swarthy summer of 1986, I was a proper nine-year-old Charlottean who sported a tastefully feathered rattail that could surreptitiously dance into my starched collars just in time for church. On one fateful sun-baked afternoon, my parents took me to the movies, and I felt my Presbyterian foundation begin to rattle and hum. I was seduced into the world of Maverick, Goose, Viper, Merlin, Iceman, Sundown, Jester, Cougar, Wolfman, Slider, Hollywood (sadly not Meshach Taylor), Sprawl, Chipper, Stinger, and Meg Ryan as Carole. No, this isn't a Dick Tracy-Marvel porn hybrid, it's of course the incredibly weird, wet, gay Pepsi macho riot known as Top Gun. I saw it three times in the theater, and way back then, that sort of behavior was simply not tolerated.
I just watched it again -- and it's insane. It really doesn't make sense, there are countless forced moments, and Kelly McGillis' wig looks straight out of E.T.'s dress-up hamper. And yes, just like A Nightmare On Elm Street 2, which came out flamin' hot the year before, it's super homo. There are way too many reasons why this movie is gayer than French toast, but one scene in particular is paramount in its queerness: a spunk-tastic puppy party of a sand volleyball game, featuring endless lubed torsos and Kenny Loggins' hyper-horny hunk anthem "Playing With The Boys."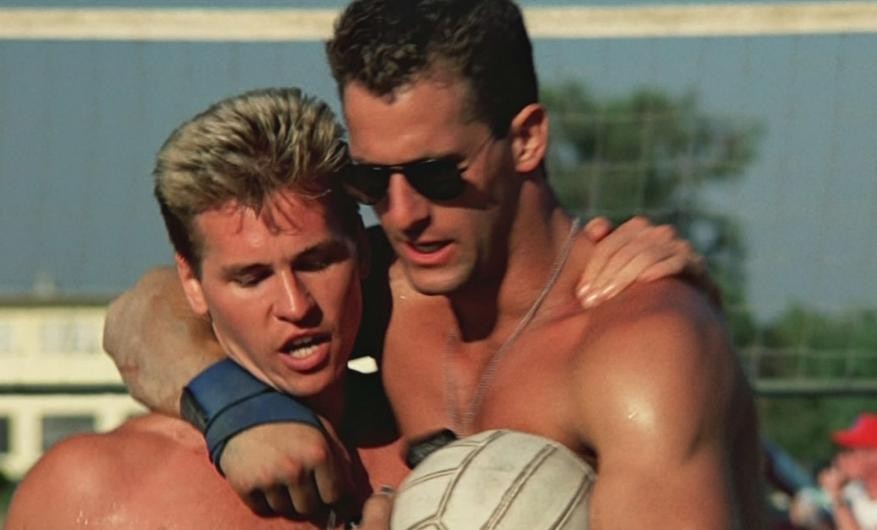 Moments before the dudegasm begins, we're in a classroom. Maverick sniffs Slider (I guess the names Glide, Durex, and Dom Top were taken) and sexily mutters, "you stink." Before we can wrangle our massive schoolboy boners, we're slammed into a shot of a glistening latissimus dorsi and a spinning white leather globe of possibilities. Because when you play volleyball on sand, you must be stripped nude and drenched in Gun Oil. And you must be surrounded by other single bros who are also just casually hangin' out shirtless and jacked for the big game. If there are women on this beach, they are not welcomed -- this is strictly a spot for males to lounge and check out other males knock balls, dive into hot dunes, and high five. There is so much high-fiving happening -- not to mention a really cute bonus "high five-fanny slap" between Goose and Maverick. Thanks, guys!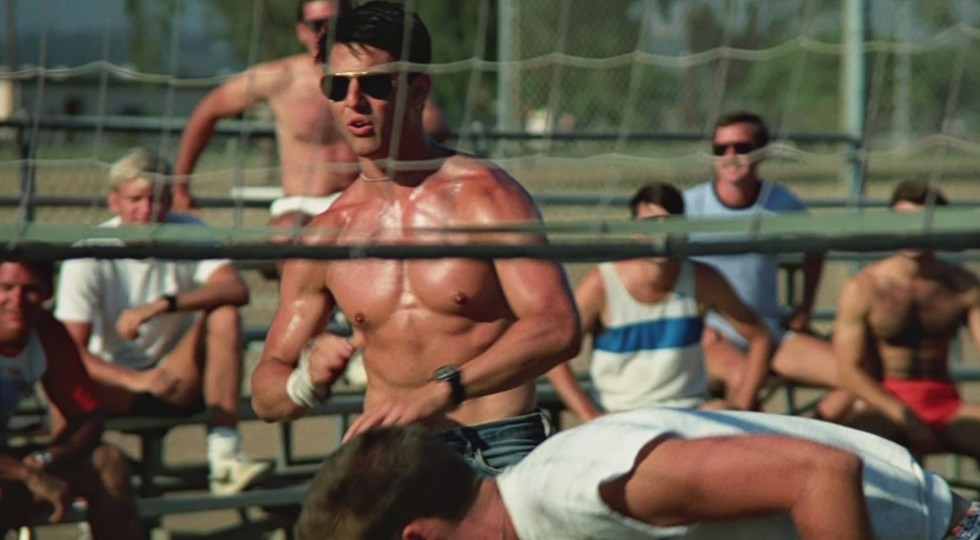 In one completely inspired bit, Slider (played by Rick Rossovich) unleashes a primal musk howl to ward off his volleyball opponents by sucking in his torso and spraying the beach with his raunchy he-breath. He's donning nothing but a pair of clingy sweatpants.
Which brings us to Tom in THOSE JEANS. Topless. In jeans. (I'm sure that's how Karch Kiraly got to the Olympics.) No one is more tired of the "Is Tom Cruise gay" debate than I am –- I truly don't care -– but I blame this movie, and namely a specific honey-lathered happening that occurs about 55 seconds into the mantage, for all of it. Tom leans into frame, smiles, bends over, and presents his rosebud to a topless fur-daddy extra who's wearing nothing but a beer hat and a chartreuse speedo. Bravo, gentlemen. I swear Jeff Stryker and Peter North couldn't do it better.
I saw this when I was nine. (If you're having trouble picturing something so young, please google Jayden Federline.) Of course I didn't pick up on the subtext -- I was too busy giggling at Laffy Taffy jokes and identifying with the Garbage Pail Kids. But I knew I loved this movie – the women (both of them) were tough and boozy, and the men were tight and rude and so humpy. These boys weren't like the older guys I saw in the South -- gravy-gutted slime goons with Benadryl eyes and Fun-Dip lips. Maverick and his buds reeked of filthy success, like Reagan-built fuck-bots cram-packed with sinew, Nivea, and blow. This movie porked everyone in America with, "ohhhh yeahhh dude, you want this so hard", and we did. 30 years ago, "masc 4 masc" was just called "you know… Top Gun". These hunks are your dreams, and you just can't get enough of them.
Nowhere is this more tragically evident than in randy, doomed, porn-stached Goose (played by Anthony Edwards). At the end of the volleyball tussle, he begs Maverick with a needy "c'mon, one more game!" Mav tortures him with a thick and throaty, "I got some things I gotta take care of."
Yeah, stud. Right now, we all do.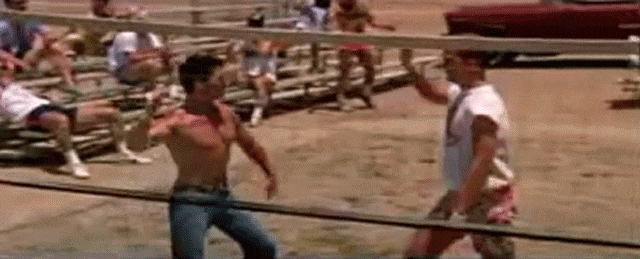 Drew Droege is a comedian and actor who does an incredible Chloe Sevigny impression and is the star of Marc Jacobs' latest campaign. Follow him at @drewdroege.