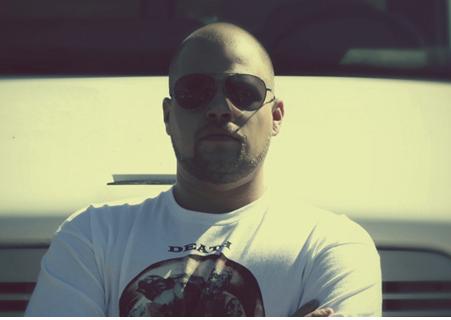 You may not know
Seth Haley
, but there's a chance you might know him by his alter ego,
Com Truise
. The artist's masterful orchestrations of electro-sounding nostalgia have gained quite the blog buzz over the past few months, and the new act even got to jump on the official remix album for the
Tron
soundtrack. Now, Mr. Truise/Haley is preparing to release his sophomore effort,
Galactic Melt
, a follow-up to the synthesized sultriness of his first EP,
Cyanide Sisters
. We briefly sat down with the New Jersey native and got to know him a little better.  
Where did you grow up and how'd you get into making music?
Upstate New York, right outside of Syracuse. Basically, I got into making music a short time after teaching myself how to spin records. I think I just wanted to make something I wasn't hearing in the world.
What's up with the name Com Truise -- are you a Tom Cruise fan?
It started out as a small joke between me and some friends. But it happened to stick out in my mind when thinking about the concept for this project. Yeah, I'm a fan. I'm sure anyone would be hard pressed to say he hasn't been in some amazing films.  Did we have a better leading man in the '80s?  His personal life is another story, but I don't really have an opinion on religion.
If you had to, how would you describe your sound?  Songs like "Dreambender" immediately make me think of Top Gun.
It's slow electronic music with some '80s emotion.  If you want to file it under a genre, we could say it's down-tempo. I don't mind people calling it chillwave, some of those sounds are definitely there, but if you call me a chillwave artist I think you are missing the point.  But there are also elements of new wave, IDM and psychedelic music.
You are about to do the Detroit Electronic Music Festival. Is this your first festival? What are you expecting, and what can someone expect from one of your live sets?
Yes I am. Basically a lot of bass, swelling effects and some extra percussion for good measure. I'd like to do visuals but I fear it may be to light outside at 1 p.m. on a Sunday.
Galactic Melt comes out July 5th. How is it an evolution from Cyanide Sisters?
It's definitely a logical progression from Cyanide Sisters.  After getting such positive feedback on the EP from my peers and the blogs, etc., I stepped back and thought about what I really wanted to do with the Com Truise project.  It's a little colder but still very lush, less lo-fi.  Most of it was written during the winter months. It's more sci-fi and less pop, more developed but it's still easy on the mind.
If someone were to watch a movie or TV show on mute to your music, what would you recommend?
THX-1138
would be perfect.  Or
Videodrome
.
What's the first song you fell in love with and why?
"Block Rockin' Beats" by the Chemical Brothers was the first time music changed my life. If I had to go further back it might be "Head Like a Hole" by Nine Inch Nails. Tough one to answer.
If you had to sell someone on your music with one song, which would you recommend and why?
"VHS Sex" is one of my favorites. For me it has a little bit of everything.