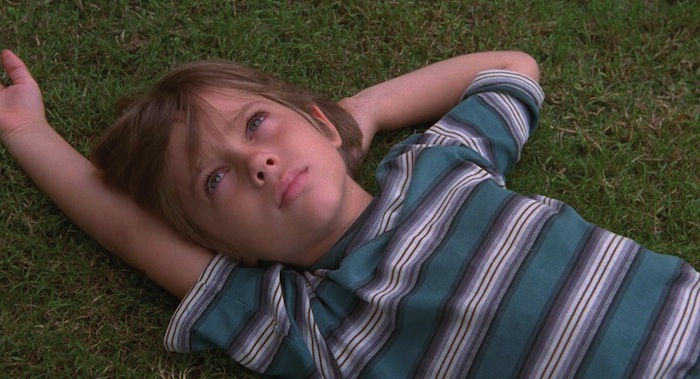 Boyhood
Richard Linklater's extraordinary, incredibly moving coming-of-age film, which took over 12 years to complete, leisurely depicts Mason (the dynamic Ellar Coltrane, who was seven when Linklater started filming and 18 when he finished) growing up with his sister (the director's daughter Lorelei Linklater) and divorced parents. His mother (Patricia Arquette) desperately tries to better herself by going to teaching school but keeps hooking up with troubled alcoholic assholes. Their dad (Ethan Hawke) is a loveable loser who steadfastly tries to be a part of their lives. It's rare to see a film that captures a young man's journey into adulthood so compassionately and with such bracing brilliance.
Night Moves
This spellbinding, unbearably tense film about eco-terrorism is set in and around the communal farm world of Oregon. Director Kelly Reichardt (
Wendy and Lucy
,
Meek's Cutoff
) artfully unfolds this tale of the tightly wound farmer Josh (Jesse Eisenberg) and the idealistic rich girl Dena (Dakota Fanning) who meet up with an ex-marine named Harmon (Peter Sarsgaard) to pack a boat with explosives and blow up a dam. Reichardt's minimalist, observational style serves the characters' increasing paranoia well as the ramifications of their deed tighten like a noose around them. It's undoubtedly one of the talented Reichardt's finest films.
The Sacrament
For his latest film, director Ti West, the master of mood and menace, uses a documentary style to tell the tale of three Vice Media employees: Sam (AJ Bowen), Jake (Joe Swanberg) and Patrick (Kentucker Audley) who set off to an isolated compound in a remote tropical location to visit Patrick's brainwashed sister Caroline (a chilling Amy Seimetz). At first everyone there seems happy, but when the trio meets Father, the messianic cult leader (a folksy and frightening Gene Jones), a sense of apprehension sets in. Anyone familiar with the Jonestown massacre will know where this is heading, and when the film kicks into gear it's ferocious and very suspenseful.
Boyhood
image Courtesy of Matt Lankes.