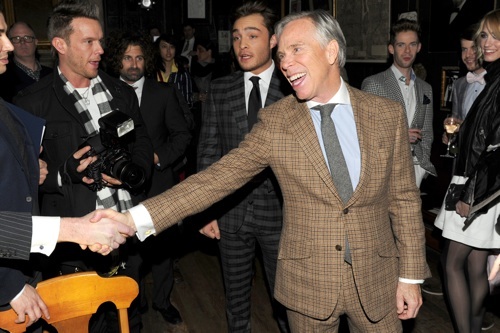 Tommy
Hilfiger
is an American classic who's been mixing preppy with rock 'n' roll for decades. On Thursday, he showed his new men's collection that combined luxurious fabrics, quality finishing and irreverent styling for a winning combo. After what we saw a few days ago, we couldn't be more excited for what's in store with his women's show tonight. Mr. Mickey chatted with
Tommy
about his signature looks and the bands he's been listening to lately.
This is a different kind of presentation than you usually do. It's much more intimate.
We wanted to separate men's and women's. We wanted it to be more intimate for men's and we wanted the editors to really be able to look at the fabric up close and just have it be more intimate. We have a lot of great detail, new shapes, new fabrications. We've got a new vibe for the clothes and to show them on a big runway with women's you would lose that.
An early big moment for your brand was when urban kids took Tommy Hilfiger and adapted it, made it hip-hop. Are you still inspired by that?
It's always about music. It's been about music since I first started doing preppy in the '80s.  I wanted to make clothing cool and have musicians wear the clothes. Now we're seeing a lot of indie rocker guys with preppy slants to him. Maybe it's in his hair. Maybe it's in his clothes. Maybe it's in his sneakers. You don't really know what it is, but I really wanted to work with that. To to blend the two into this line -- easy prep or prep 'n' roll. We also wanted it to be a little more sophisticated, a slimmer cut, a little bit chicer -- a rock 'n' roll edge with a preppy backbone.
When you talk about preppy and indie rock, people immediately think of bands like Vampire Weekend. They sort of became the default poster boys for that look and, of course, you used their music in your winter ads for "Meet the Hilfigers" on TV.
I like them.
And, as you said, you're so inspired by music. Are there other bands you're listening to a lot these days?
The Black Keys are pretty cool -- they're going to  be playing during the show. They're like Vampire Weekend. Pretty hip, but with a classic edge. A little irreverent. There are a lot of younger hipper unknown bands coming up like Zeitgeist. I've been listening to my son's band, Rich Hill, and No Limos. They're 20 year-olds and they have their own music. It's really a cross between rock 'n' roll and hip-hop. It's almost like Pharrell. Pharrell walks on both sides of that fence and you can also see that in the way he dresses.  He'll wear Vuitton and then he'll wear a Lacoste polo shirt.
You know I love a polo shirt.

Photo courtesy of Patrick McMullan