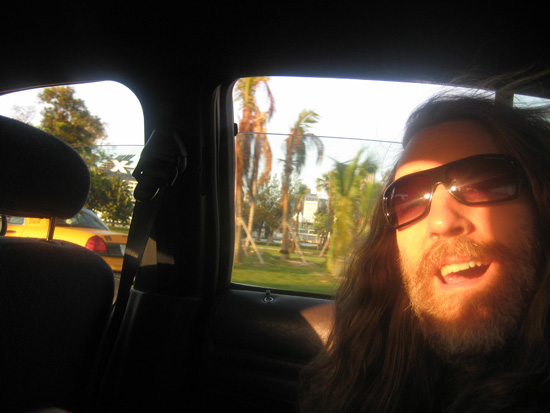 Tommie Sunshine, the Chicago-bred, Brooklyn-based DJ/producer and leader in the underground dance movement is one of the most sought-after DJs doing their thing. From hosting super exclusive private parties to remixing every big indie rock song into a dance hit, Tommie's certainaly got his hands full. Which is why we were so pleased that Mr. Sunshine will be bestowing PAPER with a regular travelogue. Get ready. It's gonna be nuts.
March 26th, 2008
It is my birthday today and I am in full celebratory swing, but not so disconnected that I can't start my first ever entry for my blog here on PAPERMAG. Year 12 of Winter Music Conference is just as crazy, just as hectic and just as malnourished as I ever remember it. Being just shy of three years sober makes it a very different terrain but an awesome one nonetheless. After a weekend at Ghostbar in Dallas and then Club Q in Zurich, Switzerland I had one day in the studio where my studio partner, Mark Verbos and I finished a remix of Young MC's "Bust A Move" and almost finished one for Yoko Ono's timely remake of "Give Peace A Chance" which will resume as soon as this madness is over with.
With no sleep, my lover Daniela and I left Tuesday morning at 6 a.m. for JFK and it hasn't let up since. Checked into the Standard Hotel and ran around town stocking up the room with water, sunscreen and other essentials. We then took a much-needed disco nap before heading downtown Miami last night where I played the URB party with Treasure Fingers, LA Riots, Hell and Jesse Rose. I believe I caused a ruckus when I made two paintings fall off the walls of the three-days-open club and had the manger ask me to turn the volume down several times. Apparently Miami doesn't like their music very loud. Toxic Avenger, Larry T and Joost Van Bellen were in attendance and with DFA at RokBar and Radio Slave at Pawn Shop as additional stops on last night's party train, Daniela and I chose to be human and sleep so we didn't start the week off like Sid & Nancy.
After much needed sleep we awoke to a grey sky and started out the day at the Raleigh Hotel where I played a quick set and grabbed some swag from Café Bustelo, Skull Candy and A/X. Met a great guy named Sean from Microsoft who took D and I out to dinner (thanks Mr. Gates) and talked endlessly about the future of this crazy technological planet. Now, as I write this I am preparing for a night off of dancing by the hands of Drop The Lime, Duke Dumont, Annie Mac (who has the best radio show on BBC Radio One), Sinden, Switch and Jesse Rose at Studio A. When that ends at 6 a.m. we plan on going to dance to Danny Tenaglia until about 8 and then head to the morning party I play at Dream at 9 a.m. with Princess Superstar and Larry T. The way this all plans out is inhumane with a 1 p.m. appointment at BPM's gifting suite and the 4 p.m. party my booking agency is throwing. I have no idea if or when I will sleep in between all of this but since we are in this together, you will soon find out.
Till next time…
t.s.