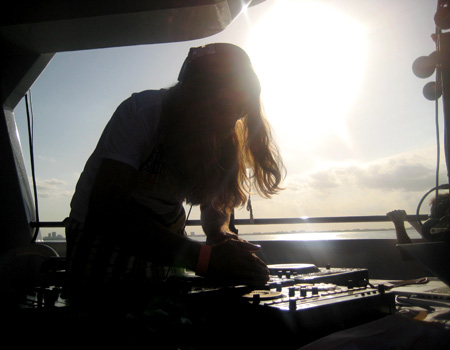 MARCH 29
Well rested and ready to rock, I began my day with the power and fury needed to endure WMC. Three gigs strong, I knew this one was going to be the hard one. Before Daniela and I were even able to leave the hotel, my good friend Austin showed up to my hotel with 200 T-shirts with my name on them, the "e" in Tommie being the Etnies logo (where he works) and two pair of Barton Perreira sunglasses for me. This is how every day should start and I slipped on my new shades with a toothy grin. Off to gig one at the Club Monaco store on Collins where a crazy dance party broke out and if you watch Yo Gabba Gabba (which if you don't, you should) you see the striking resemblance to Nathaniel the one kid is rocking.
After abusing the speakers in a retail store to Miami Bass beats we headed en mas to Sasha & Digweed's sunset boat cruise they do every year with SF's Ruby Skye. This is year #2 of me opening the festivities and it is both an honor and a privilege. This year, the Miami New Times described what I did as a "low-key set of torch songs and folk," even though it felt like psychedelic soul to me -- but I love that what I do sounds different to everyone who listens. This I take as a major compliment. Any chance I get to play Hendrix, Leonard Cohen, Mazzy Star and Morrissey is a DJ gig dreams are made of; especially at Winter Music Conference where everyone is trying to out-new everyone else and I simply do not give a fuck. Good music is always more important than the race to be first and it is lucky that most DJs don't understand that, as this fact is what keeps me at the top of my game. Both Sasha and John played killer sets and Sasha closed the cruise with Soulwax's remix of The Rolling Stones "You Can't Always Get What You Want" from the 21 movie soundtrack. It was one of the best moments of WMC with EVERYONE singing along to The Stones.
The boat returned to dry land and we headed off to A-Track's label party. Fools Gold is his label and they are pimping great new music by the likes of Treasure Fingers (one of my new favs) and Sammy Bananas (who did a killer remix of "The Hotstepper," but I digress). The party was in full insane swing when we arrived, Jessie from MSTRKRFT tagging with Daniel from LA Riots and the kids going berserk and over-the-top sets by French Boy Wonder, Surkin and Boys Noize. What made me so happy about both their sets is that Surkin was endlessly referencing Acid House, which at 22 is clearly not nostalgic, and Boys Noize was in full ghetto Miami Bass beats swing, which is exactly where my head is also, so it reinforced my claims this year that this is where the music is going next. With JDH, Chromeo and Erol Alkan in the crowd, it became the only place to be that night and even more surprising was that the party was free to get in, something that almost never happens, especially for night parties.
Unfortunately I had to keep a close watch on the time as I was due to play an Ultra Festival after-party in between Crystal Method and Tommy Lee & DJ Aero. Now this seemed really good on paper the way they described it; an all ages after-party full of kids amped up and ready to rage after a drugged up day of Ultra and when we arrived to this clearly 21+ club we knew before we went in that this was not what we expected it to be. It was fucking freezing in there mainly due to the fact that there were about 10 people in the club that held about 2,000 and I looked at Daniela and knew something just wasn't right. I looked at my phone that I had ignored for hours and there it was; a message from my booking agent telling me not to go there as the gig had been canceled. I was both bummed that the "warehouse" vibe I had expected wasn't there but relieved that it was bedtime. Sometimes the worst part of DJ life is getting so psyched up to play a gig and when it doesn't happen it is nothing short of the same feeling as blue balls. I live for two things: Daniela and music. And when anything gets in the way of either of those things it just simply ruins my day. I knew there were two more days of this and what had transpired thus far had been pretty great, so off to bed I go with my sights focused on the bright side and I brush the static aside as I snuggle up to the woman I love and wait for tomorrow…