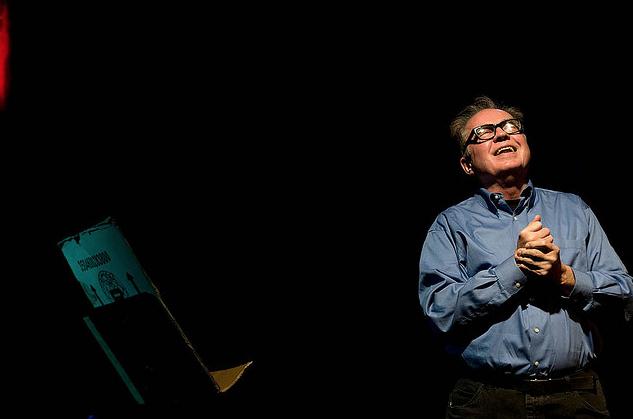 It's with heavy hearts that we announce that legendary performance art pioneer and PAPER's long-time theater critic
Tom Murrin
has passed away after a fight with cancer. He was 73. Tom, who performed around town as his alter-ego the Alien Comic and Jack Bump for over 30 years, was a dear friend and loyal contributor to PAPER and PAPERMAG, reporting on all things weird, exciting and inspiring happening on the off-Broadway and performance art stages of New York City.
Tom started his career as a lawyer in Beverly Hills before moving to New York in the late '60s to get his masters in law at NYU. He wrote off-Broadway plays in his spare time, discovering that avant-garde theater was his true passion. After years of theater work in Paris, Seattle and on the West Coast, he returned to New York in the late '70s, performing as Tom Trash, and sharing bills with seminal downtown performers including Karen Finley and John Cale. Tom was also deeply involved in the goings on at performance art incubator La Mama, E.T.C., and, in the early '80s, launched the Full Moon Crew with Jo Andres, Mimi Goese, Lucy Sexton and Annie Iobst, putting on shows at East Village theater PS 122 every full moon. Full Moon Show guest-performers included legendary drag artist Ethyl Eichelberger as well as Steve Buscemi. Tom was tirelessly supportive of his peers, helping launch the careers of burgeoning downtown performers including the Blue Man Group, and was a huge booster of the countless off-Broadway artists and performance artists he wrote about in PAPER over the years.
Through out his career, Tom continued to mark full moons with his Full Moon Shows, performing his fabulously freaky rituals to the lunar goddess Luna Macaroona. 
On his website, thealiencomic.com, he wrote, "I have always considered my shows to be a type of ritual, granted they are comic rituals, but they have a form and a purpose and there is hopefully is some change from the beginning to the end."
Tom was too ill to perform during the full moon last Thursday night, but his many friends gathered at PS 122 to mark the evening with
a toast
to him and Luna.
Tom was so special to PAPER and just a lovely, kind person. We'll miss having him pay his visits to our office in his yellow Jimi Hendrix t-shirt, chatting with us about what was going on in his world and always asking about ours. Occasionally, we'd get him to tell us stories about his Hollywood hi-jinx as a young man, running around Los Angeles with the likes of Ava Gardner, Howard Hughes and Jane Russell. What a wacky, remarkable life. 
We send our deepest condolences to Tom's wife Patricia Sullivan and to the rest of his family and friends.  
Below, our favorite video of Tom as the Alien Comic, shining in all his wonderful and weird glory, and the teaser for his 2010 PS 122 one-man show,
The Talking Show
, which includes lots of old footage. We love you, Tom.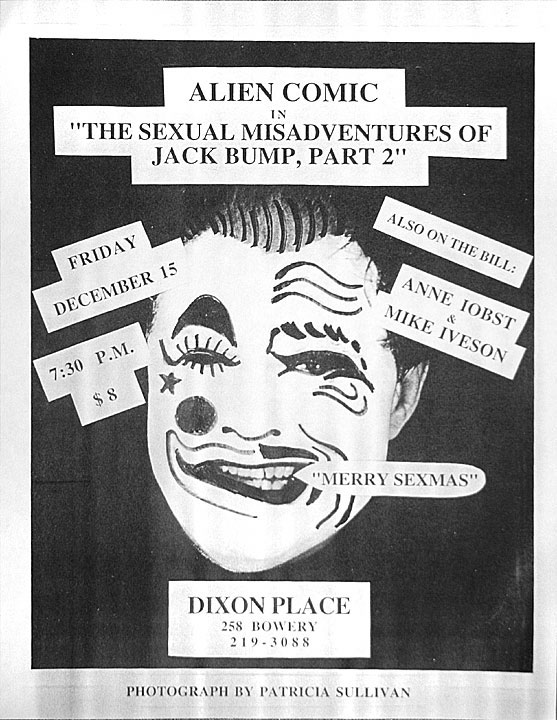 Above: Photo of Murrin on stage by Joseph O. Holmes. Flyer via thealiencomic.com