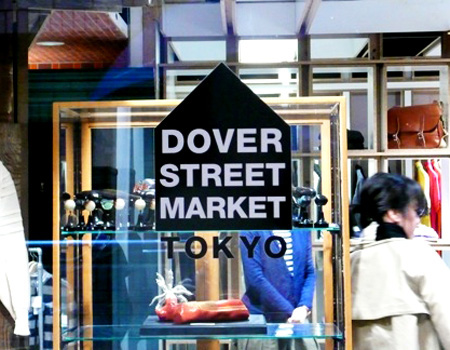 If you've failed to get your fill of Comme des Garçons goodness at either their loopy, leaning flagship or their Italian-import 10 Corso Como you can reach Rei Kawakubo overkill by hitting the Dover Street Tokyo shanty-shop. An exercise they undertake each year, the Comme-crew recreates/collaborates with a darling of the retail world, consistently using this same small space as a reversal of their guerrilla shop campaign.
And this time they've replicated and riffed on their own awesomeness.
Based in London, Dover Street Market is another great Kawakubo creation, featuring the lot of her lines as well as in-store boutiques devoted to her most talented contemporaries. The ever-evolving Aoyama incarnation is a far less involved affair and has nary an exclusive item left in store but it does boast Chloë Sevigny for Opening Ceremony on the racks, offers the delicately chaotic interior of its English inspiration (complete with cash-register shack) and leaves visitors with the warm fuzzy feeling of being a bit more Comme Kawakubo.