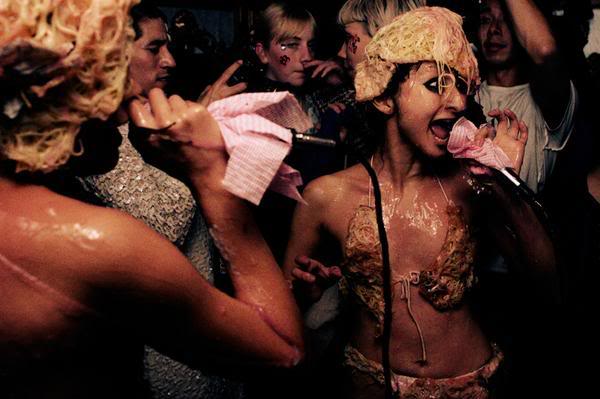 Trippple Nippples at Glasslands 
This all-female Tokyo-based trio -- with the best band name we've heard in a while -- stop by Glasslands tonight for an undoubtably wild and bananas live show. Expect eggs, glitter, rotted spaghetti and various liquids being squirted out of their prosthetic breasts. Knife City, Bermuda Bonnie and AIMES open.
Glasslands, 289 Kent Ave., Williamsburg, Brooklyn. 8:30 p.m. $10.
Annie Leibovitz at Book Court
Book Court is really drawing the bold-faced names this week! A few days after
Lou Reed stopped by
, tonight, legendary celebrity portrait photographer Annie Leibovitz will be on hand discussing her new book Pilgrimage. This collection of photos -- which includes no images of half-naked tween stars, and in fact, no people at all -- features more contemplative, historical photos, of Robert Smithson's Spiral Jetty, Emily Dickinson's dress and Thoreau's cabin at Walden Pond, for example. 
Book Court, 163 Court St., Cobble Hill, Brooklyn. 7 p.m. Free.
Lee Angel Sample Sale
Need a last minute, reasonably-priced bauble to go with your LBJ? Head to jewelry designer Lee Angel's sample sale, where earrings, necklaces, bracelets and the like are up to 75 percent off -- with pieces starting at a mere five bucks!
524 Broadway, 6th fl., (212) 334-6573. 11 a.m.-7 p.m. Through Dec. 17.