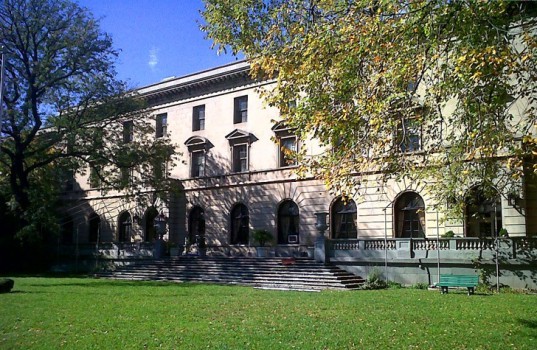 No Longer Empty's "This Side of Paradise" at the Andrew Freedman Home 
No Longer Empty, the arts organization committed to repurposing under-used spaces, has taken over the Andrew Freedman Home, a once grand and magnificent, Gilded Age-era limestone mansion on the Grand Concourse, which has since fallen on hard times. For "This Side of Paradise," NLE has enlisted over 30 artists to transform the elegant bedrooms, bathrooms and ballrooms into art installations; bringing the landmark back to life.
1125 Grand Concourse, The Bronx. Opening from 6-8 p.m. 
Purity Ring at Public Assembly
On-the-up-and-up, super-buzzy Canadian-based boy-girl duo, Purity Ring, bring their synthy, "future pop" to Public Assembly tonight. Catch the recent 4AD signees at an intimate space before they start selling out shows at Terminal 5. They're joined by Com Truise, aka New Jersey-based electro producer Seth Haley.
Public Assembly, 70 N. 6th St., Williamsburg, Brooklyn. 8 p.m. $TBA.
Michael Robbins' Alien vs. Predator Release Party at Housing Works
The beloved, playful poet Michael Robbins, known for dropping references from everything to Pizza Hut to Rihanna to Rilke to Mr. Peanut, celebrates the release of his debut collection, Alien vs. Predator, tonight at Housing Works. Joining him for a discussion are Choire Sicha, Sara Marcus, Kristen Hersh and Sasha Frere-Jones; Zach Baron hosts.
Housing Works Used Bookstore Cafe, 126 Crosby St. 7 p.m. Free