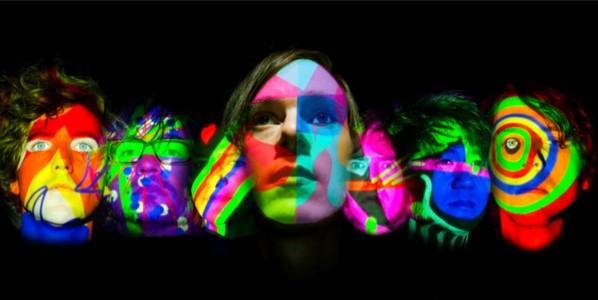 Of Montreal + Computer Magic + Hard Nips at Webster Hall
It's hard to describe an Of Montreal show, so all we will say is there will be balloons, bright colors and makeup on men. The Athens, Georgia-based glam-poppers are taking over Webster Hall tonight on the occasion of their latest, slightly darker than usual album Paralytic Stalks. They play alongside bedroom electronic pop phenom Computer Magic, aka 22-year-old Danielle Johnson, and Japan girl rockers Hard Nips.
Webster Hall, 125 E. 11th St. 6 p.m. $22.
E.V. Day & Kembra Pfahler, "Giverny," Opens at The Hole
Spring has sprung on the Bowery! Installation artist E.V. Day and artist-musician Kembra Pfahler have transformed The Hole gallery into the lush, French gardens immortalized by Claude Monet, using gravel, fake grass, cherry trees, water lilies, tulips weeping willows, a pond and a Japanese bridge. Days' photographs of a nude, pink-painted Pfahler will be adorning the walls as well.
The Hole, 312 Bowery. Opening from 7-9 p.m. 
Aliens at the IFC Center
Considered by many to be better than the original (Alien), James Cameron's Sigourney Weaving-starring sequel was described by the New York Times in 1986 as a "flaming, flashing, crashing, crackling blow-'em-up show that keeps you popping from your seat despite your better instincts and the basically conventional scare tactics." See it tonight at midnight at the IFC Center
IFC Center, 323 Sixth Ave. 11:40 p.m. $13.