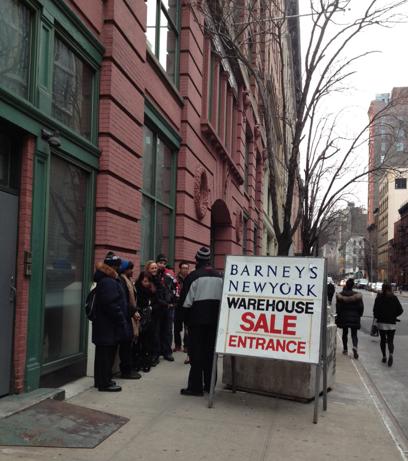 Barneys Warehouse Sale Begins
Did Fashion Week leave you realizing that you really only have about three "good" outfits? Then head to the legendary/amazing/terrifying/stressful Barneys Warehouse Sale, where clothing, shoes and accessories for men and women are 75 percent off.
255 W. 17th St. 8 a.m.-9 p.m. Through Feb. 26. 
Lucky Dragons at 285 Kent Ave.
Los Angeles-based experimental pop duo Lucky Dragons are celebrating the release of their  mini-LP, Existers (via Brooklyn label Swill Children) with a show at 285 Kent Ave.  They're joined by Lichens, Jean-Sebastien Truchy and Matteah Baim.
285 Kent Ave., Williamsburg, Brooklyn. 8 p.m. $8.
Mr. Funnypants Paperback Release Party at WORD
Michael Showalter (he of The State, Wet Hot American Summer, The Baxter and The Michael Showalter Showalter fame) heads to WORD to celebrate the paperback release of his hilarious sort-of memoir Mr. Funnypants. 
WORD, 126 Franklin St., Greenpoint, Brooklyn. 7 p.m. Free.