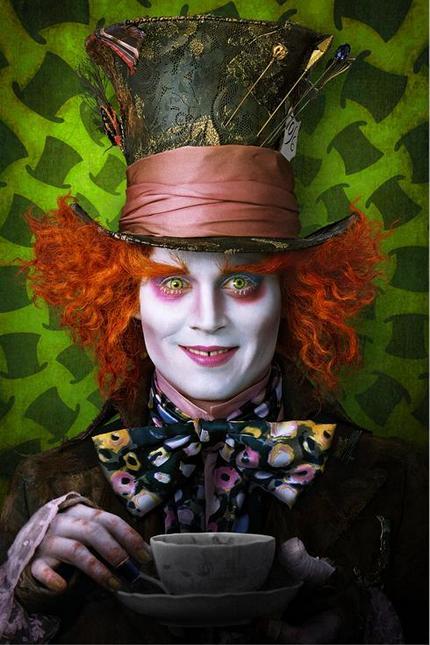 Out now on DVD:
Alice In Wonderland
(Disney),
Tim Burton
's trippy new take on the
Lewis Carroll
classic about a young girl who follows a pocket-watch carrying white rabbit down a hole into the mad, topsy-turvy, universe of Wonderland. In Burton's version Alice (played by the luminous
Mia Wasikowska
) is now 19, with recurring dreams of Wonderland, missing her dead father, and, frighteningly, is about to be engaged to a dweebish count. Her terror at making a commitment brings back the rabbit and she follows down the hole again into an embattled Wonderland ruled by the crazed, bigheaded Red Queen (
Helena Bonham Carter
). When Alice meets the Mad Hatter (
Johnny Depp
) he tells her "You've lost your muchness" and through the course of her journey she finds her inner strength. There's a surprising girl-power
Narnia
adventure sense to the film not to mention the surreal visuals from the visionary Burton. And
Johnny Depp
with his
Three Stooges
Larry-like mane of frizzy red hair is delightfully endearing. He has an almost Scarecrow of
The Wizard Of Oz
character to this Alice. I must say if you missed the 3D version in theaters the Blu-ray certainly makes up for it in eye melting splendor.