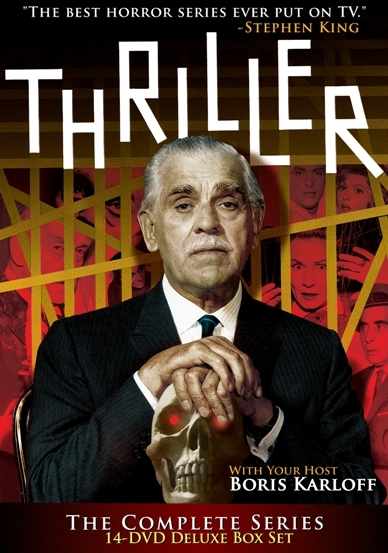 Out now on DVD is
Thriller
(Image Entertainment), a great anthology series hosted by
Boris Karloff
that played on NBC from 1960-1962). With a terrific score from
Jerry Goldsmith
, great directors --
Herschel Daughtery
who directed 16 episodes and
Ida Lupino
who did nine among others. This began with more suspense filled thrillers but evolved into more supernatural territory with chilling scripts from
Robert Bloch
(
Psycho
).
The Grim Reaper
was a memorable fright one with a young
William Shatner
and
Nathalie Shafer
(
Gilligan's Island
) about a haunted painting that dripped blood. My favorites were
Pigeons From Hell
with
Brandon de Wilde
and a decaying southern mansion haunted by a crazed old woman wielding a hatchet.
Waxworks
, about a creepy house of wax (run by
Oskar Homolka
) where it seems that the wax figures of murderers roam the night looking for victims.
Yours Truly, Jack The Ripper
is an excellent tale of a man tracking down the real Jack the Ripper through the years.
The Storm
stars
Nancy Kelly
(
The Bad Seed
) as a woman terrorized in her home on a stormy night in fear of a killer outside. It just goes on and on. This box set includes every episode. All have been lovingly restored and many have insightful commentary tracks talking over the show's history and impact. I was obsessed with this show as a kid -- many of the episodes scared the crap out of me, and revisiting them fills me with unimaginable pleasure.