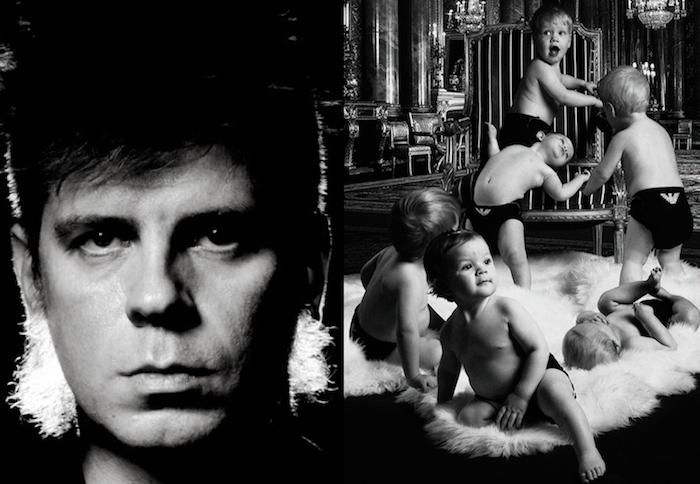 L-R: Artist Petro Wodkins and his fake Armani diaper ad
Last week, we wrote about an image floating around the Internet that appeared to be a
Russian ad for Armani diapers
. Though we, like many
other blogs
that wrote about the ad, were pretty skeptical of its authenticity, it did have a certain..
.je ne sais quoi
. As ridiculous as it looked, it wasn't that difficult to imagine Russian oil tycoons swaddling their babies in $30 Armani logo nappies which, as we learned from the man behind the whole stunt, was precisely the point.
After receiving an email last week offering us the first interview with the creator of the phony ad, we were put in touch with Moscow-based artist
Petro Wodkins
. His previous work has included
replacing Brussels' famous "Manneken Pis"
statue of a urinating boy with a gold sculpture of the artist himself peeing into the famous fountain and sending a
fake press release claiming
Vienna's Mumok museum would be "closed until further notice" as a result of "a new survey, which showed an inacceptable [sic] high percentage of visitors from socioeconomically wealthy groups and the fading interest of the visitors in the museum shops, restaurants etc."
Wodkins says he got the idea for his latest project while attending a dinner last year with a group of marketing executives whose client was a global diaper brand. After hearing them earnestly discuss the possibility of licensing Armani or Gucci to make a luxury line of diapers, the artist became interested in the idea that certain wealthy, fashion-obsessed people -- particularly his fellow countrymen -- are ready to buy anything slapped with a luxury logo. It wasn't long before Wodkins created the fake Armani diaper prototypes, shot an ad campaign with babies lolling on fur rugs and sent the image to a few fashion sites where it quickly went viral.
And, though there were a lot of raised eyebrows in the States, Wodkins says the Russian media didn't doubt the ad at all. "Nobody was surprised at all and I can tell you why," Wodkins told us over the phone from Moscow. "If you go to a kids' store [in Russia], you can easily find an Armani corner with $300 sneakers. If you go to a toy store, you can find a toy car for $20,000 or a baby carriage for $30,000."
Whatever shred of believability the ad had was connected, on some level, to the pervasive stereotype of billionaire nouveau riche Russian oligarchs with indiscriminate spending habits; it's likely that the spread of the image would not have been as successful -- or as credible -- if it had claimed to be selling Armani diapers in France, Germany or even the U.S. "The current image of Russia is that any shit can happen here," Wodkins says. There are "many reasons to believe that because there are people buying basketball clubs, expensive yachts, expensive art, security guards... It makes people worldwide believe that these crazy Russians are spoiled."
In post-communist Russia "it's about showing off and buying whatever you can," Wodkins says of the consumer culture there. "I hope my work will get people to think about whether they really need all of this. I want the Russian image to change."