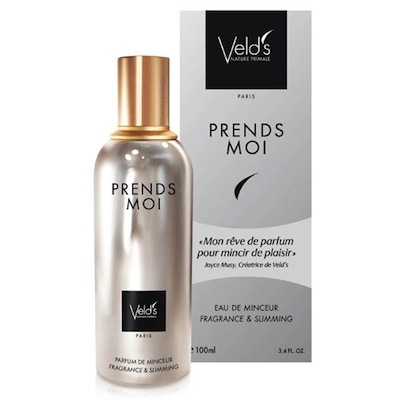 Skinny has a scent, apparently. And it smells like bergamot, mandarin, grapefruit, jasmine, ylang-ylang, lilac, musk, vanilla, patchouli,
and
sandalwood. So, every perfume ever?
Here's how it works, via the product page on The Fragrance Shop:
Designed to 'slim with pleasure' PRENDS-MOI is based on extensive aromatherapeutic and 'neurocosmetic' research and contains active ingredients including 'Betaphroline' which when it comes in to contact with keratinocytes (cells found in the outer layer of the skin) will induce the release of B-endorphins present in the skin. A 'pleasure message' is transmitted through the neurotransmitters (impulse from a nerve cell to another nerve, muscle, organ or other tissue) to the hippocampus (the 'odour brain') triggering an immediate sensation of well being, a reduction in stress and an increase in contentment reducing the need to overeat and the scents slimming action is activated.
In other words, you spray it on your skin, you smell it on your skin, you magically feel happy and no longer want to eat french fries. Or maybe it's that you're so busy spraying, you forget to eat? Or maybe you smell so funky, no one will invite you to their dinner parties?

Of course this is only one example of two-centuries worth of absurd weight loss-promising products, which inspired us to pick some of our favorites. Enjoy with a snack.
1. Skip meals with these replacement cookies from The Hollywood Cookie Diet. Not to be confused with the inevitable Girl Scouts' Cookie Binge.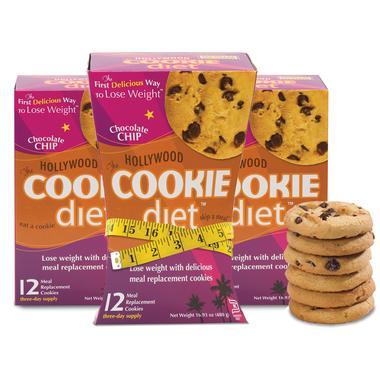 2. Okay, the Dance Workout with Barbie video isn't exactly ridiculous, just amazing.
3. Dr. Chugay's "Miracle Patch" is patch that is surgically applied to your tongue, making it uncomfortable--if not, painful--to eat solid foods. WHAT.
4. Of course we included the Shake Weight.
5. The O.G. of silly weight loss-related commercials: Suzanne Somers and her Thighmaster.
6. Don't even think about bringing that Hawaii Chair into work.



7.  You should probably leave this horse-riding simulator at home as well.



 

8.  Are those Wonder Sauna Pants? Because your ass is HOT.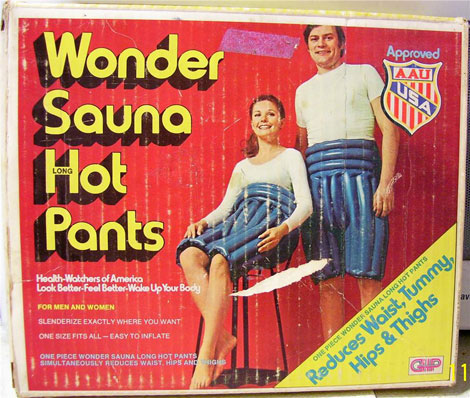 9. The vibrating belt! It jiggles the fat away. Or something. In related news: this is the best minute-long silent black-and-white film you'll ever see.
10. This is something called a Magic Chair. In 1936, it toned and burned fat while that poor lady sat there. Today, it can double as some sort of Torture Chair on the set of Saw.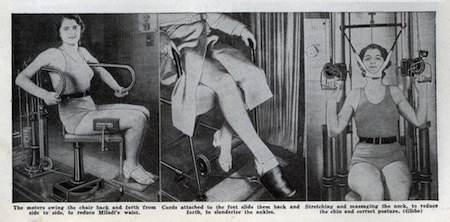 11. The baked potato look is super slimming. Side of sour cream not included.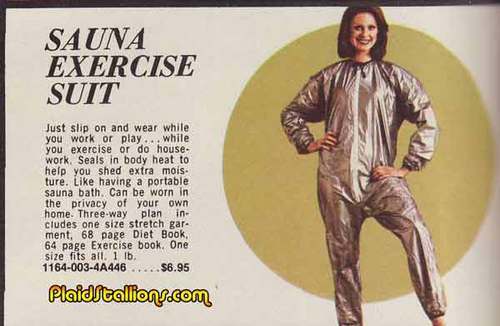 12. Diet candy? Yum! Oh, wait..."Try peanut butter AYDS." 
13.The Last Chance Diet: a '70s era diet by Robert Linn, M.D. that required dieters to eat nothing but a protein liquid mix made from pre-digested animal hides, tendons, and other slaughterhouse goodies. Several of the dieters DIED on the plan, so don't bother looking for any old copies of the diet book on Amazon.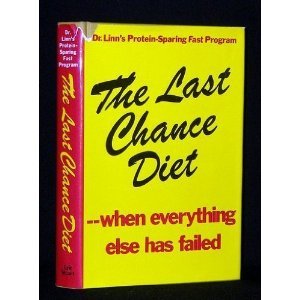 14. A Ye Olde Ab Roller, courtesy of Swedish doctor Gustav Zander circa the 1890s.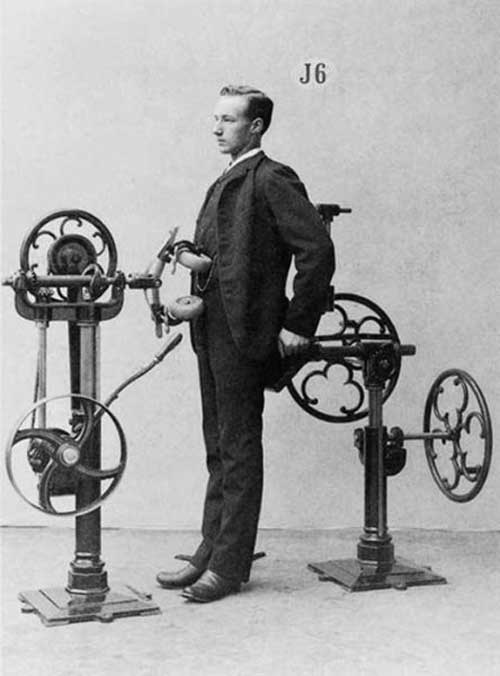 15. And finally, the Relaxacizor, a vibrating machine that delivered supposedly fat-melting electrical shocks to your hips. Mad Men's Peggy Olson famously found another use for hers on the show's first season.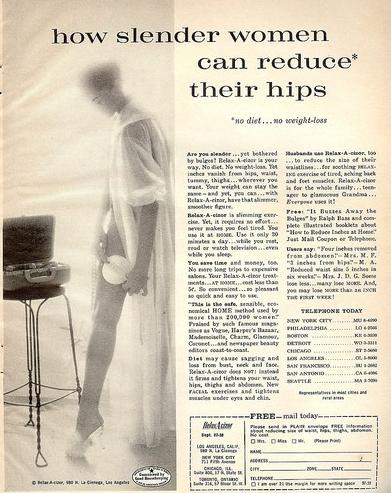 Image via The Fragrance Shop.