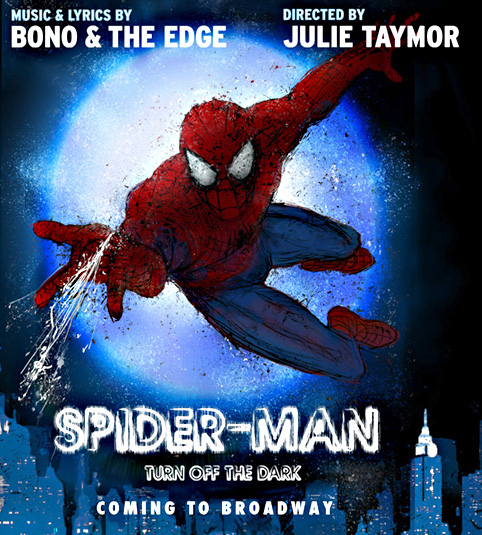 SPIDER-MAN: TURN OFF THE DARK
You read the comic, you saw the movie(s); it's time for the Broadway musical, with music and lyrics by the new-to-Broadway twosome,
Bono
and
The Edge
and directed by
Julie Taymor.
Taymor, something of a super-hero, big-budget stage artist herself (
Lion King
), has spent the past six years on this project, and promises that only the Peter Parker character will sing, while the masked and tights-wearing Spidee will handle all the flying and fighting. 
Reeve Carney
, leader of an L.A. rock band, plays the double-role lead, with
Patrick Page
as the primary villain, the Green Goblin; the choreography is by Daniel Ezralow and the book is by Glen Berger. 
Foxwoods Theatre, 213 W. 42nd St., (877) 250-2929. Previews Nov. 14, opens Dec. 21.
ticketmaster.com
. 
ELF
In other movie-to-musical news, there's
Elf
, based on the 2003 film starring
Will Ferrell
and
Zooey Deschanel
. The songs are by
Matthew Sklar
(music) and
Chad Beguelin
(lyrics), with book by
Bob Martin
(
The Drowsy Chaperone
) and the formidable
Thomas Meehan
(
The Producers
and
Hairspray
). 
Casey Nicholaw
, who staged the delightful
Drowsy Chaperone
, is handling the direction and choreography.  The story is about Buddy, a young orphan child, who crawls into Santa's bag and is taken to the North Pole. As he grows older into a normal-sized man, he becomes less useful as en elf. Santa, played by
George Wendt
, lets him return to Earth to find his real father. 
Hirschfield Theatre, 302 W. 45th St., (212) 239-6200. Previews Nov. 2, opens Nov. 14-Jan. 2. telecharge.com.
GHOSTS IN THE COTTONWOODS
I have seen two plays by
The Amoralists
(
The Pied Pipers of the Lower East Side
and Happy
in the Poorhouse
) and I am now a believer.  This fearless and funny, actor-driven downtown troupe brings it.  I have also seen a few
Adam Rapp
plays -- like
Red Light Winter
and
The Metal Children
-- and his hard-edged dramas have a similar real-life grit and powerful impact.  Here Rapp directs the Amoralists in his earliest full-length play. The setting is a cabin in the woods during a storm.  A single mother and her younger son await the arrival of  her oldest son, who has just broken out of prison.  But a stranger with a wounded leg and a girl with a suitcase show up before him. 
Theatre 80 St. Marks, 80 St. Marks Pl., (212) 388- 0388. Previews Nov. 11, opens Nov. 13-Dec. 6.
theatre80.net
. 
IN THE FOOTPRINT: THE BATTLE OVER ATLANTIC YARDS
This is a new play with music by that wonderful investigative theater company,
The Civilians
, written and directed by
Steven Cossan
(with co-writer's credit to
Jocelyn Clarke
), music and lyrics by downtown great
Michael Friedman
(who just made the well-earned jump to Broadway with
Bloody, Bloody Andrew Jackson
), and featuring a cast of six, including the always sterling
Colleen Werthmann
.  The Civilians make their plays by interviewing people first, and here they sought out  politicians and residents, from Borough Hall to barber shops, in the downtown Brooklyn neighborhood where builders want to put high rise condos and a pro basketball court.  You invariably learn a lot at a Civilians show, while at the same time being charmingly entertained. 
Irondale Center (ironically located two blocks from the Atlantic Yards site), 85 So. Oxford St., Fort Greene, Brooklyn, (866) 811-4111. Previews Nov. 13, opens Nov. 22.
irondale.org
. 
THAT HOPEY CHANGEY THING 
This is a  new and timely play written and directed by
Richard Nelson
(
James Joyce's The Dead
), produced by
Public Lab
, a collaboration between
The Public Theater
and
LAByrinth
, a partnership that likes to get strong work out there, saving money on production costs but passing it on to the audience by only charging $15 admission.  The drama is set at a family gathering (a cast of six; three men and three women) on election day, Nov. 2, 2010, in Rhinebeck, New York.  Uncle Benjamin's dog has died and his nieces and nephews show up to surprise him with a new one.  Politics and family memories are on the table for discussion. 
The Public Theater, 425 Lafayette St., (212) 967-7555. Previews Oct. 26, opens Nov. 2-Nov. 14. publictheater.org.