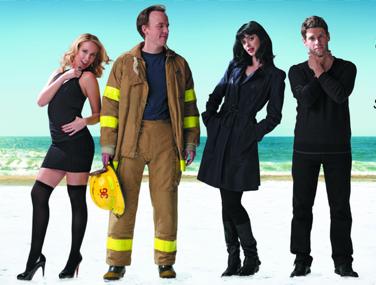 ROYAL SHAKESPEARE COMPANY
Here's a chance to see five of the Bard's plays the way they would be performed if you went to his birthplace. The RSC has brought its 44 member acting ensemble over and is constructing a thrust stage, that is a replica of its Stratford-upon-Avon courtyard theater.  930 seats, in the high-ceilinged Armory, will wrap around the playing area for
As You Like It
,
Romeo and Juliet
,
King Lear
,
The Winter's Tale
and
Julius Caesar
, in repertory. 
New York Park Avenue Armory, 643 Park Ave. July 6-Aug. 14. More info here.
THE 20TH ANNUAL HOT! FESTIVAL OF QUEER PERFORMANCE
Everyday is Gay Pride day this summer, entertainment wise, with theater, dance, music and burlesque; often with two or three shows a night.  This year's featured work, with nine performances, is
Tickets to Manhood
, written by James Scruggs and directed by Mark Rayment, about the rites of passage of five men.  But there will be plenty one-or-two night stands, including Pamela Sneed's 
America Ain't Ready
, M. Lamar's
Negro AntiChrist
, Cole Escola & Erin Markey's
Night Mother
, Marga Gomez's
Not Getting Any Younger,
and World Famous Bob's
Top Shelf Variety Hour
. 
Dixon Place, 161A Chrystie St., (212) 219-0736. June 24-Aug. 6. More info here.
ALL NEW PEOPLE
(Pictured above)
Zach Braff, award-winning screenwriter/director (
Garden State
), long-running TV comedy star (
Scrubs
) and off-Broadway actor (
Trust
), is premiering his two-men, two-women comedic play, directed by Peter DuBois.  The setting is a New Jersey beachside getaway, in the dead of winter, blanketed with snow.  Justin Bartha (
The Hangover
) plays a heartbroken man who wants some solitude, but two women and the town fireman turn up to make that impossible.  
2nd Stage's Tony Kiser Theater, 305 W. 43rd St., (212) 246-4422. Previews June 28, opens July 25.
THE PATSY
This was a hit Broadway comedy back in 1925, written by Barry Conners, who saw it become a popular film as well.  Resurrected by the Transport Group, and directed by Jack Cummings III; it stars five-time Obie Award winner David Greenspan, who plays a Cinderella-like character, and has to deal with all the members of a very fractious family.  On certain nights, the multi-talented Greenspan, who should have no trouble playing the modernized Cinderella, will deliver his new monologue,
Jonas
, about doppelgangers, real and imagined. 
The Duke on 42nd St., 229 W. 42nd St., (646) 223-3010. Previews July 15, opens July 24. More info here.
NO CHILD...
Perhaps you recall George's W. Bush's "No Child Left Behind Act."  This is one former artist-teacher, now playwright-performer's well-received answer.  Nilaja Sun, directed by Hal Brooks, performed this solo over 300 times at the Barrow Street Theatre in 2007 and 2008.  In a day-in-the-life setting, at the fictitious Malcom X High School in the Bronx, Sun takes on many roles: teachers, students, parents, security guard, janitor, principal, etc., to show what it was like in a NYC school in the early 2000s.  For the last three years, she has toured this show all over the U.S., and this is its first local revival. 
Barrow Street Theatre, 27 Barrow St., (212) 868-4444. June 26 -July 31. More info here.