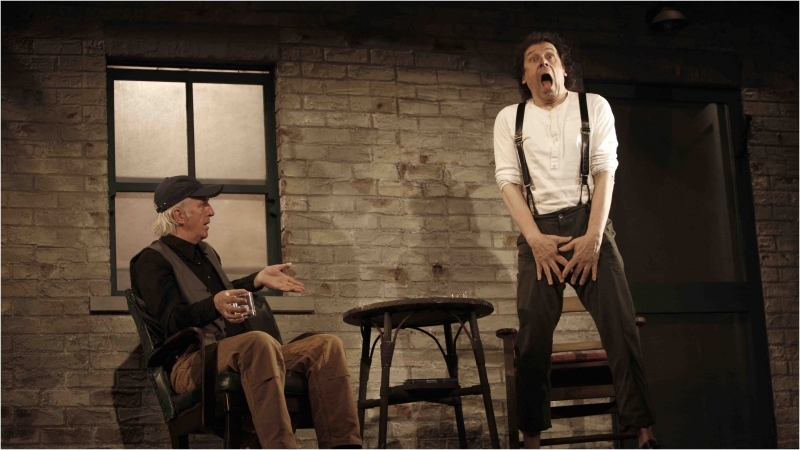 AGES OF THE MOON
This is the U.S. premiere of a new play by Sam Shepard, one of America's finest playwrights, who helped kick-start the off-off Broadway revolution, at venues like La Mama and St. Mark's in the '60s, and has been consistently turning out well-crafted, thoughtful plays since then.  Here, in a two-hander from the Abbey Theater in Dublin, directed by Jimmy Fay, Stephen Rea and Sean McGinley play two old-timers, who knock back shots of bourbon and reflect on 50 years of  friendship and rivalry.   
Linda Gross, 336 W. 20th St., (212) 279-4200. Previews Jan. 12, opens Jan. 27-Mar. 7.     
TIME STANDS STILL
The latest by Donald Margulies, a favorite playwright of the Manhattan Theatre Club, stars four well-known actors, Laura Linney and Brian D'Arcy, who play the leads, and Alicia Silverstone and Downtown icon Eric Bogosian.  Here Linney plays a photo-journalist and D'Arcy is her reporter boyfriend; both back from covering the Iraq war, where they were wounded. The play is about what it means to make that transition.  Bogosian plays a supportive magazine photo editor and Silverstone is his girlfriend, a frothy event planner.  Daniel Sullivan directs.   
Samuel J. Friedman Theater, 261 W. 47th St., (212) 239-6200. Previews Jan. 5, opens Jan. 28-Mar. 14.        
A new play by the wit-master David Ives is always welcome, and this one is directed by Chicago's able helmsman, Walter Bobbie.  It's inspired by an infamous erotic novel, written by Leopold von Sacher-Masch (to whom we owe the term "masochism"), with a first line that went like this: "I had a charming guest . . . the Goddess of Love, in the flesh." (Yes, in the novel's title, and the Velvet Underground song, it's "Furs," not Fur).  Ives sets the play at an audition, where a man and a woman play out various examples of sexual desire and control.   
Classic Stage Company, 136 E. 13th St., (212) 352-3101. Previews Jan. 13, opens Jan. 26- Feb. 21.        
A VIEW FROM THE BRIDGE
This is a revival of Arthur Miller's heated drama about a longshoreman who becomes obsessed with his 17-year-old niece. What should heighten the flames, and make this a Broadway must-see is the star power on display: Liev Schreiber plays the scary uncle and Scarlett Johansson plays the budding teenager.  Director Gregory Mosher will try to keep the house from burning down.   
Cort Theatre, 1138 W. 48th St., (212) 239-6200. Previews Dec. 28, opens Jan. 24-Apr. 4.        
THE MYOPIA/PLAYS
If you have a chance to see 

David Greenspan on stage, take it.  His soothing voice, natural grace and tricky intelligence are always enough to take you wherever he wants you to go.  Here he has written a play, Myopia, about the disgraced U.S. President Warren G. Harding.  Some of the other characters are Harding's son, his boozy, poker-playing politico pals and assorted Washington oddballs; and Greenspan plays them all!  For a theater-lover's bonus, Greenspan will perform Gertrude Stein's take on the theater, Plays, on weekends.   
Atlantic Stage 2, 230 W. 16th St., (212) 352-3101. Previews Jan. 5, opens Jan. 10-Feb. 7.