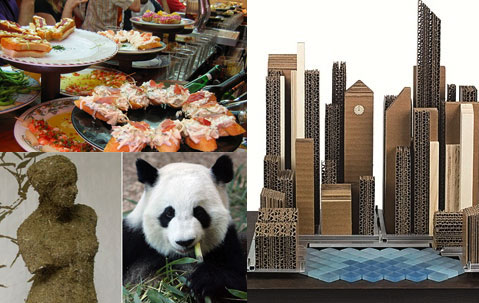 1.Billboard magazine launched a new weekly top-50 chart listing the most active artists on social networking sites.
Rihanna
,
Justin Bieber
and
Eminem
top this week's "Social 50." [
Billboard
]
2. The world's top ten cheap local fast food items. [
Gadling
]
3.
A Japanese robot
that can detect and pick ripened strawberries won the
4th Annual Robot of the Year Awards
.
4. Congress passed a bill called the Calm Act that will force advertisers to lower the volume of television adds. Dear President Obama: SIGN IT NOW! [
LA Times
]
5. Old-school rapper
Doug E. Fresh
("La Di Da Di") is hosting a book signing for NY1's
Cheryl Wills
at his Harlem restaurant Doug E.'s Fried Chicken & Waffles (132nd Street and Adam Clayton Powell Blvd. tonight, December 6, 6 to 9 p.m.
6. A Chinese copy of the
Venus de Milo
statue made from panda dung sold  to a Swiss man for $45,000. [
Telegraph
]
7. Famous skylines from old computers. [
BuzzFeed
]