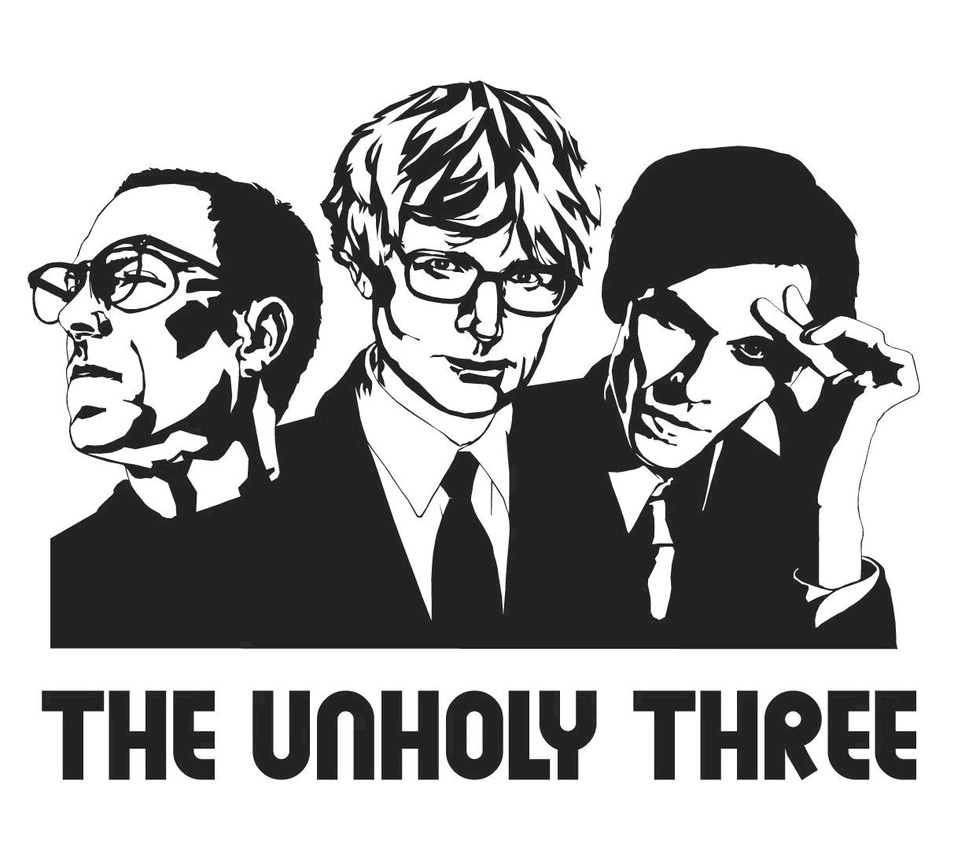 Next time PAPER swings into the Southland they really ought to get the alt-magic trio The Unholy Three to perform at the opening! (Even better, rent out the Magic Castle where the group performs regularly in the cozy Parlour of Prestidigitation!) No doubt named after the 1930 Tod Browning film The Unholy Three (called by one reviewer as "one of the strangest, most dementedly off-kilter crime dramas ever filmed), these three contemporary magicians likewise present some of the strangest, most wonderfully demented, off-kilter magic while adding their own idiosyncratic humor to create a most heady and devilishly surrealistic brew. Plus they come with some serious rock 'n' roll cred! The Unholy Three are (from left to right in the illustration above and right to left in the photo below) Pixies-drummer David Lovering, he who enigmatically calls himself Fitzgerald and Rob Zabrecky, former frontman for the infamous L.A. band Possum Dixon. I've seen them twice, most recently at the Magic Castle on Halloween weekend where I was happily in the same party as K. K. Barrett, the West Coast punk rock legend (he was the drummer for The Screamers)-turned-awesome production designer and post-punk doyenne Karen O from the Yeah Yeah Yeahs! Because the Magic Castle has a strict dress code, one and all were dressed to the nines (with Miss O wearing a fetching blue dress paired with a wicked pair of patent leather Pat Benatar-esque ankle boots!)
"October is undoubtedly the best time of year to work at the Magic Castle," Zabrechy told me. "A committee within the club is hired to decorate the already Gothic Victorian mansion into a spooky palace that would make Vincent Price or Lon Chaney at home. I didn't see many great costumes the night you were there, but during our week at the Magic Castle, there were plenty of creative costumes, some evoking the extravagant gory brilliance of the Grand Guignol." I actually saw a few good outfits, most notably a hunky Wolverine that utilized his own mutton chop sideburns. But thanks to the decor and their fancy dress code the Magic Castle provides a good Halloween buzz year-round!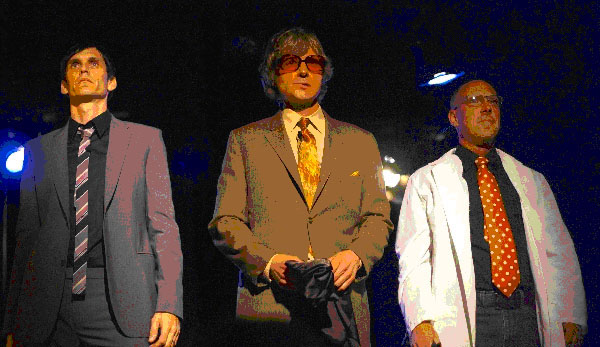 The Unholy Three describe their act as "a quickly paced provocative Dada-esque combination of wizardry, mentalism and off-beat humor," and they never disappoint. The trio is bringing their extremely entertaining selves to The Steve Allen Theater next spring. But if you are lucky enough to know a magician try to catch them at the Magic Castle -- a legendary Hollywood landmark which may, sadly, soon be surrounded by high-rise luxury condos given that the acreage around the Castle and Yamahiro's up the hill is being sold to developers. If only the Unholy Three could make this out-of-control gentrification disappear!