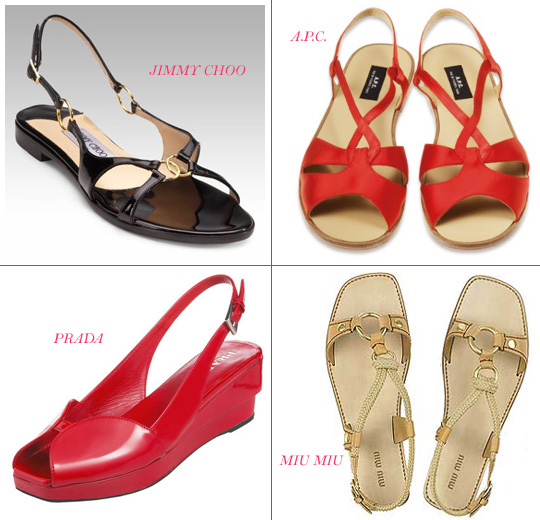 Although it doesn't feel anything close to balmy, technically it is spring and around this time of the year I always start thinking about shoes that you wear sans socks. I've been doing some research (that means eye-shopping and no actual buying) on spring fling shoes at Jeffrey, Miu Miu, Intermix (secretly every girl I know checks out Intermix) and online department stores.
The three big things I saw everywhere and by every designer for spring/summer are patent leather, peep toes and ankle straps. I'm really feeling the shiny leather look since everything I love ends up being patent. Peep toes I'm not too crazy about but they can work as both casual and dressy, and they give your toes some ventilation. But I really don't care for ankle straps. I think they are uncomfortable (like they're going to cut off your blood circulation any sec) and they are hard to pull off no matter how leggy you might be.
I'm a working girl who walks and takes the Subway everyday so I need shoes that are sexy yet orthopedic, which means I love flats and wedges. Lucky for us girls on the go, this is the season of flats and wedges in all persuasions and decorations. While I so don't think of myself as a Jimmy Choo girl, I came across this pair of black patent leather Jimmy Choo flat sandals with a tasteful amount of hardware that I thought were so very sexy and sensible. A.P.C. also came out with flat sandals that are very cute and wearable in cherry red satin no less! The design is a wee bit similar to the JC flats but way more understated obviously.
But my favorite is this pair of shiny red patent leather mid-heel peep-toe sling back wedges by Prada -- I think red is gonna be THE hot color for summer shoes. These wedges have a sharp two-tier effect going on... sort of like Japanese geisha sandals. Not to be outshone, Prada's baby sister Miu Miu has similar wedges but instead of peep toe they have basket weave front. After all is said and done, the most easy-breezy chic on the street and bitchin' on the beach kicks are the sandy rope flat sandals by Miu Miu. If you get the summer time blues, a pair of any of these shoes might just be what the doctor ordered!