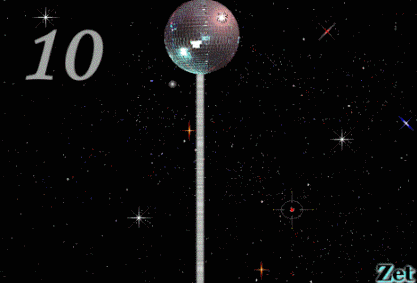 It's easy to feel ambivalent about New Year's Eve in New York -- the entire city is overrun with wasted jerks who throw up in cabs and sing too loudly on the subway
but
there's also something a little depressing about staying in and watching
Moonstruck
with your aging cat. Whether your preference is to dance 'til dawn, watch a concert or simply have a low-key night enjoying a nice meal and a really effin' good bottle of wine, we've got you covered. Below, our top picks for New Year's Eve in New York City.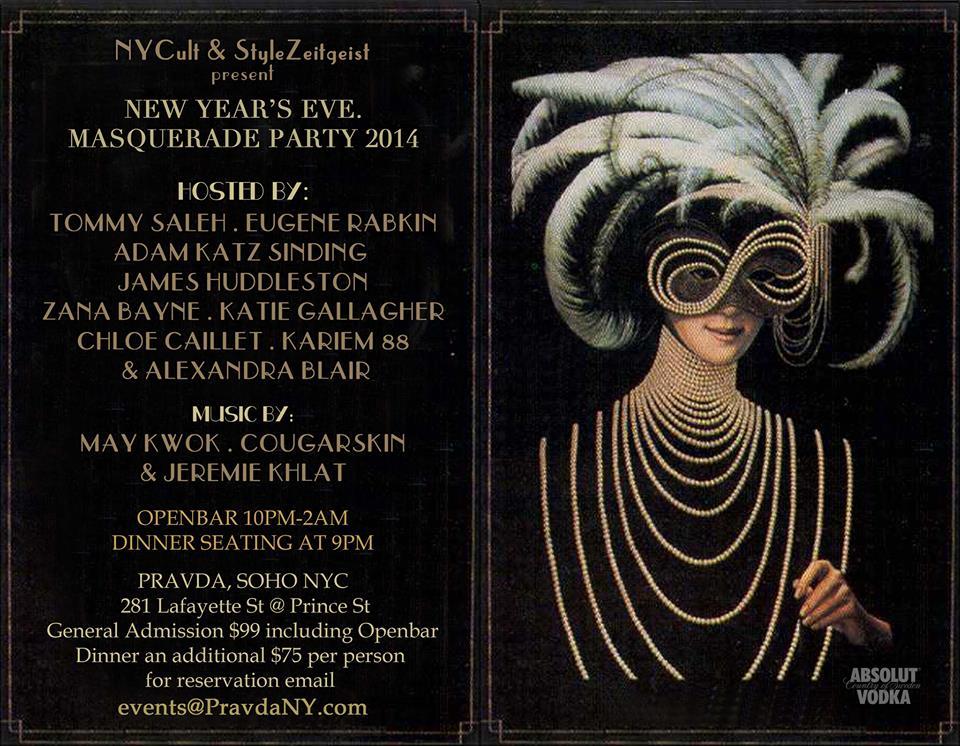 New Year's Eve Masquerade Party 2014 at Pravda
This annual fancy-times cool kid masquerade shindig is baaaack for another NYE of dancing, drinking and disguise. Start dusting off those feather headdresses and cat-eye masks now. Admission is $99, but there's an open bar from 10 pm to 2 a.m. What else do you need?
Pravda, 281 Lafayette, 10 p.m. -- dinner seating at 9 p.m., if you're fancy like that. Reserve your dinner table at events@PravdaNY.com.
Moon Boots + JKriv + Free Magic and Faso
Chicago DJ Moon Boots brings his funky, R&B-inspired beats to Glasslands to ring in the new year alongside up-and-coming DJs JKriv and Free Magic & Fasco. Come early to hit the vodka open bar between 9-10pm.
Glasslands, 289 Kent Ave, Brooklyn. Tuesday, December 31st, 9pm. Get tickets HERE.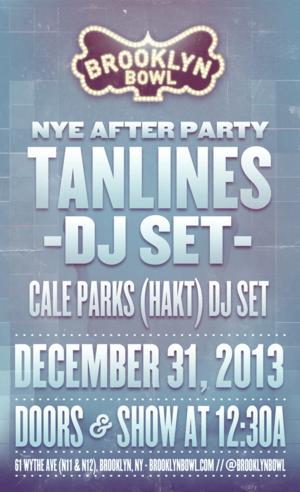 Tanlines, Delta Spirit, Cults (DJ set), SACCO
It's one-stop shopping at Brooklyn Bowl where you can knock a few pins down in between listening to sets by Delta Spirit, Cults and SACCO. And stick around for their after party, which features a DJ set from Brooklyn duo, Tanlines.
Brooklyn Bowl, 61 Wythe Ave, Brooklyn. Tuesday, December 31st, 8pm. Get tickets HERE.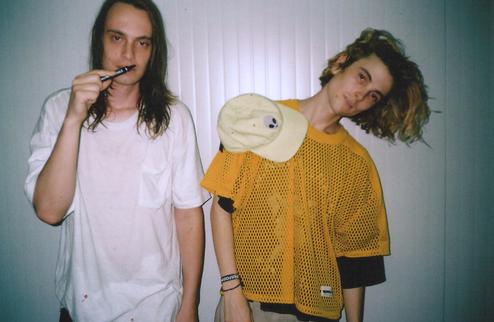 DIIV, Perfect Pussy, Potty Mouth, Nothing, Ratking
In the mood to send a kiss-off to 2013 with a rock show? Head over to Baby's All Right for sets by DIIV (pictured above), Perfect Pussy, and more.
Baby's All Right, 149 Broadway, Brooklyn. Tuesday, December 31st, 8pm. Get tickets HERE..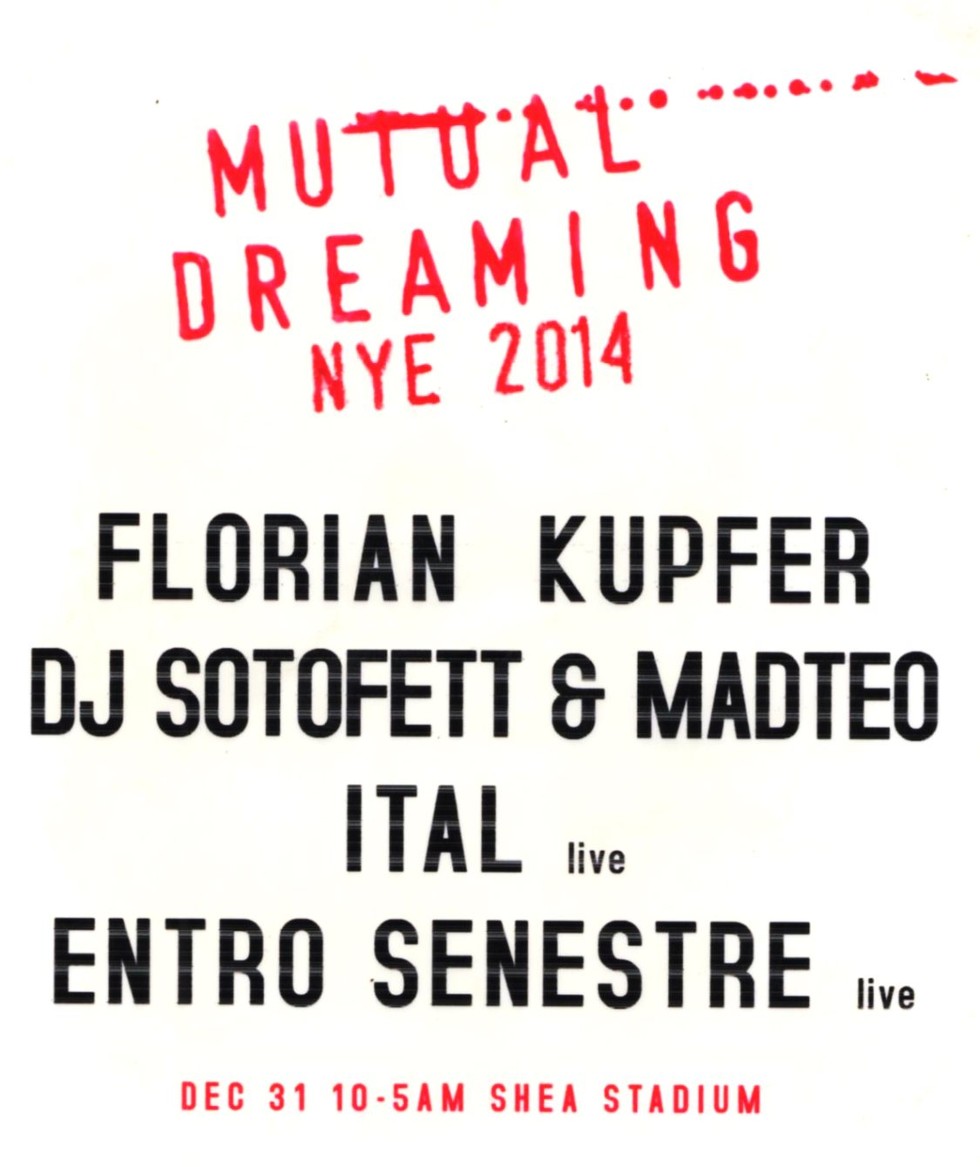 Mutual Dreaming at Shea Stadium.
Underground party Mutual Dreaming has a special NYE edition of their super-fun dance nights planned for tonight at Bushwick's Shea Stadium, featuring sets from Florian Kupfer, DJ Sotofett & Madteo, live sets from Ital and Entro Senestrem a "massive" disco ball, a lighting installation and lots o' champagne.
Shea Stadium, 20 Meadow St., 10 p.m. $30. Tickets HERE.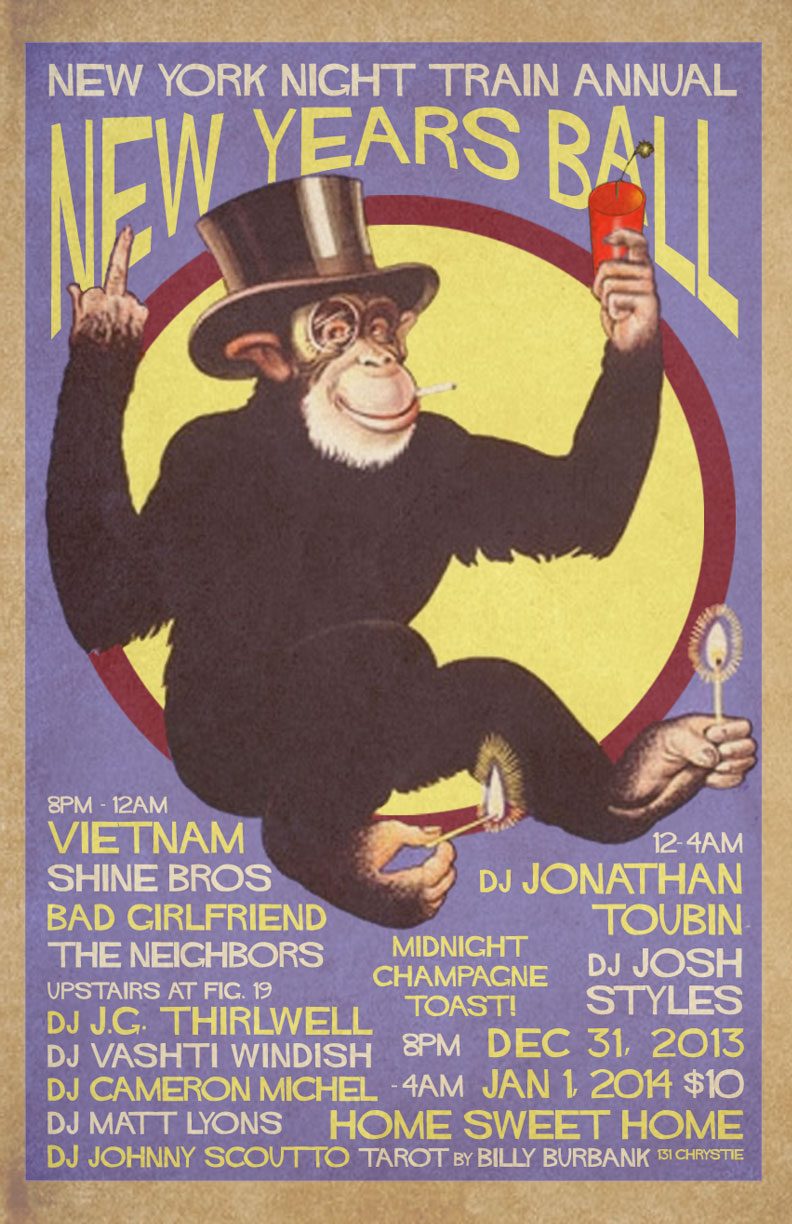 New York Night Train's Annual New Year's Eve Ball
Jonathan Toubin is the reigning king of the sweaty, non-stop super-fun dance party, and is spinning his soul 45s tonight at Home Sweet Home for anyone and everyone looking to get down. Champagne toast at midnight.
Home Sweet Home, 131 Chrystie, $10. 8 p.m. to 4 a.m. Toubin at midnight.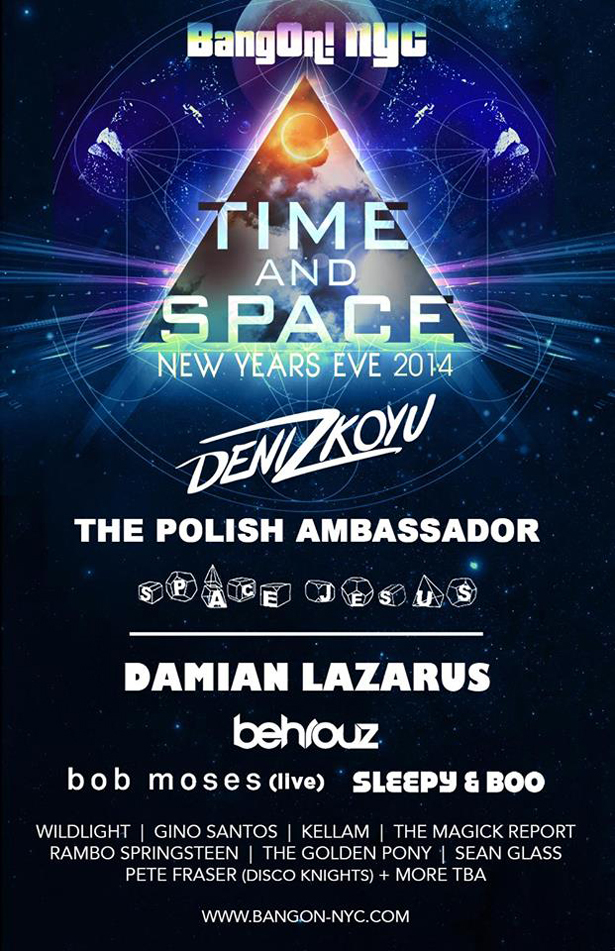 BangOn!NYC: Time and Space
Spanning a full block in East Williamsburg, TIME & SPACE features everything (almost literally everything) from illuminated art installations to flying circus performers, burning man art cars, food trucks, clothing vendors and DJ sets. Apparently their midnight countdown features a rocket launch. OK.
Secret warehouse location in East Williamsburg of the L train, Brooklyn, December 31st, 9pm-6am. Get tickets HERE.



BuryMeInBrooklyn's MACHINE DANCE NYE After Hours
BuryMeInBrooklyn's after hours Bushwick jammy jam makes it real easy to party hop, where anyone coming from BangOn!, Ghe20 Goth1K or Lit City get their $20 door fee reduced. There'll be sets from Thugsithlord, Joakin, Lit City Allstars and more. With a 5 a.m. start and end time of "infinity," this is clearly for people who party serious.
1040 Metropolitan Ave., 5 a.m., $20. Tickets HERE.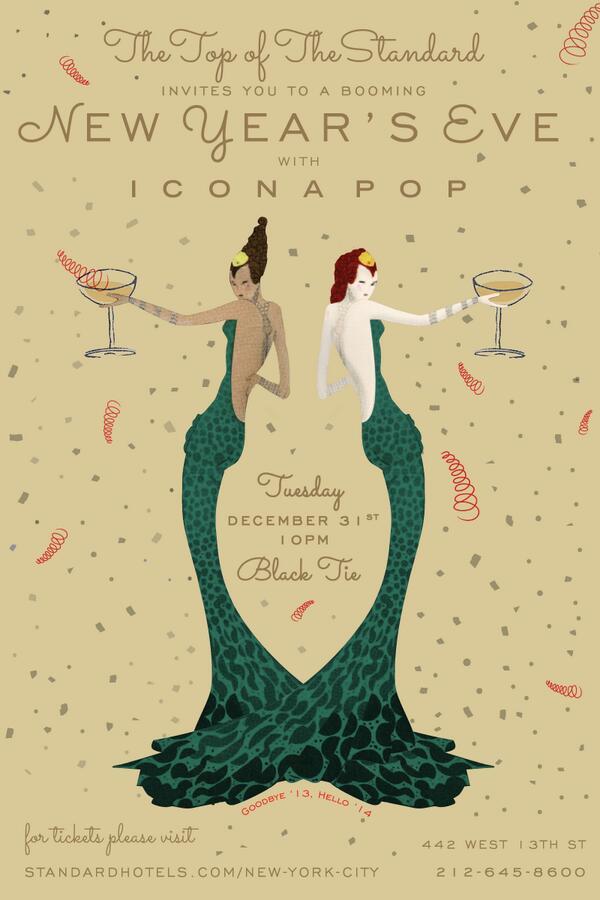 Stand for Icona Pop
Whether "you're from the '70s" or you're "a '90s bitch" (sorry), head to the Boom Boom Room (a.k.a. Top of the Standard) to toast 2014 with Icona Pop. FYI, this black-tie party only has standing room left, so really think hard about whether you wanna wear those new sky-high Miu Miu heels.
Top of the Standard, Standard Hotel, 848 Washington St, Manhattan. Tuesday, December 31st, 10pm. Get tickets HERE.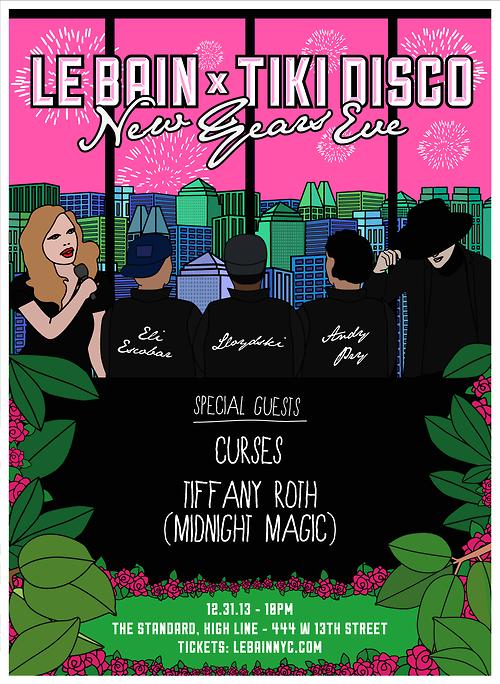 NYE with Tiki Disco
Re-live a bit of summertime Brooklyn at Le Bain who's teamed up with Tiki Disco on New Year's Eve. Though tables run in the $1000s, those on a budget will be happy to hear that general admission is only 50 clams.
Le Bain, Standard Hotel, 848 Washington St, Manhattan. Tuesday, December 31st, 10pm. Get tickets HERE.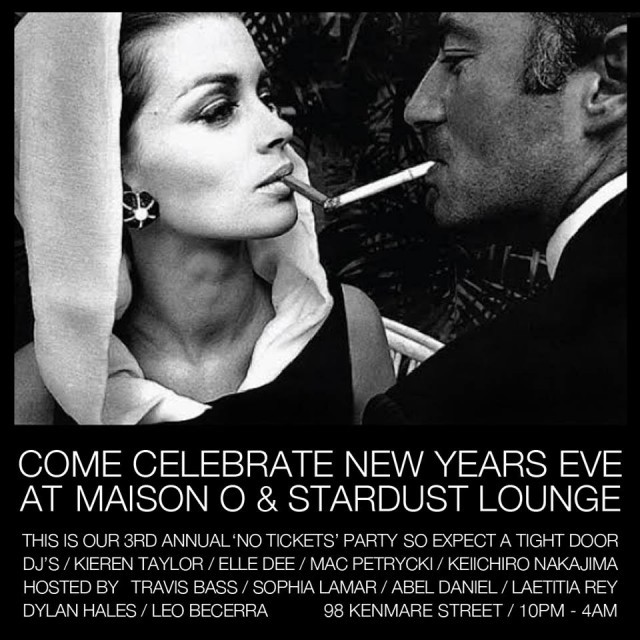 Travis Bass' Annual No Tickets New Years Eve Bash
Tickets? F that. Party prince Travis Bass throws his annual no riff-raff New Year's Eve party, with DJ sets by Elle Dee, Kieren Taylor and more.
Maison O, 98 Kenmare St., 10 p.m.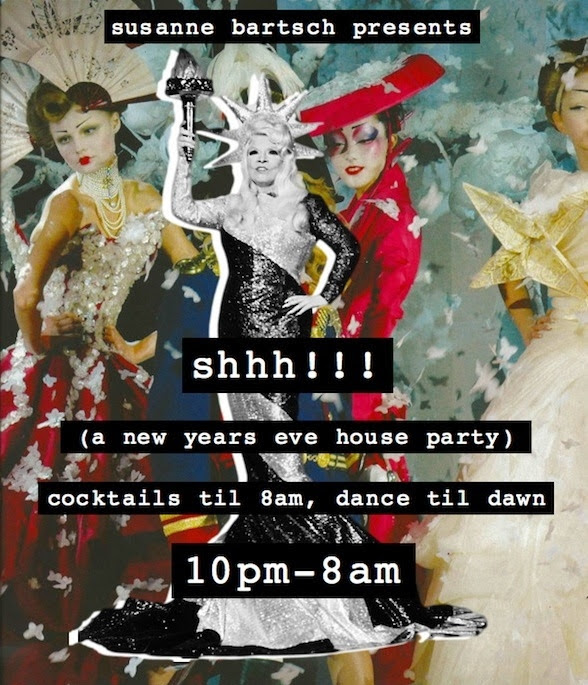 New Year's Eve with Susanne Bartsch
It's not a Susanne Bartsch party unless it goes til the sun is up. The NYC nightlife doyenne is keeping her party at Le Baron going tonight til 8 a.m., with DJ sets from Lauren Flax and Michael Magnan among other and hosts including Jeremy Kost and Muffinhead.
Le Baron, 32 Mulberry St., 10 p.m.

Murray Hill's New Year's Eve Extravaganza
One of our favorite drag kings, Murray Hill, is back with his annual New Year's Eve Extravaganza. Expect to get your party on with burlesque -- and "boylesque"--  performers and dance the night away in a wonderful tipsy haze.
Slipper Room, 167 Orchard St, Manhattan. December 31st, 9:30pm. Get tickets HERE.

Sandra Bernhard
Bypass the sweaty masses at parties and concerts and head to Sandyland: comedian Sandra Bernhard headlines Joe's Pub on NYE with sets at both 9pm and 11pm.
Joe's Pub at the Public Theater. 425 Lafayette St, Manhattan. Tuesday, December 31st, 9pm and 11pm. Get tickets HERE.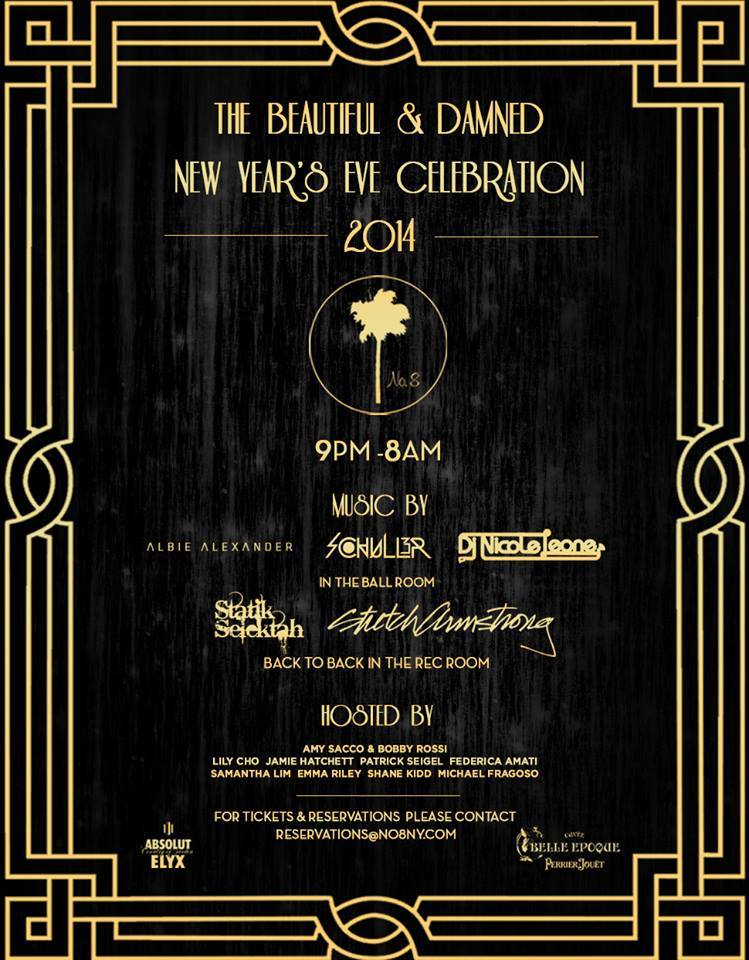 The Beautiful and Damned at No. 8
Party like it's 1922! Jazz, booze, and flapper costumes will abound at No. 8's NYE fête that, we hear, is one of the few in the city with a 24-hour liquor license. For those party warriors who make it 'til sunrise, you can expect breakfast will be served before you stagger home.
No. 8, 357 West 16th St, Tuesday December 31st, 9 p.m - 8 a.m, $125. For more information, go HERE.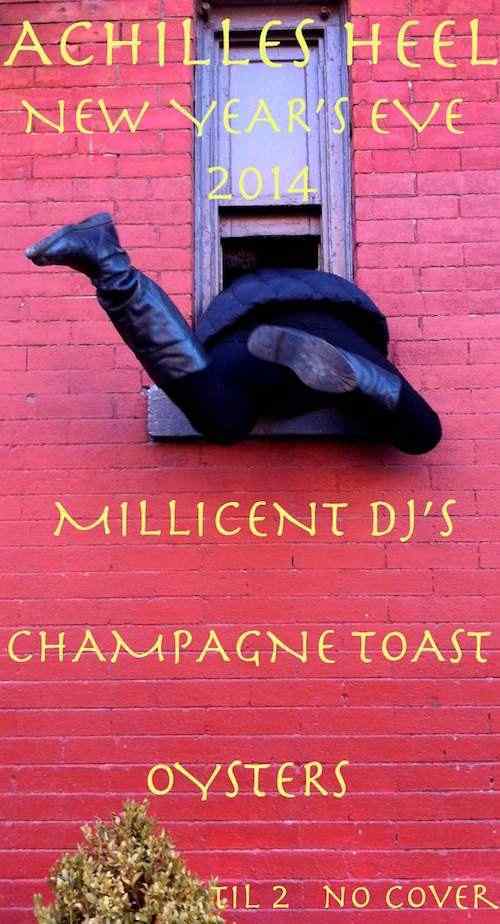 Marlow and Sons, Diner, Achilles Heel
Andrew Tarlow's North Brooklyn triumvirate -- Diner, Marlow & Sons and his newest spot, Achilles Heel -- have special NYE offerings for those who prefer to celebrate with good friends and good food instead of drink tickets and 300 strangers. Both Diner and Marlow & Sons are offering prix-fixes (that include items like an oyster pan roast, lamb chops and a chocolate pot de creme at Diner and sea scallops, roasted pork loin and a chocolate caramel tart at Marlow & Sons) while Achilles Heel has a special raw bar and champagne toast at midnight.
Marlow & Sons, 81 Broadway, Brooklyn; Diner, 85 Broadway, Brooklyn; Achilles Heel, 180 West St, Brooklyn, Until 2 a.m, No cover. For reservations, call 718-486-3077 (Diner) and 718-384-1441 (Marlow & Sons).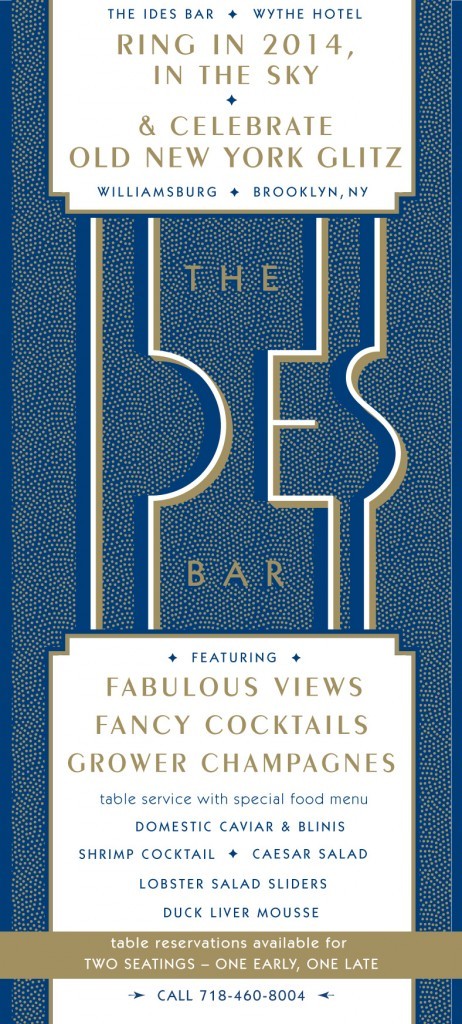 The Ides
Meanwhile, over at Tarlow's bar atop The Wythe Hotel, The Ides, they'll be ringing in the new year with an "old New York glitz"-themed fête complete with caviar and blinis, shrimp cocktail, lobster salad and, of course, buckets of champagne. 
The Ides, 80 Wythe Ave, Brooklyn, $95 for prix-fixe; until 2 a.m. For reservations call 718-460-8004.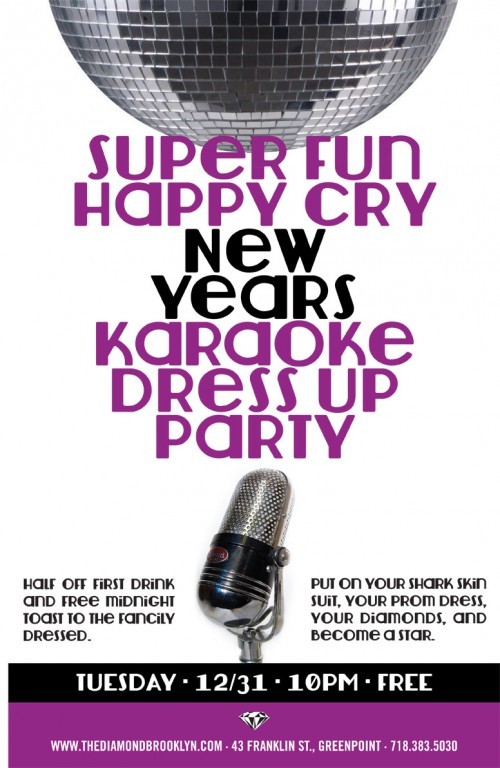 Diamond Bar's Super Fun Happy Cry New Year's Eve Karaoke Dress Up Party
Greenpoint's Diamond Bar takes the cake for best-named NYE party of the night. Put on a snazzy outfit, cry tears of joy, get wasted and insist on performing Snow's "Informer," even though you don't know the words.
43 Franklin St., 10 p.m. Free.