The Oscars Power Ballad Playlist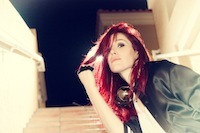 In this weekly column, MC/DJ Hesta Prynn pairs pop culture stories with an original playlist.
Oscar-nominated films have theme songs written by people like Randy Newman, Alan Menken or Andrew Lloyd Webber. Sure, we get a Three 6 Mafia or an Eminem from time to time, but only for every six Broadway standards and rarely in the Best Picture category. Wouldn't these dramas go down smoother if our heroes walked to Mötley Crüe or G 'n' R? In honor of the 85th Academy Awards, I've served up my top five Best Picture noms with their '80s power-ballad theme songs.