The New Yorker Shows Kim Hastreiter Some Love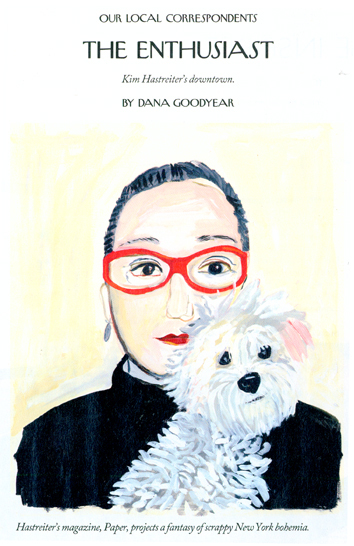 We don't usually encourage you to read other magazines, but in this case we'll make an exception. Run to your nearest newstand (or mailbox, if you're a subscriber) and pick up a copy of the Sept. 24 issue of The New Yorker, which features a big and wonderful profile of PAPER's Kim Hastreiter. Dana Goodyear, a brilliant writer and author of the piece, refers to PAPER as a "freewheeling, kitschy, Munsters-like family, but a happy and highly functional one." We love that description! Goodyear interviewed everyone from Isaac Mizrahi to Murray Moss to Joey Arias to Betsey Johnson to Sally Singer, who gave her their two cents on "Mama Kim." One of our favorite quotes came from George Lois, who said, "Kim finds these people, and she collects them like butterflies... I'm sure she could pull out a giant drawer and we're all there."
Anyhoo, read it read it read it! In the meantime, here's an abstract of the piece (the full story isn't online yet) and an audio interview with Dana Goodyear about the story.