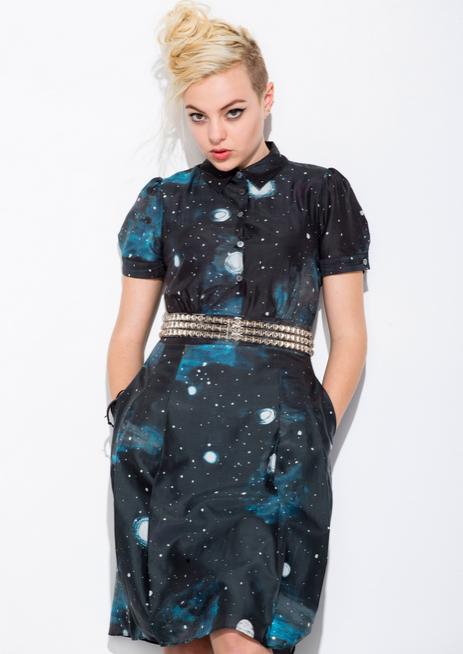 Photograph by Jiro Schneider
Welcome to our column
The New Royals
, in which we introduce you to the noteworthy youngsters we know are destined for fame. Some will actually be from royal or princely families, others will be the brethren of showbiz's kings and queens. Whatever the case, they'll be fabulous.
If musical talent is hereditary, then Kaya Stewart must be a genius. The daughter of Eurhythmics' Dave Stewart, Kaya has been around music all her life -- she wrote her first song at the age of 6, and at the ripe old age of 15, she's signed to Warner Brothers and going out on the Warped Tour. We chatted about her career in anticipation of debuting her new music video, "Jonah," which you can watch after the interview.
Age:
15

Zodiac sign:
Pisces
Occupation:
Artist (singer/songwriter)
Hometown:
London, but I live in LA 

School:
I'm home schooled through an online program
Discovered
: On Soundcloud when I was 13
What's the story behind the song "In Love With a Boy"?
I wrote "In Love With A Boy" when I was 13. I never felt like I really fit in, so music and songwriting was a way for me to escape. We had a huge math final, and I was terrible at math, so I knew I was going to fail. There was a boy in my class I really liked, so I decided to flip over my math final and write a song. By the end of the class, I hadn't finished any of my final, but I was so excited I went home as fast as I could and recorded it.
Do you remember the first song you ever wrote?
The first song I ever wrote was when I was 6 years old. It was called "Under the Moon." We had just moved from London to LA at the time. One day I want to get the song tattooed on my ankle.
Did you grow up with tons of music in the house?
My whole family is very musical, so there was always great music and songwriting playing in the house. I was so lucky to have such a talented family with such great taste in music, it definitely was a huge influence on my songwriting today.
Do you perform live a lot? What's been your favorite performance?
Performing live has always been my favorite thing to do. Although my dream is to perform to huge audiences, I love a small intimate performance. I recently performed at The Echo in LA. The crowd was so energetic and I didn't want the set to end! It was such a cool club with people who truly love music, and a fun show. Definitely one of my favorites. I am joining the Warped Tour for three weeks, starting July 15th.
What was the first CD you bought or downloaded?
The first CD I bought was
The Miseducation of Lauryn Hill
. I don't think that there is one song on the entire album that I don't know the words to.
How would you describe your style?
My style is a huge part of who I am. I love the idea of juxtaposition, and I think my style and my music is a perfect example of that. I would describe my style as punky and edgy with a rock n' roll influence, yet my music is empty and with an electro feel.
Debbie Harry
has always been a huge style influence for me. When I am on tour, or even just at home, I am always pulling up pictures of Debbie for inspiration.


"Jonah" video