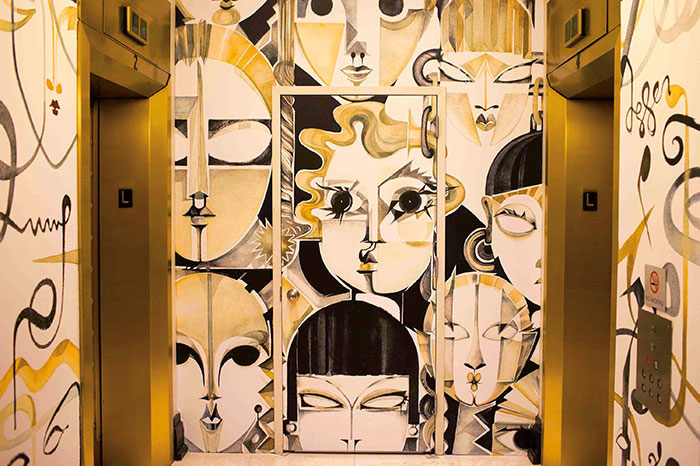 "Deco Dames" detail by Ruben Toledo
"Where is it, Paige? The canyons?" wondered Ruben Toledo when he was asked to contribute art to the Lexington New York City, a 28-story hotel in towering midtown. Paige Powell, a contemporary art advisor and muse to Andy Warhol, also found the area mystifying. "I was so thrown, like I was in a Robert Longo painting, people dressed in suits, rushing by so fast," she says. "Then I got to really like it and think of it as an oasis."
Indeed, Powell and interior designer David Ashen, of Dash Design, have created an experience much like an oasis in the hotel's redesign, completed in October. The Lexington was built in 1929, the Jazz Age, and they wished to salute the music, literature and art of the period without being too historic.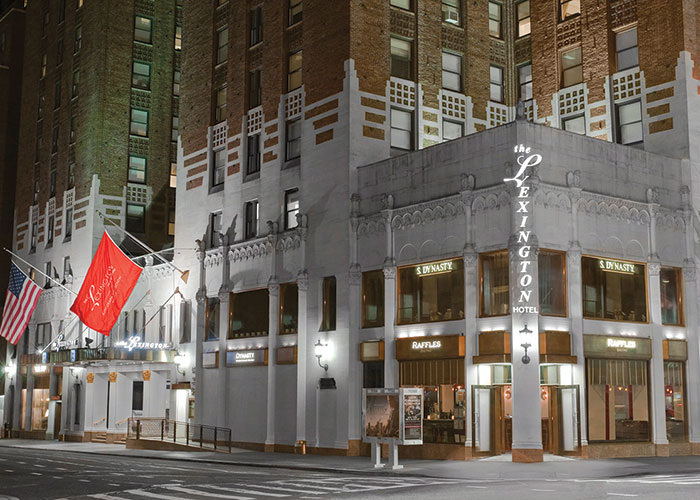 The exterior of The Lexington
"We wanted to do more than have it look good," says Ashen, whose background is in nightclubs and restaurants. "Drive people here, create a place where there is no place."
It's happening. The art-lined lobby has become a magnetic hangout, not just a passageway for rolling luggage. Images of Joey Arias, Klaus Nomi, Liza Minnelli and Daphne Guinness' wildly bejeweled hands share one wall. Joe DiMaggio references are everywhere; the baseball great lived here when he played for the Yankees (Marilyn Monroe joined him for the year they were married). A laser cut proscenium by Alba Clemente frames the reception desk. Toledo's jazzy, futuristic mural wraps the Art Deco elevator banks.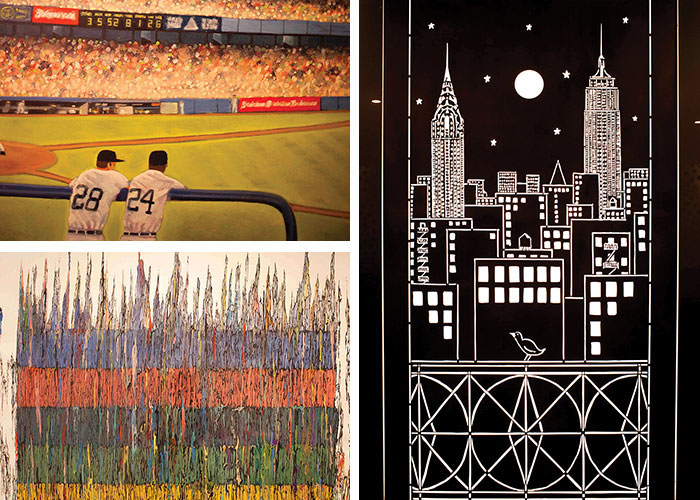 The artwork of the Lexington hotel (clockwise from left): detail of "Ours Were The Best Seats," by Jessica Bonin; "South View Balcony," by Alba Clemente; detail of "Untitled/5" by Mao Kudo
For the 696 guest rooms and 29 suites, Powell and Ashen collected thousands of artworks from a Brooklyn flea market, the Harlem School of the Arts and Creative Growth, an Oakland-based center that fosters disabled adults' artistic talent. The Lexington's overhaul cost $46 million, but the art budget was a mere fraction of that. The upside? As Powell says, "It made us be super-creative."
The Lexington New York City is located at 511 Lexington Ave., New York