Starting his career working for Diane Arbus, photographer and filmmaker Bruce Weber revolutionized fashion photography in the 1980s with his erotically-tinged black and white portraits of all-American masculinity. (He's also the guy behind the images in those Abercrombie & Fitch 'catalogs'.) The legendary Weber, who regularly shoots for major magazines like
Vogue
and
Vanity Fair
is rarely seen without a handkerchief atop his head or one to six of his golden retrievers at his side. Starting November 15 and running through Thursday, November 21, The Film Forum is hosting a retrospective of Weber's films including completed feature films, short subjects and a selection of his commercials, music videos and works in progress.The festival opens tomorrow with a new 35mm print of
Let's Get Lost
(1988), Weber's Oscar nominated portrait of jazz icon Chet Baker, which is celebrating its 25th anniversary. Here Weber revels behind the scenes stories from
Let's Get Lost
and his time spent in Iowa.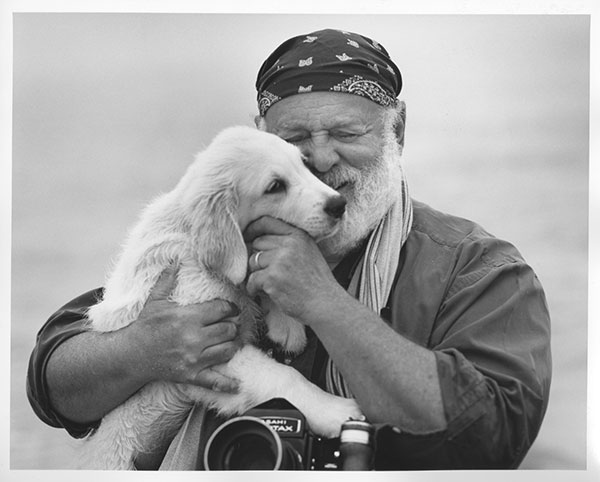 What first drew you to Chet?
I was drawn to his music, and I was really drawn to the way that he looked. I knew he was a bad boy, but when people --men and women -- would hear that little innocent voice singing, they felt that if they fell in love with him, or he fell in love with them, that they could change him. Change him from a bad boy to a guy that lives in the white house, with a picket fence, two kids and a dog. But, of course that was never the case. I always laugh at that because when we first started going to film festivals with Let's Get Lost, women especially would say, 'Why aren't I in the film?' and I would say 'Oh well, I'm sorry. I am just meeting you right now,' and they would say something like "Chet stayed at my house for six months," or, "He was our babysitter." Can you imagine hiring Chet to be your babysitter?

Was he good with their kids? He didn't have a great relationship with his own.
Chet strangely was really great with kids -- not his own kids -- but kids, and especially dogs. He just had a knack for dogs. Diane, his girlfriend, told us a story once where Chet was carrying all these drugs coming into Germany. When they got off the plane there was a German Sheppard there waiting to sniff for drugs but when he got to Chet, he laid down and turned on his back to have his stomach be rubbed. And Chet -- who was carrying all these drugs -- bent down to pet it. The rest of the band were freaking out, their hearts beating so fast, but the dog just got up and left.

Did he know he had that sort of power?
He had a way with animals. Well, he had a way with people too. We all knew he was a con artist, but he was so great at it that you couldn't help loving him for it. Nothing is worse then a con artist who isn't so good at it.

A lot of people felt manipulated by him. Did you ever feel he manipulated you?
I think at first he really manipulated us, but I expected that. I knew that was going to happen. The more he got to know us, the more he relied on us. Near the end, like in Cannes, he started manipulating us again because we were really trying to keep him on Methadone and not have him get high, which was hard for him. Agnès B made this really nice suit for him, and I got him a tie and a shirt. We were expecting that to be his suit, and then he lost hit. Nan,my wife and the producer, felt so bad and wanted to call Agnès B in Paris to get another one. I was certain he pawned it. We always had an argument about it. It was finally settled when Let's Get Lost was entered into the Cannes Film Festival Hall of Fame, and Nicola Stilo, who played bass with him, came for the film. We had to ask him if Chet really lost the suit or if he pawned it, and of course it takes a woman to know ... he'd really lost it. 

I thought his romances -- the three wives, mistress Regina and girlfriend Diane -- had a really interesting dynamic in the film. He had so many women in love with him, and they all had opinions of each other. Why do you think he ever committed at all?
He liked people to take care of him. When he first arrived in Los Angeles at the Shangri La Hotel, he probably had a quarter in his pocket. I don't even know if he had that. All of a sudden it was like, 'Do I have a car, and a driver?' and we were like, 'We only have enough money to make the movie!' but we knew someone who had a brother who worked at a dealership, and he ended up giving us this Cadillac, which you see in the film. But Chet thought it was his. That was his car, and he could do what he wanted with it. He really had that kept boy quality. He was kind of illusive sometimes and sometimes it would get so crazy that I couldn't deal with it.
 
Did you ever get into it with him during filming?
We only had one fight. It was in Paris. We were walking to a restaurant, and Chet said 'Hey, man...' --  and when Chet would talk to you, he would get really close to you. Like he was going to kiss you. Because he believed, even at that age, he could seduce you into doing anything. And he could, he was really great at it -- so he said, 'Hey, man I need you to rent me a car, and I want to drive to Rome to pick up another car and have you drive this one back, and I'll drive the other.' I said, 'No, I am not going to rent you a car. You are always getting into accidents, you are always getting into trouble.' He got really close to me, and it was the first time where he really had the look of a guy who had been in prison, and I think if he would have had a gun, he would of shot me. But he didn't have a gun, and ten minutes later he was like a lost boy. I really thought my film was over at that point, but I wasn't going to let him die because I was making a film.

Where are you from?

I am from Des Moines, Iowa.
Oh wow, I love Iowa. It is such a great place.

When were you there?
I was there a few years ago doing a story on Dan Gable the wrestling coach at University of Iowa. It was just amazing. I just loved Iowa so much. I always thought about going back there. The boys there are very Bruce Weber - corn fed, athletic, all-American. I know, yeah. There were these two guys, twins, the Brands brothers. Really great wrestlers. One of them was carrying 'Bill' -- which is what they call a wresting dummy -- while the other one was chasing him on a four-wheeler. They were racing up and down the hills. I couldn't believe it. It was so incredible and such characters. I had to photographer them. My wrestling friend told me, 'Oh Bruce, they are so crazy. I don't know if you should ask them,' but of course I was going to, so I walked up to them and said, 'Excuse me fellas, I am here taking some pictures. Do you mind if I take a portrait of both of you?' And they said 'What took you so long to ask us?' Iowa.

How do you approach subjects you want to photograph -- do you always ask permission?
You have to just make the decision. It is a very decisive moment. When you decide to just take the photo or to ask them. Sometimes when you ask them, you can ruin the picture. You have to feel it out a bit, you know? I try to be really respectful. For example, when I was down in Bethesda, Maryland taking photos of guys back from Iraq and Iran in wheelchairs and without limbs. That's an experience I have imprinted in my mind.

Those photos were beautiful -- for your holiday book a couple years ago, right? Who did you photograph this year?
We've picked a kind of crazy title. It's called Born Ready. It's about people that just go for it.  Sherman Alexie, he's a Native American poet and teaches up in the state of Washington. He wrote a really great poem about basketball and why men play basketball, and it runs with pictures of the Heat playing in the NBA finals last year. We did a lot of stuff we believe in, which is the fun part of working on it.

It's like these films, everybody thinks you live by a program, that everything is written down and you follow this outline. But when I begin working on a film, it sometimes starts with me taking pictures. After that is when we start filming, and sometimes even then I'll keep taking more pictures, but we still don't even know if it is going to be a film. Because you never know how something is going to turn out. What I learned about doing documentaries is that you really get married to your subject. You date, you get married, you have kids, and sometimes you have a divorce and get back together again. Kind of like Elizabeth Taylor and Richard Burton.