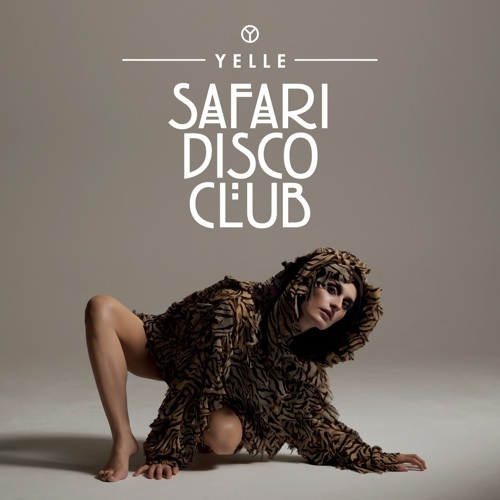 After their bursting out in 2007 with their poppy debut,
Pop-Up
,
Yelle
is back and on the prowl at a club near you. The French electro duo comprised of singer
Julie Budet
and producer Jean-François Perrier, aka
GrandMarnier
, are returning with a sophomore effort,
Safari Disco Club
, which recalls dancing on the streets of Sao Paulo during a steamy Carnaval night. While still a sugary-sweet electro-pop concoction, there's a slightly darker side to things on their latest album. PAPERMAG chatted with the duo while they were here in town during New York Fashion Week. 
A lot of people don't know that the members of Yelle are also DJs. Can we expect more mixes from the band in the future?
GrandMarnier:
DJing is more of a side project when it's easier for us to do, like when we're throwing a party for Fashion Week. It's not really our main thing. We prefer playing live. We're more of a rock band.  
What are some fashion trends you're excited about?
Julie Budet:
Animals! It's the trend of the season and the name of our new album.  
GrandMarnier:
Fashion right now is about being an animal. 
And speaking of Safari Disco Club, tell us about it. How was the process of making it different from your debut?
GrandMarnier:
We'd been touring for three years all around the world and having a crazy life. After that, we decided to go back home and work on our new album. We were faced with a lot of melancholy because things just became really quiet for us. You can feel that in
Safari Disco Club
. It's all about dance music, but with a little taste of melancholy. It's also a safari because all of the songs are really different from each other. There are more melodies than rapping this time around.  
Julie Budet:
We wanted to make people feel deeper things than with
Pop-Up
, which was really naïve and light. I think they'll cry now. 
What's one song from Safari Disco Club that you're really excited to perform?
GrandMarnier:
We already played six new songs during our fall tour, which was a good test for us because people didn't know about them. It was nice to get a positive reaction. But, we're really excited to play "Comme Un Enfant" at the end of the month for the spring tour. It's a really great example of what we love about Safari Disco Club, that duality of happiness and something more melancholic. 
What is it about nightlife that's becoming such a major inspiration to musicians right now?
GrandMarnier:
Everyone is living alone in front of computers all day long. People want to go out and take a break from everyday problems. Clubbing is big, but it's also mainstream. There are a lot of communities existing at indie clubs. It's a different generation where anyone can create an event on Facebook and hang out at the same venue. If you want to talk to people who like salsa, you can find them easily and be part of that community. Clubbing has been taken by the media to sell music. But the indie scene? It's getting bigger right now. 
Is there a particular club in New York City that you want to check out?
GrandMarnier:
We're still discovering new places. The city is so big! 
Julie Budet:
We have good friends who do parties and organize events so -- 
GrandMarnier:
We follow them (laughs). 
What's it like performing in the U.S. as opposed to in France?
Julie Budet:
Playing in the U.S. is always a big surprise. The first time that we played in New York was in 2008 at The Knitting Factory. It was crazy to see Americans singing our songs in French. We realized that it was possible for a French band to tour in the US. 
GrandMarnier:
People here are really spontaneous. When the first song starts, they begin dancing, singing, and smiling! 
What are your thoughts on supporting Katy Perry during her tour in the UK?
GrandMarnier:
We're a bit afraid because Katy's crowd is so large and different from ours! But, it's something we're happy to do for her. She's been following us since the beginning. When we met in Los Angeles, she hugged us and acted like a real fan. It was very sincere. 
In a previous interview, you talked about possibly starting a clothing line. Is that something you're still interested in working on?
Julie Budet:
Why not? It's hard now because we're completely busy, but we worked with [Belgian designer] Jean Paul Lespagnard for the new cover of our album. He made some really cool stuff for us. It's actually a mix of animal and chic.  
GrandMarnier:
We are doing everything on our own right now, so it would be difficult to start a clothing line. When we're not touring, we're working on new songs. Having your own brand is a lot of time and money. It's something you have to do for real and must be of high quality. You have to find everything perfect about it and really, it's a business. Maybe we could collaborate with a brand or another designer, like what we did with Jean Paul. We're open to that. 
Julie Budet:
We are working on our merchandise, though. We're creating new T-shirts right now, so be prepared for some safari! 
Anything else you'd like PAPERMAG.com readers to know?
GrandMarnier:
We can't wait to release
Safari Disco Club
for you. We really want people to listen to it with headphones on! It's so easy these days to hear music and decide quickly whether you like something or not. It's a fast generation, so we would like people to take the time and listen to the whole album. 
Julie Budet:
We have 28 gigs in the U.S., so check out the dates on Facebook and party with us! 
Safari Disco Club
is out on March 29th.