The World Economic Forum released a particularly dire new study sharing findings that the global economic disparity between men and women has been steadily rising over the last four years. The purpose of the report is to chart the progress in parity between women and men across the categories of Educational Attainment, Health and Survival, Economic Opportunity and Political Empowerment. Despite making gains in the education and political empowerment categories, economic disparity currently sits at a whopping 59%, the largest it has been since the darkest hours of the 2008 recession. When the WEF released their report last year, they projected that it would take 118 years to close the global pay gap, but this year they found that progress had peaked in 2013, and we are currently in a dangerous backslide. They have since revised their estimate to 170 years, meaning that men and women may not receive equal pay for equal work until 2186.
They attribute the increase in disparity to the following factors:
Salary: On average, women around the world earn a little over half of what men do, despite working almost 50 minutes longer than their male counterparts.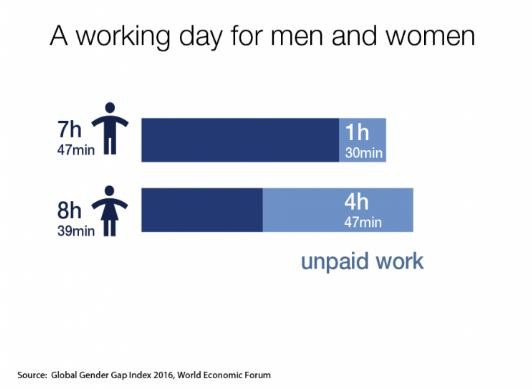 WEF
Labor Force Participation: Women's representation in the labor force has stagnated, with only 54% of all women working compared to 81% of men.

Opportunity for Advancement: Women are very poorly represented in executive and senior government positions, despite the fact that 95 countries around the world have as many, if not more women than men who have been educated at a college level.
The most gender-equal countries around the world are Iceland, Finland, Norway, Sweden and Rwanda. The United States has sunk 17 places since last year and ranks at number 45.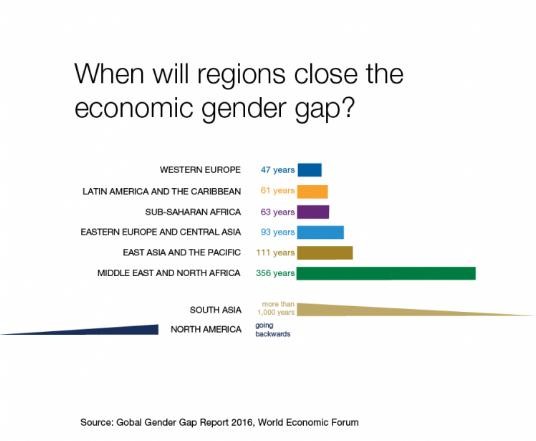 WEF
The authors of the study told The Guardian that they are hoping that their dramatic findings "will serve as a call to action for governments to accelerate gender equality through bolder policymaking, to business to prioritize gender equality as a critical talent and moral imperative, and to all of us to become deeply conscious of the choices we make every day that impact gender equality globally."
[h/t The Guardian]