The Future Only Belongs to the Future Itself: Deborah Gibson to Host Karaoke Night at Spotlight Live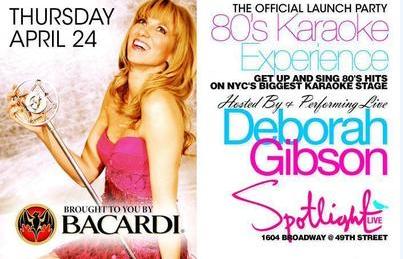 Deborah (née Debbie) Gibson is a former teen pop idol we can really get behind. Not only did she kind of rock it as Gypsy Rose in 1998's Paper Mill Playhouse revival of Gypsy, but we just learned that she'll be hosting and performing at an "'80s Karaoke Party" at Spotlight this Thursday. The evening's festivities are to celebrate Spotlight's new, regular Thursday night '80s Karaoke Experience party. Sounds intriguing-ish!
In other DG news, from May 4-24, she'll be taking on Harrah's Resort in Atlantic City with a "Pop Goes Broadway" engagement.